Philip Duff, globe trotting drinks consultant and the man behind the iconic door 74 in Amsterdam, has also been responsible for some of the world's best bar training courses, including the iconic Bols Academy global training programs.
An avid international cocktail competition judge (a job he undertakes with sobriety), a passionate writer and the best man to see of you're a cynical, burned-out brand ambassador (he claims to be able to remove the cynicism gland) Duff would love you to buy him a drink if you meet him in a bar, and he likes his Manhattans stirred (just saying).
ADVERTISEMENT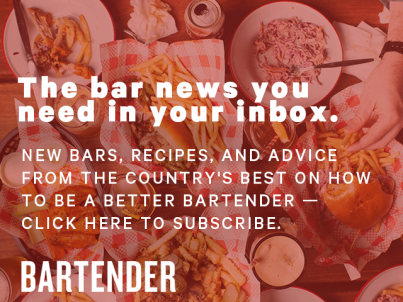 &nbsp
Duff is once again heading down-under for Sydney BarShow Week where he will be waxing lyrical about all matter of topics.
Head to barshow.com.au to book your 2 Day Theatre pass – $40
How did you first get into the bar business?

"In the Coast Inn, in my native Skerries, a little fishing town 18 miles north of Dublin, Ireland."

What's the attraction of the bar business for you?

"I always saw it as very glamorous and grown-up, and I hope one day to be grown-up myself…"

What was the inspiration behind establishing door 74?

"Really, just a bit of frustration with the Dutch bar scene – decent bars were simply not opening, so we decided to go ahead and open ours. Plus, of course, I opened the kind of bar I like to go to myself, and having one in Holland made it much more convenient…"

How have you evolved as a business operator over the years?

"Less of a micro manager, more of a person-manager."

What's your proudest achievement in the bar industry thus far?

"Hard to say – door 74 and its bartenders win everything in sight, and, more importantly, it's a great little bar that serves people nicely. The G'Vine Connoisseur Program really does seek out the world's best gin bartenders, and it's a hell'uva lot of fun too."
"I insist on being sober when I judge." Philip Duff
What mistakes taught you the biggest lessons?

"The contractual/criminal issues with my former partner at door 74 taught me to be more critical in entering partnerships, but luckily there haven't been too many other cock-ups…"

How do you continually develop your creative ideas?

"Oh, I'm not creative at all; I just steal from a wider range of sources! Constant travel, of course, but also I'm a voracious reader of disruptive thinking, and that helps a lot."

Do you have any exciting plans for the future?

"Yes, continuing and expanding the work my firm, Liquid Solutions, does with its drinks-brands clients, and launching my own brand. Watch this space…"

What's the best and worst thing about being a bar owner?

"Best: the guests.

Worst: being treated distrustfully by officials and financiers because your small business happens to be a bar and not a shop or a website."

What excites you about the international bar scene?

"The tremendous speed at which things can change, going almost overnight from Chocolate Monkeys and B52s to maple-aged bourbon old fashioneds. There's always an envelope being pushed somewhere…"

What's it like being an international cocktail judge?

"Brilliant! I insist on being sober when I judge though, and not drinking apart from sampling the competing cocktails, so it really is work. The hardest part is only agreeing to judge contests that are well-set up, honestly judged and with reasonable score sheets – I refuse to judge ones with subjective scoring or, indeed, no real criteria."

How do Australian bartenders stack up compared to the best of the world?

"I believe, and have done for some time, that the Australian bar scene and its bartenders are, per head of the population, the best in the world."

What cocktail trends do you think are popular at the moment?

"Aging cocktails, molecular mixology and what I call theatrical bartending – this last encompasses everything from waxed moustaches and personalised ice-crushing mallets to "staging" intricate, complex drink experiences a la Purl or Nightjar in London, or Melbourne's Der Raum."

Are there any local or international bar operators that you admire? If so why?

"Yes, very much so – the ivy, with operations run by Mikey Enright, is stunning because the breadth and quality of drinks on offer, while Jonathan Downey has changed drinking in the UK forever."
How important are staff in operating a successful business?

"They are as important as finance and marketing, which is to say, essential."

What advice would you give young bartenders who want to open their own bar one day?

"Work in lots of bars, also abroad. Get to the top of the bartending tree. Then become a manager in a place that will train you. If you haven't got a business education – do a business course.

First find a gap in the market, then research if there is a market in the gap. Get the finances right – you will need more then you think and you absolutely need enough to run the first six months with no income whatsoever. And work like billy-o".
What are your Top 5 tips for running a successful bar business?

Get the finances right
Identify, recruit, train and nurture talent,
Effective 'Operations Systems'
Know your target market
Have a PR firm on retainer to spread the word