Black Pearl and The Attic
304 Brunswick St, Fitzroy Melbourne
(03) 9417 0455
Rob hold courts at Melbourne cocktail institution Black Pearl and is just one of the team who is making the venue's latest addition, The Attic, a roaring success.
With Bartender recently taking a trip down to the bright lights of the bustling cocktail city we thought it was a good opportunity to catch up with the man himself a find out how he prepares for a competition, what he thinks makes a bartender worth his/ her salt and what sports field he might be found on when he gets a day off.
Rob is also the current star of the Black Pearl crab-fighting team and will give you half a chance to settle your bar-tab if you can take him down – be warned though, he's a tough competitor.
ADVERTISEMENT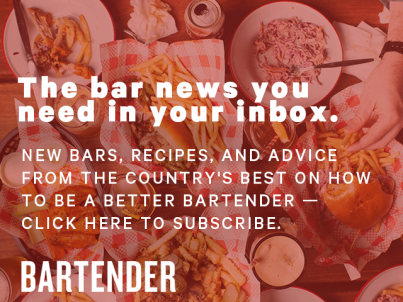 &nbsp
Career:

Before you were bartending what were you doing with yourself?

I've always been around pubs and bars ever since I was young, but carpentry was the main long stay.

How long have you been bartending?

About 6 years seriously.

What is your proudest moment behind the bar?

Every shift I work at the Black Pearl or in The Attic. For me it's everything.

And most embarrassing?

Being stood next to Greg Sanderson's double shake mid service.

How do you prepare yourself for success in a cocktail competition?

I've never hit the top spot yet but, it's all about practice and preparation.

Where have you worked previously?
The Met bar (London) and W1.

What's your advice for a young aspiring bartender?

Try and get a job at the best possible bar you can and take in everything you can: failing that, be creative!
Favourites:

What's been your favourite bar to work in?

Black Pearl and The Attic (both Melbourne).

What's your favourite bar gadget?

Sharp wit and platinum banter.

What's your favourite city to visit?

Dublin and the Republic of Liverpool.

What's your favourite movie?

Caddyshack.

What's your favourite song?

Gary Glitter 'Rock & Roll Part II'.

What's your favourite sport?

Darts and cricket in the off-season.
Drink:


Describe your fantasy bar.

I love proper country English pubs, all hand pull microbrewery beers and scrumpy cider with a thoughtful whiskey selection. Awesome jukebox (80s power ballads).

The kind of place you wipe your feet on the way out!

What is your favourite product to work with at the moment and why?

Home made bitters. The possibilities are endless and they can change any aspect of any product in any drink. It gives the bartender such control over the outcome.

This month's feature is 'Classics' – any favourites from this category?

The "Pan American Clipper"

60 ml Calvados
15 ml Grenadine
15 ml lime juice
Bsp Absinthe

*Serve in a Coupette and garnish with a lime twist

What do you drink to…

Unwind after a long shift?

Abbottsford Stout and a pint of milk – Heaven

If you could have a drink with one person (alive or dead) who would it be and why?

Doug Stanhope and my Dad – the two men who will always tell it like it is!

Can you tell us some of your favourite bars to visit?

The Helter Skelter (UK) Chez Regine (Melbourne) and The Rose (Melbourne)
Other Stuff:

What was the last book you bought?

John Healey The Grass Arena.

What cocktail trends are popular at the moment?

Barrel aged barrels of course!

If you could have a superhuman power what would it be – why?

The power to do whatever I wanted! That kind of freedom is infinite!

If you were to be something other than a bartender, what would it be and why?

I love booze and the social side of hospitality too much to never be apart of it, but I would love to brew my own stout in Australia.

Who's your hero?

I'm fortunate. It's got to be my parents and my extended family the Conte(s)

What products do you think will be hot over the coming year?

Crème de Menthe for sure – failing that I would love to see more from Grappa

Last drink ever – what would it be?

As all my friends would agree, a pint of Guinness and a pint of milk.