'Modern' and 'Classic' – an interesting pair of words to fit together for this month's cocktail feature as the classic in a cocktail often refers to its date (long past), and it's ability to have stayed the test of time as an identified social trend.
Like the old question 'when does something become history?' this month the Bartender team found themselves asking the question when does something become classic?
By definition a classic cocktail should be one that is a 'perfect example of a particular style, something of lasting worth – or with a timeless quality'. Hard to know when you're trying to make the distinction yourself, as most 'classics' were trend or style setters, and touted as such by the bartending generations that followed long after.
Can you walk into a bar and order one of these creations without yourself having to know the ingredients? Is there a certified creator – if so who? Most importantly perhaps, where did these modern classics get their inspiration from and is it obvious or subtle?
Subjective at best, our list of modern classics is a good showcase of ranges and styles, spirits and techniques – so enjoy, and let the arguments flow.
ADVERTISEMENT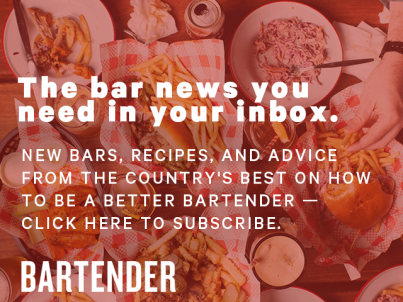 &nbsp
#1 Treacle
Dick Bradsell has had a marked impact on the London, and indeed the international, cocktail scene and his creations are now most certainly part of the modern cocktailian lingua franca. "Like the Bramble (no. 5) the Treacle is a simple affair," says Gary Regan – but he means this in the most flattering of manners, and a simple cocktail is often the key to a drink's longevity.
The Treacle is a tipple that's not too far removed from a rum Old-Fashioned with this particular cocktail sporting a float of apple juice across the top – a fine addition to any rum based tipple. Top quality ingredients like fresh pressed, or organic apple juice are going to make this drink live up to its creator's vision, so don't skimp out when it comes to 'the what goes in' side of things.
Treacle
60ml Bacardi 8 Rum
10ml Sugar syrup
15ml Apple juice (cloudy)
2 dashes Angostura bitters
*Stir the rum, simple syrup and bitters together in an ice-filled old-fashioned glass for at least 20 seconds. Pour the apple juice over top of the drink.
#2 Vodka Espresso

Looking more like a Guinness served in a fancy cocktail glass the espresso martini needs to be made with a good quality shot of espresso, first and foremost. This drink also comes from Bradsell's satchel of established tricks and was said to be inspired by a customer needing, "a drink to wake me up, then f*#k me up". Enter ingenious and lightning speed creativity.

Reportedly concocted in 1984 at Fred's Bar (Soho, London) the tipple was initially penned as The Pharmaceutical Stimulant, however with the coming of international fame and notoriety the drink adopted a slightly more neutral moniker that survives today. The cocktail's creation and longevity no doubt benefited from the rise in the popularity of espresso that had grown since the late 1980s and as espresso bars popped up throughout London and the USA and became part of mass social culture.

For a cocktail garnish, grab a couple of coffee beans and drop attentively onto the creamy head – one each for, health, wealth and happiness.

The Pharmaceutical Stimulant (aka The Vodka Espresso)

45ml 666 Tasmanian Pure Vodka
15ml Kahlua
5ml sugar syrup
30ml chilled espresso

*Shake with vigorously to create a creamy foam. Garnish with three coffee beans.
# 3 Breakfast Martini




"You can't drink all day if you don't start in the morning," goes the famous line and this morning glory is a modern day classic that has a lineage linking it to the days of the Roaring Twenties.

The Savoy Cocktail Book (1930) lists the Marmalade Cocktail created by Harry Craddock a man who had tended bar since the '20s. Craddock's mix included a large slug of orange marmalade, and the juice of a squeezed orange. It was suited to a serving of six guests, and he described it as "especially suited to be a luncheon aperitif" – presumably the inclusion of marmalade made up for the late night before, thus missing breakfast. The modern take and contemporary popularity of this now adapted cocktail is attributed to Salvatore 'The Maestro' Calabrese a man whose cocktailian reputation is internationally renowned.

Efforts should be made to procure the finest and freshest of marmalade for this treat and of course, make sure you change out of your morning slippers before ordering one at the bar.

Breakfast Martini

50ml Larios Gin
15ml Cointreau
15ml Lemon Juice
1tsp medium-slice orange marmalade

Adapted from salvatore-calabrese.co.uk

*Pour all ingredients into a shaker with ice. Shake. Strain into a cocktail glass. Squeeze a thin twist of orange on top and drop it into the drink.
# 4 Nuclear Daiquiri




The original Daiquirí created in Cuba towards the end of the 19th century is a classic tipple we're all well versed in. Over time this beverage has be tinkered and toyed with; it has been blended, jellified, solidified and re-liquefied, but very rarely has it been improved. One bar genius, who has unfortunately shuffled off this mortal coil, by the name of Gregor De Gruyther, however, did manage to bring the Daiquiri into the nuclear age with this potent variation. Created by Gregor in London's Lab in 2005, the beverage can now be ordered around globe and is oft drunk in his memory or just because it's actually mighty tasty.

Nuclear Daiquiri

25ml Wray & Nephew Overproof Rum
25ml Green Chartreuse
25ml Lime Juice
10ml Falernum

*Shake as if a radioactive holocaust is nigh and strain into a cocktail glass.

*There is no garnish for this drink because as Gregor used to say: "No garnish can withstand the awesome power of the Nuclear Daiquiri".
# 5 Bramble




Jerry Thomas' 1862 edition of The Bartender's Guide lists amongst its ardent tipples, The Gin Fix: sugar, lemon and gin stirred and served with crushed ice and ornately garnished with 'fruits in season'.  According to David Wondrich, Fixes and Sours were the "two earliest classes of a category" he describes as 'lesser Punch' – drinks that took inspiration from Punches but were served short (a 19th century drinking phenomenon that Wondrich is yet to fully decipher, but attributes in part to fast paced consumer life, and the growing popularity of the cocktail).

Fast forward to the booming 1980s and Dick Bradsell's Bramble cocktail is quite unmistakably a fancy sour, with a strong connection to the early Gin Fix.  Both drinks took advantage of the addition of seasonal fruits and Bradsell (in the modern age) is able to call upon the easy access to top notch Crème de Mure for his tipple, giving it the customary dark and luscious drizzle that we watch in fascination as it inks its path slowly through the ice.

Bramble

50ml Millers Gin
20ml Fresh lemon juice
10ml Sugar syrup
15ml Massenez Crème de Mure

*Shake and pour over cracked ice. Pour Crème de Mure over the top. Garnish with a blackberry.
# 6 Paloma




The recipes for this cocktail are as abound as the range of Tequilas used to make it. While not having a researchable history (as far as can be found) the Paloma is firmly established as a contemporary classic, and one that is continuing to grow on the back of two modern trends; greater production of high quality Tequila and the trend of house-made soda being used in cocktail bars. As Mexico's favourite tipple, the Paloma cocktail relies on the use of fresh grapefruit in its delicious mix.

The grapefruit is a citrus hybrid that originates from Barbados and is the bitter hybrid of the pomelo (the largest species of the citrus family in south-east Asia), and the sweet orange. Many modern cocktail recipes call for agave nectar and fresh lime juice to be included in the drink, and a stock of good quality sea salt to rim your glass and a quality Tequila will make all the difference too.

Paloma

45ml Patron Blanco 100% Agave Tequila
Juice of half a lime
Schweppes Pink Grapefruit & Apple Natural Mineral Water

*Build in a highball. Garnish with a lime wedge.
# 7 Penicillin




"Scotch is a difficult base to work with," said Gary Regan recently when commenting on the growing trend of Scotch cocktail bases. If used correctly he continued, "it can prove to be a very sturdy host in a cocktail shaker". Aussie ex-pat Sam Ross (Milk & Honey, London) has proved what a host it indeed is with his contemporary creation, the Penicillin, and in the process he has secured himself an everlasting position in the 'cocktail histories' – hallowed ground when you consider who else has come before.

Ross credits the invention to some experimentation he did on a Gold Rush cocktail (bourbon, lemon and honey) back in 2005. Using a Scotch as the 'meat of the drink' the results were good, but once he'd drizzled a splash of an Islay single malt whisky over the top he knew that history was born. "People were very tentative in using single malt Scotches in cocktails previous to this," Ross said, "I think this fact did help the Penicillin gain some modest recognition."

Penicillin

60ml Chivas Regal blended scotch
20ml fresh lemon juice
20ml ginger-honey syrup
10ml Elements of Islay Lp1

*Combine blended scotch, lemon juice and syrup in a shaker, fill with ice and shake well. Strain into an ice-filled rocks glass and float Islay scotch on top.
# 8 Cosmopolitan




While the 'cosmo' is undoubtedly best associated with the Sex in the City TV series and is proudly flouted by groups of high-priced princesses who 'know a thing or two about drinks', the cocktail's evolution is about as clear laying blame for the GFC. In the 1950s Ocean Spray made a big point of pushing their cranberry juice as a great mixer in cocktails and with the trend of fruit juices and spirits we got drinks like; The Cape Codder, The Salty Dog and the Grey Hound, all based primarily on juice and a spirit.

The 1970s saw a big rise in the popularity of these refreshing, fruit juice style drinks and so the scene was set for one or more to take the international stage by storm. Without delving back into the morass of claims, it's enough to take Dale DeGroff's word that by his own admission he did not 'invent' the cocktail (as often cited), rather he "popularised a definitive recipe that became widely accepted as the standard".

Cosmopolitan

50ml Belvedere Citrus
20ml Lime juice
15ml Cointreau
10ml Cranberry juice

*Shake and serve up. Garnish with a flamed orange zest.
# 9 Lagerita




The tradition of mixing other ingredients into a beer has been around since the 17th century and well known numbers as the Ale Flip and the Black Velvet (stout and champagne) have been popular brews even in today's contemporary market.

The Lagerita cocktail takes a good hunk of brown sugar, some muddled lime and a big slug of good quality Tequila mixed with your beer of choice, making for a refreshing (and potent) tipple enjoyed year round.

UK bartender Ben Reed is credited with this particular beer cocktail and says that a Mexican dark beer is his tipple of choice for this number. Be warned though, "you're off your head after one of them!" Reed states. Most significantly perhaps is that the Lagerita represents a bit of a trend that's making a comeback on the bar scene and with boutique brews now doing the rounds bartenders have far greater flavour profiles to play with.

Lagerita

40ml Herradura Blanco Tequila
Juice of half a lime
10ml agave nectar (cut 1:1 with water)
Lager

*Shake first three ingredients and strain over chipped ice in a tankard or beer mug. Top with lager and garnish with a ½ lime husk.
# 10 Tommy's Margarita




Julio Bermejo created this particular version of the already iconic Margarita cocktail in the 1980s when he started serving it at his father's restaurant Tommy's Restaurant in San Francisco. Contrary to what is contemporary cocktail practice, this version of the Margarita is made in a blender as when the drink was invented it was still socially acceptable to order and serve the Margarita as a slushy type of beverage.

For those who think that it's high time the 'Tommy' stepped out of the past and into the future, hold your thought because those that demand the Tommy's Margarita often say that it be served to its traditional style. Today at Tommy's Restaurant you will still see this reinvented age-old classic served up as it was in the 80s.

Eschewing the more traditional way you might use a blender, the method utilised often sees the ingredients rolled between two blenders, instead of blitzed as you might have thought.

Tommy's Margarita

60ml José Cuervo Reserva De La Familia Platino 100% Agave Tequila
30ml Freshly squeezed lime juice
15ml Agave nectar (cut 1:1 with water)

*And all ingredients into a shaker, shake briskly and pour into an ice filled rocks glass.