Today saw 94 of Australia's top barkeeps sit a gruelling written exam to vie for a place in the Top  20 of the Bartender Magazine Bartender of the Year Competition sponsored by RESERVE. Held at theloft on Sydney's sunny King Street Wharf, this record breaking attendance for the first round of competition shows that it continues to be Australia's most coveted bartending title.
Competition organiser, Simon McGoram – Bartender magazine's drinks editor – says; "This year's exam paper is one of the most challenging that bartenders have had to face to date. I'm totally awed by the level of knowledge displayed by the competitors who set a high standard of professionalism for the bar industry."
Competitors had to explain the benefits of a 'high cordon system' in Armagnac production, display their classic cocktail knowledge by listing the ingredients for the Mary Pickford  and Last Word as well as demonstrate their practical experience by listing six different uses for a cocktail napkin.
ADVERTISEMENT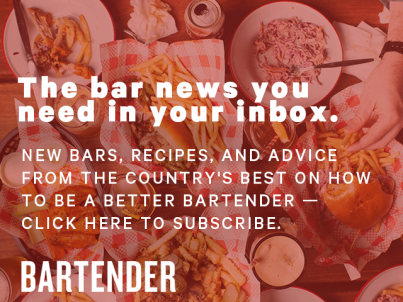 &nbsp
"The amount of study put in by the bartenders was immediately evident today," adds McGoram. "I mean how many people know the significance of the pineapple crest on the top of a bottle of Tanqueray gin? Apparently these guys do."
The written test determined the Top 20 competitors who face another two days of challenges with a practical bartending round and taste test being held at Sydney BarShow's Green Room tomorrow morning. If you've purchased your Sydney BarShow Seminar Pass you'll be able to watch the Top Ten in action at 10:30am on Wednesday morning.
The Bartender Magazine Bartender of the Year Competition Top 20
(in no particular order)

Tom Wood, Hugos Bar Pizza, Sydney
Bill Bewsher, 399, Perth
Luke Redington, Eau De Vie
Sam Bygrave, Cohi Bar, Sydney
James Connolly, Defectors, Perth
Philip Gandevia, Eau De Vie, Sydney
Tim Philips, Level 6, Sydney
Chris Denman, Kerbside, Brisbane
Ben Blair, Corner House, Sydney
Nathan Beasley, Black Pearl/The Attic, Melbourne
Lee Potter Cavanagh, Victoria Room, Sydney
Kal Moore, Canvas Club, Brisbane
Daniel Gregory, Eau De Vie, Sydney
Gerald Faundez, Zuri, Brisbane
Jessica Arnott, Victoria Room, Sydney
Perryn Collier, Laneway, Brisbane
Chris Hysted, Black Pearl/The Attic, Melbourne
Adam Smith, Press Club, Brisbane
Noriel Calub, Goldfish, Sydney
Brendan Osmers, The Bowery, Brisbane