By Edward Washington
Address:
Level 1, 150-156 Gertrude St, Fitzroy
Phone: 03 9416 2229
When The Everleigh opened its doors in early July it was clear that Melbourne really did have its next big thing – this was after all the Australian connection to the fabled Milk & Honey's. Heard of them? Milk & Honey are two of the most iconic 'members-only' cocktail bars going around, but this is Melbourne, not London or New York, so what is it about this latest opening that makes it such a standout?
ADVERTISEMENT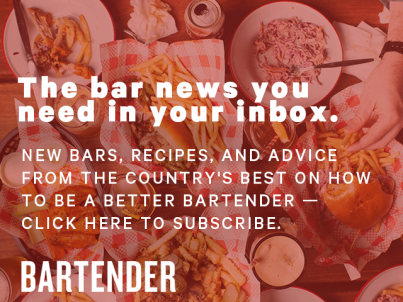 &nbsp
"The vision [of The Everleigh] was to create a space where people could become lost, in a sense," says Lauren Schell, who's co-owner along with Michael Madrusan and Sasha Petraske (owner Milk & Honey, London and New York). "We want people to step through our doors and forget about their day. In addition to that, we wanted to create an environment where people can enjoy the celebration and ceremony of imbibing."
"We hope to attract those who are interested in the finer points of drinking and those who celebrate and respect alcohol," Schell states. "[We want] those who want to share the experience with a few of their closest friends."
In the same vein that sees Love Tilly Devine (Sydney) take its name from a notorious 1920s Australian crime figure, The Everleigh takes a revisionist's view of a famous old Boston brothel named The Everleigh Club. "The Everleigh sisters who owned the club were renowned for treating their employees with respect at a time when women were seen as being sold into 'white slavery'," says Schell.
"While there isn't great deal of information on The Everleigh Club, from what we know about the sisters, we became smitten with their story. [They] ran a highly successful venture through taking care of the people who worked for them."
If it's a highly successful venture that the trio are aiming for then The Everleigh certainly has the pedigree to achieve just that. Petraske, a New York native, has 15 years experience in the bar industry. In 2000, he opened Milk & Honey (New York) as a response to a decline in the city's bar culture. In 2006 the New York magazine named him as one of the city's most influential people – high praise when it puts you in the company of the current US Secretary of State.
The Melbourne based partners of the venture, Madrusan and Schell, share 18 years of industry experience between them. Both worked at Milk & Honey amongst other high end bars and restaurants, and Madrusan has consulted on many of NYC's major clubs. Schell (who has a Masters Degree from Columbia University) worked for Petraske first as a bartender and then manager having left her job as Executive Director of a non-profit organisation.
What's on Offer
"At The Everleigh we focus strictly on classic cocktails and their variations", Schell explains. "We squeeze fresh juice for every cocktail that we make, we freeze and cut our own block ice to suit each individual style of drink, and we only offer table service only and cater to groups of 6 or less."
Opening their own place has been a seven year itch that Madrusan and Schell were dying to scratch from the moment they met. "We figured out pretty quickly that we both had long term plans to open our own bar," says Schell. Having worked with Petraske for 12 months the three sat down and floated the idea of opening in Australia, specifically Melbourne. Madrusan and Schell moved back 18 months ago and found the space five months later.
"We hope to attract those who are interested in the finer points of drinking and those who celebrate and respect alcohol." Lauren Schell, co-owner The Everleigh
With six months of limbo waiting for council approval they used their 'spare' time to tear into all the other details. "Waiting all that time gave us the opportunity to source all of our materials and line up all of our vendors, so that once we got the green light we were able to move through the construction phase pretty quickly. It only took us about 10 weeks to get the bar up and running."
The design of The Everleigh was a collaboration greatly assisted by Madrusan's sister, Deanie, who is a designer. "She was very much responsible for softening the rough edges and creating balance." Schell explains. They tried to make the space balanced in terms of masculine and feminine, and there's a lot of dark wood on the walls and floors that's paired with candle light and chandeliers.
"We built the booths to have a strong presence, but softened them with hand-made leather cushions. Our bar is big and covered in stainless steel to make it easy to disassemble and clean, but next to the marble bar top, it becomes more delicate."
With an eye for the bygone time of tippling it's the distilled spirits and cocktails that they'll be pushing. "Our sipping list is made up higher end spirits and of lots of things we've brought back from the States that we just couldn't live without."
Whilst beer, wine and cider are available, this bar was built by bartenders for bartenders, so nothing will please this team more than if you put them to work. "Our cocktail list is made up of one drink from each major spirit category and one selection called Bartender's Choice. If a customer picks Bartender's Choice they can direct us in terms of their spirit and flavour preferences – so, in our eyes, our list is limitless and customized for each person."
To top up the boundless selection of drinks that will be on offer will be a limited, if not well thought out, list of bar snacks. "We want to keep the focus on the drinks but ensure that people have a few things to snack on while they are here," Schell explains. Fair enough really as there's enough restaurants in town and Milk & Honey isn't a 'members-only' eatery is it? So why not let these professionals do what they do best.