By Simon McGoram
Few mid-twentieth century Polynesian pop potions come close to achieving the legendary status of the Zombie. And this potent potable has achieved cult status despite being one of the most mysterious mixes in the annals of tropical drinks. Created by the Tiki pioneer, Don the Beachcomber, this beverage is infamous for its intoxicating powers.
The mix on this page is certainly not the original Zombie served up by Don Beach during the 1930s era – but that's no surprise since Don kept the formula secret even from his own bartenders. The barkeeps at Don's restaurants had to pour ingredients from bottles only marked by numbers and letters – they only knew the right combination which is just one part of the Zombie code.
ADVERTISEMENT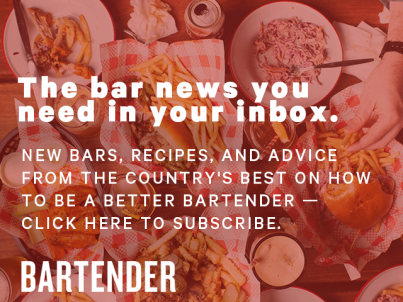 &nbsp
Quick Angostura Facts

Angostura Bitters was created by a German scientist called Dr Johann Gottlieb Benjamin Siegert in Venezuela 1824.
The name 'Angostura' is derived from the Venezuelan town where Dr. Siegert was appointed Surgeon-General of Simon Bolivar's army.
In 1870, following Dr. Siegert's death, his sons Carlos and Alfredo decided to leave Venezuela and chose the nearby island of Trinidad as their home.
Angostura Bitters and Rum have been produced there ever since.
The recipe printed here is adapted from Jeff 'Beachbum' Berry's Intoxica! – a must have manual for Tiki enthusiasts – and according to the author this formula is  one contributed by the Beachcomber himself for a 1950 barbeque manual. Appended to the recipe was this caveat from Don: "I have originated and have served this 'thing' since 1934… Anyone who says otherwise is a liar!! Signed: DON".
Don the Beachcomber's Zombie




30ml Pineapple juice
30ml Fresh lemon juice
30ml Fresh lime juice
30ml Passionfruit syrup
1 teaspoon brown sugar
2 dashes Angostura bitters
30ml Angostura 5 year old Caribbean rum
30ml Angostura 7 year old Caribbean rum
30ml 151 proof rum

*Add all ingredients into a shaker. Shake briskly with cracked ice and strain into a Collins glass or Tiki mug. Garnish with a pineapple wedge, a cherry, mint sprigs and half a passion fruit filled with 151 rum then ignited.

**One would do well to heed the Don's second caveat: "One only to a customer."

Adapted from Jeff Berry's Intoxica! , 2002