This Editor's Pick story featured in the September issue of Australian Bartender magazine.
By David Spanton
This trip to Middle America was something I always wanted to do over the past 12 years of publishing Bartender magazine but never had the balls to just book it and go myself. Like most far away trips you can convince your self that it's just too hard and of course you will do it "one day". Well for me one such destination is good old Kentucky & Tennessee the home of Bourbon and Tennessee whiskey.
The basis of my trip was going to drive around and see as many distilleries as possible while finishing most nights enjoying the best local food and drink on offer at the numerous towns and cities I stumbled upon. I can suggest this kind of trip to anyone even if you're not a big American Whiskey fan as just seeing Middle America is reason enough. It's worth pointing out that they love Australians (not sure about New Zealanders though!) and are some of the most hospitable people on earth. You know the saying and its true "good old Southern Hospitality" is alive and well.
ADVERTISEMENT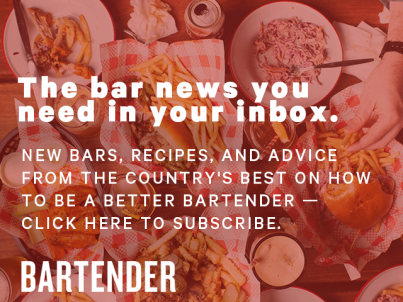 &nbsp
What is Bourbon Whiskey?

Contain natural grains of which at least 51% must be corn
Be distilled at no more than than 80% alcohol.
Be aged in new, charred white oak barrels at no higher than 62.5% alcohol & bottled at no less than 40% alcohol.
Must be aged for a minimum 2 years to be called 'straight' bourbon.
Nothing can be added other than water to alter the flavor or colour.
Only whiskey produced in the USA can be called Bourbon.
Heaven Hill Distillery
1311 Gilkey Run Road, Bardstown, KY

Originally known as Old Heavenhill Springs Distillery, it was established in 1934 by five brothers by the name of Shapira. The distillery name was of reference to William Heavenhill who back in the early 1800's owned the land where the distillery is was built. In 1946 a clerical error changed the name to what it is today. Doing there 1 hour tour you will like most distillery tours get to see the barrels aging in a rick house, a short history video on the distillery and a tasting session at the end. Its worth pointing out that the distillery has also built their own "Bourbon Heritage Centre" which has some fantastic historic items used in the production of bourbon from many years ago.

Key Bourbon Brands: Henry McKenna, Elijah Craig, Evan Williams, Fighting Cock & Old Fitzgerald.

Interesting fact: Jim Beams brother's son Earl Beam use to be the master distiller at Heaven Hill and was followed on by his son Parker and today Parkers son Craig Beam is the master distiller and the 7th generation of Beams to enter the Distilling business in Kentucky.

Tour Highlights: after visiting over seven distilleries I look back and notice how well the tasting part of the tour was presented at Heaven Hill. Their barrel auditorium and in depth tasting discussion went down well with all who attended as did their bourbons. One of my top overall highlights of the trip was trying their new "Trybox Series New Make" un-aged bourbon which is essentially just the raw spirit than comes out before it gets aged in barrels. More commonly known as "White Dog" or to be a little un-fair "Moon shine" for its clear appearance and often-harsh taste. The series has two different styles based on the mash bill of corn or Rye. I tried both and found the corn a bit harsh yet the rye to be surprisingly sweet with that strong mash smell that you quickly loose with barrel aging. A fun idea is to buy a bunch of bottles and do some infusing to create some different flavoured spirits or if you could be bothered a new oak barrel and do your own aged bourbon in your bar.

Low Light: There is no actual distilling down at the Bardstown location (Just aging & the Mesuem) as that is done now in Louisville so not seeing this stage you miss a big part. Secondly it would be good to see some other distillery brands include and showcased in the Bourbon Heritage Centre other than just Heaven Hill brands.

Cost: Free 1-hour tours every hour
Jim Beam Distillery
526 Happy Hollow Road, Clermont, KY

After prohibition the Beams built their distillery on this site in Clermont that was formerly the Old Murphy Barber Distillery from 1891 to 1913.  Since German immigrant Mr. Jacob Beam in 1795 no other family has contributed more to the success of Bourbon than the Beams and they are widely considered the first family of bourbon. They continue their success today under the guidance of seventh generation Beam distiller Fred Booker Noe 3. Many of you might have meet Fred, as he has been a regular visitor to our shores over the years, as I believe Australia is there second biggest market. Back to the tour and what I can say is that being my first distillery tour of my trip there is no doubt I enjoyed it and I recommend it if your got enough time but the fact is until they finish building their visitor Centre in late 2012 I wouldn't expect too much from this tour. There is no fermentation, distillation or bottling areas included in public tours , which is disappointing considering how worthwhile it would be to see the world's biggest selling bourbon being made. The whole set up also has a lot less of the charm and wow factor that is provided in barrel loads at the likes of Jack Daniels, Markers Mark & Woodford Reserve. Fingers crossed the new Centre gets people a bit closer to their impressive Bourbons.

Interesting Fact: More than 60 other whiskey brands in three different countries can be tied to the extended Beam family.

Highlight: learning about their unique cross section barrel aging technique that they use to rotate the barrels around their "rack houses" for tasting consistency. Few distilleries move the barrels once stored for aging so this technique was good to learn and is very different to the solera system of barrel aging that many rums and whiskies like to use. I also enjoyed trying the relatively new Knob Creek Single Barrel #9.

Lowlight: Most basic tour on the trail. No actual look at their fermentation, distilling or bottling taking place mostly just a look at a rick house and their gift shop.

Key Bourbon Brands: Jim Beam, Bookers, Basil Hayden's, and Knob Creek & Bakers

Cost: Free 1-hour tours every hour
Makers Mark Distillery
3350 Burks Spring Road, Loretto, KY

After visiting a few bigger more industrialised distilleries before heading to Makers it helped me appreciate just how beautiful the whole site and set up is at Makers Mark Distillery. Being a relatively new brand and focusing much more being a boutique artisan Distillery I guess its important to make sure the set up for visitors is also top shelve. This site has a long history of distilling starting back in 1805 and has opened and closed over the years and then in 1953 Bill Samuels Senior bought and restored the distillery. It was named Markers Mark after his wife Margie suggested it based on Bills new softer less bitter bourbon he created from winter red wheat instead of their traditional heavy Rye mash combination. Margie is also responsible for the design of the distinctly bottle, logo and the famous dripping red wax. These bottle colours are used all over the distillery site from the rick houses being panted black and their window being red that really make the distillery stand out and look fantastic. I'm told the dark colour also helps attract the sun creating a higher temperature inside and enhancing the marriage of the bourbon and the new oak charred barrels.

Highlights: The whole tour to be honest. You get to see every level of production from the fermentation and getting your hand in to taste it happening to doing your own red wax bottle dipping. On the day I visited even the old boss himself Bill Samuels Jnr was in the packaging room signing the new Makers 46.

Lowlight: Not sure why they use the advertising slogan to describe Markers as "The Kentucky Champagne" as to me it seems odd considering how much all the distillers go on about protecting and respecting the laws of bourbon and then they just rip off the French like this! In todays modern age of distilling it seems very out of place to me and has to be borderline illegal.

Interesting Fact: On site there is a small store building called the "Quart house" that locals would come to fill up their quart with whiskey (all liquor was taken from the barrel in those days). This was built around 1889 and is considered America's oldest retail store.

Bourbon Brands: Markers Mark

Cost: Free 1-hour tours every hour
Buffalo Trace Distillery
113 Great Buffalo Trace, Frankfort

The Buffalo Trace site has a long history with distilling dating back to 1869 when it was the O.F.C distillery (originally stood for Old Fire Copper then later changed to Old Fashioned Cooper). In 1886 it was sold and eventually becoming the George T. Stagg Distillery (name of owner).  In 1999 the innovative family owned Sazarac Company from New Orleans purchased the distillery changed the name and launched their new flag ship Bourbon Buffalo Trace in honour of the local Buffalo that carved out wide paths or "traces" that early pioneers used to discover this area.  I managed to do two different tours when I visited the first was the basic tour that did the rick house, video and tasting which was good but the one to try that is available via booking only is their "hard Hat" tour that gets you visiting all areas of production from seeing them emptying of the grain from the trucks to tasting the "white Dog" as its coming out of the second still to the final packaging.

Highlight: without question the most comprehensive and educational public tour our on the trail showing you everything plus I think they had the Bourbon Chocolates I have ever tried!

Lowlight: the fact the distillery address they list doesn't exist and very little signage. My suggestion is put in Wilkinson Blvd and follow that 500 hundred meters and you wont miss it. Also that they are launching a new vodka that is distilled a 159 times-Seriously!

Interesting Fact: Buffalo Trace makes 14 Bourbons from only three mash bill recipes (2 Rye & 1 Wheat).

Key Bourbon Brands: Buffalo Trace, Blanton's, Eagle Rare, George T Stagg, Van Winkle & Sazerac

Cost: Free – 1 hour tours every hour (book for the "Hard Hat" tour).
Woodford Reserve Distillery
7855 McCracken Pike, Versailles, KY

The wow factor to this Distillery starts a few miles out when you drive down past some of the worlds best horse studs with long white fences and lush green paddocks and their world beating horses galloping around. For someone who spent a decade or so growing up on a horse farm seeing this level of farming perfection was worth the trip alone. As you arrive that the distillery its impossible not to be knocked over by how beautiful the distillery is and how at harmony it looks in the valley sitting on the river bank amongst ancient trees that towner above the many lime stoned buildings. Yes I know this all sounds a bit over the top but trust me its that amazing and the complete opposite to heavily industriesed sites of many of the big distillers. Distilling first started on this site in 1812 and it was master distiller Dr. James Crow that is credited with creating the "sour mash" process in which some of the previous batch or "set back" is kept and used in with mash which helped create a much more consistent tasting bourbon.  In 1994 Brown Forman a local family owned company that everyone is familiar with re-purchased the distillery that they sold in 1974 with the aim of producing an ultra premium Bourbon.  Using three new Copper Pot Stills for a unique and time consuming triple distillation and five day fermentation (only Makers & Woodford use Pot stills most use the more efficient Column stills) Woodford Reserve can only produce up to 100 barrels a week of their fine premium bourbon which is how they like it.  The actual tour is very comprehensive showcasing all their areas of production including fermentation of their mash bill, which I was informed, is 72% corn, 18% Rye and 10% malted Barley. We were lucky enough on our tour to see the barrels getting emptied and seeing the amount of charcoal that washes out of each barrel.

Brands: Woodford Reserve

Interesting Fact: Woodford Reserve has only 1 rick house in operation aging around 4,000 barrels while Brown Forman's other distillery Jack Daniels in Tennessee has around 60 rick houses aging around 20,000 barrels in each! That's a whopping 1.2 million barrels compared to Woodfords 4,000 highlighting how boutique Woodford really is which I find fantastic. The famous Kentucky Derby horse race thinks so too and made it their official Bourbon.

Highlight: The two miles drive in and out of the distillery though picturesque countryside.

Lowlight: the tasting at the end was just taking your sample in a plastic shot glass and enjoy. After a full tour of drumming home how it's first and foremost all about quality to actually drink the star of the show from an actual tall thin plastic shot glass without any discussion from the guide seemed a poor way to finish.

Cost: 1 hour tour is $5

Did You Know About Bourbon?

Kentucky produces over 95% of the world's bourbon
Kentucky's limestone filtered water creates iron free pure water that is perfect for distilling whiskey
All bourbon is whiskey, but not all whiskey is bourbon
In the 1780's Rev Elijah Craig is credited by some with the discovery of Charring barrels to impart a smoother taste & colour gaining the title of "father of Bourbon"
Charles Burks built a distillery in 1805 and today it's the site of Markers Mark Distillery and is recognized as the "oldest Kentucky distillery site still in use."
In 1964 Congress recognized bourbon as "America's only native spirit."
Wild Turkey Distillery
1525 Tyrone Road, Lawrenceburg, KY

Affectionately known as the "kicking Chicken" by locals and devotees this famous distillery has been in operation in Lawrenceburg since 1869 when the Ripy brothers first started producing whiskey. The name was born in the mid 1900s after whiskey samples were taken on a wild turkey hunting trip and come he next year friends continued to ask for that "wild turkey whiskey" and so the brand was born. Recently in 2009 the Italian Campari Group purchased the distillery from Pernod Ricard who had owned it since 1980. What you se today is the shiny and new distillery that has just been completed just across the road from the old site that sat close to the cliff overlooking the Kentucky river and its impressive 90 meter high Tyrone bridge that was built way back in 1889. When it comes to the tour you do get to see most aspects of the making of their fine bourbon except the bottling that is still done in Arkansas.  The new set up while impressive for modernization lacks the charm that the older buildings can bring to distillery. You do get to visit areas of the old distillery and you can see just how limiting this old site was in trying to keep up with the high demand for their premium whiskey. What makes Wild Turkey so different is that they pride them selves on a more full flavoured whiskey and one way they get that is by using the most maximum and most expensive level 4-barrel burn. This creates a deeper level of charcoal into the barrel that then imparts more flavour and colour into the whiskey.  What also can't be under estimated is the passion that Wild Turkey's father and son master distillers bring to the product. Jimmy "the Muscle" Russell has been at the distillery since 1954 and only recently passed on the top job to his son Eddie Russell who has been at the distillery for over 30 years and is the 4th generation of his family employed there. They also don't like to ad too much water to the off the still spirit (white dog) and prefer to distill as close as possible to the required bottling proof to lessen dilution. They also distill at relatively low levels of around 60% because as Eddie was once quoted in Cigar Aficionado as saying "the higher you distill, you're cooking the flavor out."

Brands: Wild Turkey

Interesting Fact: Jameson's Irish Whiskey purchases most of Wild Turkeys used Bourbon barrels to age their product in Ireland.

Highlight: Driving over the famous Lawrenceburg S bend bridge to see the old distillery on the hill up high and that big sign that reads "Bourbon lovers-this is heaven."

Low Light: The new setup is very "no frills". Also why the little plastic shot cups for the tastings!

Cost: Free tours every hour
Australian Bartender Magazines Top Tours

1. Best educational tour: Buffalo Trace "Hard Hat" tour
2. Best overall experience (tour & distillery): Jack Daniels
KENTUCKY BARS AND RESTAURANTS

The Courtyard Deli
113 Cheapside Street, Lexington

This cozy whole little eatery serves up just simple fare from salads, soups and sandwiches but with no nonsense style that has it packed all day long.  Four guys behind the counter laughing and curing as they fly though one order after another. This is definably not the kind of place you try and order off the menu or asks if you can have something "on the side". Give their Corned Beef Brisket with spicy mustard & Swiss cheese a run as this is as classic Americana as you can get.  Also the Red & Black Bean Chili with Beef soup was another winner.

Bluegrass Tavern
115 Cheapside Street, Lexington

I was told this place had the biggest collection of bourbon in the US and when you see how long their back bar are you just had to take their word for it. Opened in 2007, the Bluegrass is dedicated to all things Bourbon and like most bars I visited in Kentucky the staff were very well educated on their local brands and how they differed from other local labels. I ended up settling on a nice Four Roses 7 year old as this was the only main distillery that I was going to have to miss on this trip.  The bar has old bourbon barrels as their tables if your un lucky enough not to secure a seat at their long bar. If you're keen for a cocktail in Lexington then this place should be at the top of your list.

The Horse & Barrel
101 North Broadway Road, Lexington, KY

Just a regular local pub that also has a passion for all thing Bourbon that is obviously common in Bourbon country per say. They claim to have the "worlds largest selection of ultra premium bourbons" and to be honest whom and I to know any better as its great to see so many brands I have never heard of before. I tried the deliousious and very limited edition 2010 Woodford Reserve Masters Collection "Maple Wood Finish" at a bargain of $20 per nip and the best part about middle America bars I found is that a shot is basically half a glass or at least 90ml so trying any expensive bourbons don't actually work out to be that expensive at all.

SeelBach Bar
Seelback Hilton Hotel, 500 South 4th Street, Louisville, KY

Louis Seelback a Bavarian immigrant opened the Seelback Bar & Grill in 1874 when he was only 22. Due to the bars success Louis bought a bigger property on 4th street with the aim to build Louisville's first European styled luxury hotel and move the bar to this new location. In 1905 the new hotel and bar opened and has been a big success ever since. Today the bar I'm sure doesn't look that much different from when it opened besides the many plasma screens that dot the walls. If you like your bars packed with history (Al Capone even lived in the hotel for a while) then this is a must see they also have over 40 Bourbons on offer and Bill, head bartender extraordinare has no trouble talking you though any one of them. Not sure about their cocktail of the month advertised on the bar being "Mango Infused vodka cocktail" and the drink photo didn't do the name any favours either. Anyway a must visit if your in Louisville and make sure you look out for Bill, the deep voice bartender- That's if he hasn't already discovered he could make a lot more money doing radio…

The Back Door
1250 Bardstown Road, Louisville, KY

I would never have found this place if it wasn't suggested to me by Kentucky regular our very own Mr. Jared Plummer. I asked myself the same question your properly thinking right now in that what kind of place is this? Well I can safely say this is just a great dive bar out the back of a shopping center. Dark and playing load old school rock music from the bartender friendly hours of 4pm to 4am this place seems to be a hit with anyone who can find it which doesn't seem to be very many out of Towner's. I loved their quote on their cash register that says "If your drinking to forget, please pay in advance". classic!
Travel Tips to Know


Food and drinks are really not expensive in Kentucky actually we pay a lot more in most Australian cities for sure.
When it comings to the all important tipping it can get a bit confusing as I'm told some things are say 10% for taxis and anything from 15%-20% for dinner or drinks. Keep it simple and the calculator in your pocket and just do 20% for everything so you keep everyone happy as I promise you a waiter or bartender will get I your face if you don't tip right or worse still chase you down the street if you don't tip at all!
If your driving you will notice that everyone drives very fast and they make turns on a red light so be prepared for some serious honking if you sit out the lights.
Petrol is cheap so most people have cars that are so big they even make a hummer look small! My tiny 2-door European hire car was getting many laughs at the lights. Rent a big bloody car and avoid the humiliation.
Middle America is known as the 'Bible Belt' so don't try out any of your "a priest walks into a bar" kind of jokes until your back in Oz.
Buy the book "The Kentucky Bourbon Trail" by Berkeley & Jeanine Scott that includes amazing old distillery photos and even more weird & wonderful stories on bourbon.