By Edward Washington
Photography by Rob Palmer
This is a stretch, but the Sazerac – at least a mix of absinthe, bitters and Cognac – was possibly being consumed around Sydney in 1825. The Sazerac cocktail has a real muddle of a history so it's ripe to have a few claims thrown at it. Even David Wondrich (the cocktail literary who penned Imbibe! and Punch) is quoted as saying: "The history of this drink is so intricate and entangled in myth that it requires a monograph of its own". So allow me to take a liberty and add to the entanglement.
Sydney in the 1820s wasn't all that pretty, sure it had water views, but it was probably bloody terrible for the majority of the inhabitants. What with all those cunning convicts and low-moralled women eyeing up your wallet it must have positively gross. Drinking was a good escape from the pains of daily life, and grog-shops, ale houses and spirit dens littered the foreshore and packed out the growing suburbs. In short – Sydney was wet with spirits.
ADVERTISEMENT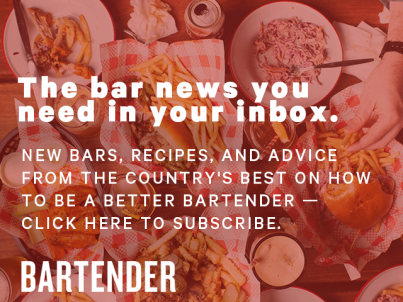 &nbsp
The colonials weren't just a crude bunch however, in fact if you glance over the history of some of Sydney's earliest settlers you'll see just how well they did at rising from their ruin and building great fortunes. Many even retired back to England as gentlemen years after they had arrived out here in chains. In short, early Australians were crafty, inventive and not without a bit of spare time to idle up some new ideas.
Love Potion

45ml Hendricks
15ml Rose syrup
30ml Apple juice
20ml Lemon juice
10ml Banana liqueur
5ml Lemercier 72 Absinthe

GLASS: Poison bottle

GARNISH: Wax paper straw and tag with hand writing.

*Bold fun flavours with lashings of peculiar sweet and spice. Flowers combined with tropical fruit. Served in a poison bottle. Hendricks gin, cloudy apple juice, banana liqueur, rose syrup, lemon and absinthe. A bit of fun with a cocktail in a bottle, sans 'breeze'. Potion results may vary.

Jason Williams, Cargo, Sydney  
One booming business for a prospering young colonial gent was the import/ export trade, and to get ones self indentured to a company that brought in valuable goods was a great opportunity to make your mark. The growing town was chomping at the bit for more luxurious items; Indian prints, cutlery, stripped cotton shirts and wine corks were all the rage in Sydney in the 19th century and fetched a good price too if you had them to sell.
As a class of wealthy emerged throughout the town, finer spirits were needing procurement and Cognac was a favourite amongst the more refined drunks that Sydney hosted. Unfortunately there's not much in the way of cocktails being mentioned in the colonial rags until much later on (1830s onwards) and even then they are only mentioned by special international reports as "cocktails" – a thing still uncertain enough to need quotation marks.
Despite this uncertainty of what a cocktail might have been colonial Sydney was brimming with the ingredients to make some fine mixed drinks – perhaps even a well stirred martini (again that's a bit of a stretch). Citrus was growing handsomely in the colony, as were peaches, nectarines and apricots, so a few muddled with a seal club and mixed with some Holland gin or Jamaican rum might have helped ward of the summer heat or calm the nerves after a run in with a local.

Punch was a popular jaunt amongst the higher end of town too, and that probably took most of the attention when the Sydney gentry were going on the lash. But in 1825 when J.H Smith imported 'absinthe, bitters…and Fine Cognac Brandy' into the colony then put it up for sale at Underwood's building on George Street, who's to say that some creative punter didn't see the mixological magic before them?
I know, I know – a Sazerac desperately needs Peychaud's bitters or it's not really a proper Sazerac by today's standards. Well the colonials are in luck because Tawell's Apothecary, Druggist & Spice Dealer, located at no.18 Pitt Row, had been selling all manner of ingredients since 1820. Tawell listed; 'different bitters, gum Arabic, spices, sugar candy and gentian quassia'.
Parisienne Flip

45ml La Fee Parisienne Absinthe
15ml Bertrand Liqueur de Mirabelle (Yellow Plum Liqueur)
1x Whole egg
Sugar syrup to taste
*Add all of the ingredients into a boston. Shake hard. (Dry shake first). Fine Strain into a tulip or similar vessel. Garnish with a sprinkle of nutmeg.

Thales Papadopoulos, Vue de Monde, Melbourne
So let's stretch the possibility that Tawell made a bitters with a gentian base (Peychaud's is gentian based) for some budding home cocktailian and charged him a thruppence for his effort. Gentian bitters now in hand, all they'd have to do now is nip over to Underwood's for absinthe and Cognac, Messrs Raine & Ramsay on Pitt for some sherry, gin or spicy rum and a last stop at Campbell's Music Warehouse, also on George, for some honey water, aromatic vinegar and ice and they're home and hosed – literally.
Now there's nothing refined about the period of time between Australia's establishment and 1830, indeed Wondrich refers to these decades as the Archaic Age for international cocktailing, where; "the tools were few, the ingredients robust, and the mixology rough and ready". So is it such a stretch to consider that one of the many publicans in Sydney didn't fancy himself as a maker of fine concoctions and threw together these seemingly innocuous ingredients of absinthe, Cognac, bitters and sugar and a lump of ice for good measure?
For all we know the public house by the name the Green Man on George St might have gotten itself a fearsome reputation from selling absinthe cocktails – one of its patrons was accused of a grizzly murder in 1825, shortly after leaving the venue. I'll admit, it's a stretch – but when the Sazerac's history is already so awash with claims and myth then what's the harm in throwing another one onto the heap?
Sazerac Sphere

60ml Cognac
10ml gomme
3 dashes Peychaud's bitters
1 Absinth sphere**

*Build and stir, serve in a Riedel O with lemon and orange peel.

**Add 10ml of Green Fairy absinthe to an ice sphere mould and fill with water. Freeze overnight.

Julian Serna, The Fern, Sydney
Petit Marseille

45ml Ketel One Vodka
15ml Ricard Pastis
30ml Fresh pressed lemon juice
15ml Vedrenne Orgeat

*Shake and double strain into a chilled martini glass. Garnish with a good looking star anise.

Steve Lindecker, 399, Perth
Death from Above

30ml Mythe Absinthe
30ml Hibiscus Tea
15ml Gomme
3 Dashes Dandelion and Burdock Bitters
2 Coffee beans
Top with Pol Roger Brut Champagne.
Edible Orchid Flower

*Crush coffee beans into base of boston glass, add remaining ingredients (except for Champagne). Shake hard and double strain into a chilled coupette. Garnish with Edible Orchid flower dropped in glass.

Doug Tasic, The Millswyn, Melbourne
Absinthe in Wonderland

30ml Flor de Cana 4yr old white
15ml Moulin Rooz Absinthe
15ml Peychaud's bitters
30ml lemon juice
10ml raw organic sugar syrup
Glug of egg white

*Dry shake ingredients first, then shake strain into coupette. Garnish: 3-4 dots of absinthe mixed with blue food colouring on top of the drink's egg white induced foam.

Natalie Ng, Hugos Bar Pizza, Sydney