3 Lime Street, King St Wharf
02 9299 4770
theloftsydney.com
Cocktail created and styled by the teams from theLoft, Sydney
Some might say that flavoured vodka has come, gone and long had its day – but after seeing some of the cocktail creations that theLoft team whipped up recently it's obvious that a bartender's heart can still beat for this flavoured tipple.
Firstly, what a bunch of troopers theLoft crew are, turning up at 10am to taste a range of, as yet, unknown spirits. They were straight into it however and their mentor Jason Williams (2010 Bartender Magazine Bartender of the Year) ran them through the range with a highly clinical approach.
ADVERTISEMENT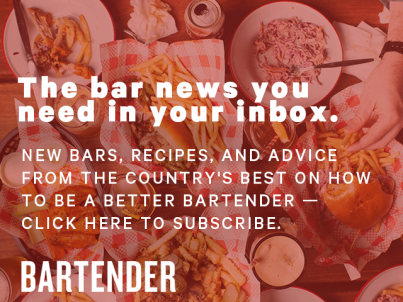 &nbsp
Williams focused on the getting the team to think about complimentary flavours, contrasting flavours and ways to improve and enhance each spirit's characteristics. Not only did they discuss the range of aromas and scents that they picked up, but they also brainstormed ideas for cocktails and how best they would work. This hard work paid off, and the crew was well rewarded by some fantastic cocktails being made later on.
It was especially pleasing to see such a great coaching technique taken by Jason when having his team assess the products, and goes to show just how influential a good trainer can be when learning about new, or obscure, spirit categories.
Bridget Haughton

How to get drunk at grandma's house 

45ml TMD Lemon Myrtle Vodka
15ml Domaine de Canton
90ml of French Earl Grey
20ml Lemon Juice
20ml Honey
1 Heaped teaspoon of lemon butter

*Add all ingredients to a metal jug and steam using coffee steamer. Fine strain into insulated glass. Garnish with sage leaves.

What Bridget Says:

"Having always been a fan of hot buttered rum I couldn't help but dabble in the idea of a hot drink after tasting the TMD spirit. I have tried to combine the intense flavour of the vodka with the comforting notes of the tea, the sweet notes of the lemon butter and honey. A sure way to cure any left over winter blues!"
Cian Stafford

Vanilla Sky

40ml Stolichnaya Vanilla Vodka
15ml Talisker single malt Scotch whisky
15ml Vielle liqueur de noix du perigord
2 Barspoons orange breakfast marmalade
3 Dashes Bittermans burlesque bitters

*Add to boston shaker and stir thoroughly. Strain over large chunks of cracked ice. Garnish with orange wrapped cinnamon stick.

What Cian Says:

"I really wanted to emphasise the strong orange notes that came through with the vanilla and used the malt whisky to pick up on the subtle caramel and toffee notes I found. The spicy tartness of the bitters and richness of the black walnut link it together nicely.
Jason Williams

RnB

50ml Smirnoff Raspberry Vodka
10ml Banana liqueur
2 Dash Bittermans tiki bitters
20ml Peach puree
15ml Lime juice

*Add all ingredients to a blender and blend until consistency is even. Pour into tall tube glass. Garnish with mint sprig.

What Jason Says:

"A raspberry flavoured vodka shouldn't be taken too seriously so I wanted to make a fun, light and exciting drink. Blended drinks are always a good fun way to serve a cocktail, and so are flavours such as banana and peach – this is a poolside cocktail for sure!"
Dean 'Deano' Bornstein

All Things Açaí

50ml Absolut Berry Açaí
10ml Aperol
15ml Lime juice
10ml Sugar syrup
30ml POM pomegranate juice
30ml Eggwhite

What Deano Says:

"Absolut's latest Berry Açaí rekindled a few childhood memories on the nose with scents such as grape hubba-bubba, musksticks. With hints of musk mingling with blueberries on the palate I decided a martini style drink was the best way to compliment its flavour. Aperol adds some tartness, and a dash of eggwhite adds some texture." 
Sergio Bernal 

Passion A Kiwi

45ml 42 Below Passion Vodka
30ml Fresh lemon juice
15ml Almond syrup
15ml Gorgeous Geisha Tea
10ml Sugar syrup
10ml Pinot Gris wine
Dash orange bitters
1 whole kiwi fruit

*Peel kiwi fruit and muddle with lemon and sugar. Add remaining ingredients and shake hard with ice. Strain into vintage cocktail glass filled with shaved ice. Garnish with kiwi slice, mint sprig and cherry.

What Sergio Says:

"The passion fruit flavour mixes very well with the kiwi fruit and the other ingredients all compliment and extend the cocktail's flavour profile. The tea gives a romantic sensation when you drink it – a perfect, refreshing drink for the summer ahead."