San Francisco Simplicity – Secrets from the Rickhouse
Gary's piece is reproduced with the kind permission of The San Francisco Chronicle.
 By Gary Regan
I was in the middle of reviewing the recipes that have been sent to me during the year when I came across a cluster of drinks submitted by the good folk at Rickhouse in San Francisco.
Rickhouse, in the Financial District, was one of six San Francisco bars that has previously made GQ magazine's list of the 25 best cocktail bars in America, the other Bay Area spots being Alembic, Comstock Saloon, Elixir, Smuggler's Cove and Heaven's Dog, all in San Francisco; and Cyrus in Healdsburg.
ADVERTISEMENT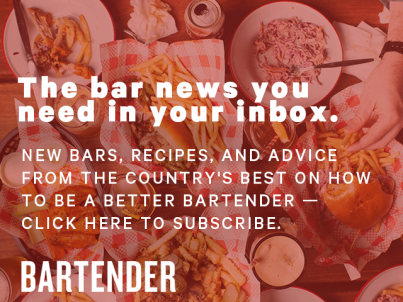 &nbsp
The Rickhouse recipes were, for the most part, fairly simple formulas, with a few dashes of raspberry eau-de-vie being the most unusual ingredient called for. These are my kind of drinks.
The raspberry eau-de-vie was the finishing touch on a drink called His & Hers, a cocktail that can be made with either gin or straight rye whiskey. It caught my eye because I'd come up with something similar last year when I created a drink with a gin base, then tried it with bourbon and found that it worked quite well.
The His & Hers recipe was accompanied by the following text: "Alas, in life we are faced with an array of decisions, some of which have actual bearing on the course of our travels, and the destinies for which we live. But ease thy heart, because this is not one of them, for within each option lies enough exhilaration and fire to deliver balance to even the most lovesick amongst us." I like it when someone writes half of my column for me.
The other drink from Rickhouse was named Parisian Barmaid. It too came with prose all of its own: "Tread lightly, for this busty treasure is every bit as alluring and rambunctious as her name suggests. Flirtatious, yet delightful, this playful beverage is ideal for anyone who does not believe that style and substance should remain mutually exclusive."
And although the bartenders who created these drinks are no longer working behind the stick at Rickhouse, I'm told that the present crew will be only too happy to make them should you drop in.
The only ingredient I've changed in the formulas is the bitters in the His & Hers. Owen Westman (now owner of The Collection Bar, Melbourne) was the one who created this one and called for Rickhouse's house bitters, so if you make this drink at home you'll have to go with Angostura. I used that, and it worked very well indeed.
His & Hers

45ml gin or rye whiskey
15ml DOM Bénédictine
7.5ml yellow Chartreuse
2 dashes Angostura bitters
3 dash raspberry eau-de-vie, as an aromatic garnish
Instructions: Stir over ice and strain into a chilled champagne coupe. Top with 3 dashes raspberry aux de vie.

*Adapted from a recipe by Owen Westman, The Collection Bar, Melbourne