This travel feature appeared in the October issu of Australian Bartender magazine.
Written by David Spanton
Part Two of my American whiskey adventure took me across the border from Kentucky to Tennessee, home to Jack Daniel's. Having Nashville as my home base allowed me to soak up some of the flavours of America's country music capital and check out some of the the world's most famous honky tonks along the 24/7 party strip that is Broadway Avenue.
Unfortunately I had no time to drop in to Memphis and see Elvis… maybe next time.
ADVERTISEMENT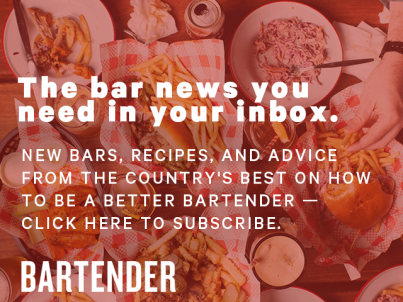 &nbsp
Check out my tips of what do do, where to do it and how to enjoy yourself while in town…
Jacks Bar-B-Que
416 Broadway Nashville

This fancy free Nashville institution has been serving up mouth watering comfort food since first opening its doors in 1976.

Renowned for big portions and low prices I'm told that every day the cues go out the door and I had to come back later in the afternoon just so I could get in and get a seat. As the name suggests it's all about barbeque the meats and what they pride them selves on is their "all wood burn ovens" which gives the meat a strong and smokey flavor.

I had their $13.99c 'combo' or 3 meats and 3 sides that included brisket, pork shoulder and their 'did you rub this in an ashtray' St Louis styled ribs (which I found just a little over powering to be honest).

The rest of the meats including the sides of coleslaw, corn and beans were down right delicious! This place is perfect for that early morning meal as you roll out of one of the many neighboring bars along Broadway.
Tootsies Orchid Lounge
422 Broadway, Nashville, TN

"Mom's" was the original name of this little honky tonk bar before Tootsie Bess bought it in 1960. Everyone who is anyone in country music has jammed at this hole in the wall establishment, making Tootsies Nashville's most famous watering hole.  Most of the honky tonks (term for a southern bar with live country music) along Broadway are packed from early afternoon to early morning all playing live music from extremely talented musicians who, just like actors to Hollywood, are all looking to be discovered and hit the big time – yet few ever do.

The place is packed with camera snapping out of Towner's like myself which would normally make me run the other way (think Surfers Paradise) you cant help get swept up with the fun of this place and find yourself actually enjoying country music! This place is another must visit institution for at least a song, or maybe two.
Robert's Western World
416 Broadway Ave, Nashville TN

Many of the buildings along this stretch of Broadway date back all the way to the Civil war when they served as hospitals for injured confederate solders. This building that now is home to world famous Honky Tonk but in its long life it has also been everything from a guitar shop, liquor store to a western boots store.

In the mid 1990's Robert Moore's Western Boot Store was expanded to bring in some extra cash and he started selling drinks and burgers while getting the local hillbillies to play. The rest, as they say,is history and locals tell me it's home to the best traditional country music. On Friday and Saturday nights you can catch the strip's most famous performing band "Brazilbilly" lead by the current owner (with the very cool name of Jesse Lee Jones).

My Tip? Sit at the bar and grab a cold beer, maybe a tasty burger and get into the hillbilly vibe.
Paradise Park Food Stand
411 Broadway Ave, Nashville TN

The best way to describe this new joint to Broadway is "trailer park diner" yet everyone inside has pockets full of tourist dollars. The good news is it still has trailer park prices with nothing on the menu over $10.

I couldn't help myself and had to try the grilled Spam & Cheese burger, which as might be expected was bloody terrible. Not going to break the bank I ordered up their signature sweet potato fries and tater tots for a deep fried heart stopper. If you and your friends don't know sign language then don't sit too close to the band, as they seem to have the loudest live music on the strip.
Dough Joe's Hot Dogs
Cnr 2nd & Broadway Ave, Nashville TN

Another recent new offering along the strip is this tiny husband and wife operated hot dog stand.  A simple menu with only a handful of dogs to try I went for the basic Americana Dog with onion, relish, pickles and mustard. It was dame fine!

Getting talking to the "mom" she tells me they came out here a few years ago to help their daughter who (like half this town) is trying to break into the country music industry as a singer. I'm told she made it to the top 50 in last years Idol competition so who knows, someone has to get famous so why not her? Anyway drop in and say hello as these dogs are made with love.
Jack Daniel's Distillery
182 Lynchburg Highway, Lynchburg TN

It's a 90 minute scenic drive from Nashville to the quite little southern town called Lynchburg which is home to the world famous Jack Daniel's Distillery. Its worth pointing out that since prohibition Lynchburg has continued this booze free law and remains today one of America's few 'dry' states. What does that mean? No tastings at the distillery! Only take away sales and even that has only been recently allowed.

However you will forgive them for not allowing you anything to taste once you see how impressive the set up of the whole site is. They combine the best of the old with very impressive modern elements that make the tour flawless.

From the running streams and springs around the property with high hills and tall trees, to the many heritage buildings and rick houses that give you a good look at what is was like back in 1866 when Jack Daniels himself first created what is today America's oldest registered distillery. There is no stone left unturned; like tasting the mash in the fermentation tanks that ferment for between five to seven days (most do 3 days except Woodford I believe); smelling the angles' share in the rick house and visiting the bottling line. It's worth pointing out that if Jack Daniel's wanted to be a Bourbon they could as they adhere to all the rules, but the fact is they do things differently around here and proudly promote themselves as a Tennessee Whiskey.

What makes Jack Daniel's unique from Bourbon is their "Lincoln County Process" that sees the raw White Dog spirit slowly filter through 10 feet of tightly packed sugar maple charcoal that they make on site.  This process removes impurities and helps make their whiskey even smoother. When it comes to their Gentleman's Jack label it receives two turns at this process, making for an extra-smooth style.

They also don't rotate the barrels throughout the aging process, opting for other systems like picking the barrels from their top 5-7 rows in the rick houses for their single barrel whiskey. The reason for this is that the hottest temperatures gives the whiskey even more interaction with the wood hence creating a darker, more flavorful product.

They don't advertise the age of the whiskies on the bottle, rather they bottle based on taste assessments from their master distiller. This is a formula that also works well for their sister distillery Woodford Reserve.

Brands: Jack Daniels

Interesting Fact: In 1956 Brown Forman purchased the distillery for $20 million and today Jack Daniel's accounts for over 65% of all Brown Forman's sales around the world. Good investment!
Highlight: Slyly kicking the same safe that Jack did back in the day that broke his toes and eventually lead to his death from infection. If only he had poured some of his whiskey on it!
Low Light: Unfortunately by law there are no tastings allowed.
Cost: Free 1-hour tours every hour
Tour Rating: 5/5 (It's as good as they can legally do it and lets be honest we all know how good their products taste)
Bar-B-Que Caboose Café     
217 Main Street, Lynchburg TN

Each town seems to have a few and Lynchburg is no exception with this laid back low key Bar-B-Que Caboose Café. It's easy to find as it's situated right next door to the old Jail House or you just follow your ears for the live country music being played inside.

The town main street is only 200 meters down the road from the Jack Daniel's Distillery and after the long drive and tour you have to stop in and spend a few dollars shopping and eating (remember no drinking) in this quant little town.

I ordered up their $8 signature "pulled pork bbq" and wasn't disappointed. The slow cooked hickory smoked meat is just what you need after spending all morning walking all around the neighboring distillery. Have a chat to the locals too as they have the coolest accent and they seem to think the same about our Aussie lingo too.
Lynchburg Jail House Museum
Main Street Square, Lynchburg TN

Well you wont get to eat or drink anything here but you will step back in time and see just how they use to deal with trouble makers until 1990 when the site was closed due to limited capacity.

Built in 1893 this place lives up to its name and is an actual house as well. Not only did the prisoners live in cells inside but for most of  years it was in operation so did the town Sheriff and his family. That's right the kids are playing down stairs and the rest are up stairs locked up sweating it out 4 people to a cell that is at best 3m x 3m. They have all this set up and on show and for only a $1 dollar donation its well worth dropping in.

Today it's looked after by a former jail employee and re-tired officer who is more than happy to tell you a few stories of the jail's colorful past.
The Red Door
1816 Division Street, Nashville, TN

A good mile away from the hustle and busle of the honky tonks down on Broadway Ave, this dive bar is a magnet for locals and tourists alike. No one does dive bars better than the Americans and this little gem is a classic example of how all the tacky knick-knacks in the world can come together to create a very cool place to hang out.

Take a close look and you will see it's covered with kitschy skeletons giving a weird voodoo vide. The beers are cheap (two for one all Sunday afternoon) and they seem to just give away any soft drink orders as if they are embarrassed that anyone would order such a drinks! This place screams boilermakers and like the bartender suggested grab a "Bud & Bulleit" referring to the new Rye Bulleit bourbon. Why can't we get more of these joints in Australia?
Patterson House
1711 Division Street, Nashville TN

Situated just up the road from the Red Door, Patterson House is Nashville premier cocktail bar. Once you are shown to your seat in this dark back library looking room you are warmly greeted by one of the four Jerry Thomas look a like bartenders who tend this square bar. I love this design as it really puts a focus on the bartenders, which these guys seem to very much enjoy.

Only the best ingredients are used from carved ice to making their own extensive range of elixirs.  They change their cocktail list seasonally with signature Collins and smashes now getting a good push as its comes into their summer. Make sure you check this place out if you want a great drink and like almost all the bars, restaurants and hotels I have visited on this two-week trip the customer service and attention to detail is second to none.  No one does customer service like the American's and that's a fact! Note Patterson House is closed on Mondays.