This new venue featured in the November issue of Bartender magazine
By Edward Washington
Address
20 Presgrave Place
Melbourne CBD
ADVERTISEMENT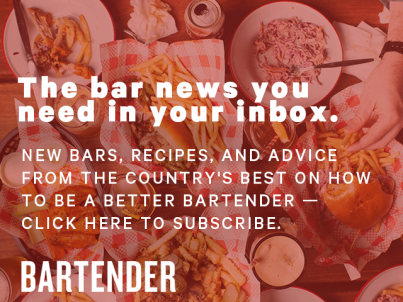 &nbsp
Web
baramericano.com
Melbourne certainly knows a thing or two about the phrase – 'good things come in small packages', and Bar Americano is just another example of what can be achieved within a small space if your concept and vision are spot on. This is the newest offering from Matt Bax (executive bartender & owner Der Raum, Melbourne) and like his well established and award wining cocktail bar this latest venture focuses on the finer touch, and offering an intimate experience that you might have expected in a bygone era.
"The bar's name is our tribute to what Europeans would most often refer to as 'American' bars," states Matt Rees, Der Raum's general manager. "The name, and the venue itself, reference the proliferation of intimate, refined cocktail venues across Europe from prohibition onwards."
Bax has been frank when previously outlining the success of his businesses, and how he maintains the refined and standout offering that characterises Der Raum. "There are no tricks really, just lots and lots of hard work. We spend months and months of time brainstorming, testing and re-testing. We invest heavily in equipment and work very closely with some of the world's leading chefs." So it's no surprise that this latest hole-in-the-wall is any different.
Bar Americano opened in mid-June and if you're lucky enough to live in the vicinity it could easily become a port of call for a regular morning eye opener (fresh pressed espresso), a midday aperitif or a late night amaro. "In regards to the CBD, we're probably the only venue that incorporates such an emphasis on cocktails while maintaining an all day offering," says Rees. Who could think of nothing more pleasant than slipping into the side street den for a tin of sardines, some cheese and an invigorating Negroni cocktail after a day of paper pushing?
Interestingly, above the entrance sits a proud little blue neon sign – 'Sali e Tabacchi'. Troll through the streets in Italy and you'll see this sign dotting the streets on a frequent basis – it's a very important stop for tourists and Italians alike, and a local 'Tabacchi' is your one stop shop for stamps, pens, bus tickets and numerous other bits and pieces you might be in need of. So while you might not be able to pick up a weekly tram ticket from this bar, it's a sure bet that they'll be able to offer something just as important.
Of the development process Rees considers it as possibly one of the longest cases of conception to completion in history. "The concept itself pre-dates that of Der Raum," states Rees, "and it has been at least a decade in the making for Matthew Bax." However once the site was confirmed (January, 2011) it was still six months before the doors opened. "We had committed to a lease by the beginning of March [and] had hoped to open slightly sooner than we did, but obviously that wasn't the case," Rees stated. The majority of the interior design construction was handled by Ravi Avasti, who also oversaw the recent refurbishment of Der Raum in early 2011.
Bax was behind the venue's key aesthetic references and his decade long stint of research has produced a venue that is sleek, elegant and refined – effortlessly matching the service and the offerings. "As the philosophy of the venue is so focussed on a classic, Eurocentric offering it was imperative that the venue itself reflect this," Rees said. "Without wanting to create a museum, anything added to the venue had to have a sense of place and permanence which is reflected in the extensive use of mahogany and copper inlays."
Bar Americano represents something of Der Raum's roots in the methodologies of classic cocktails and it has a drinks list to match the size and style of the venue. According to Rees the drink and food offering is a study in minimalism; "[We] utilize what's best at this particular point in time and offer a revolving selection of 10 classic cocktails, with an extremely amended spirit selection to support it."
The bar stocks just one gin, one bourbon, a few rums (in stark contrast to Der Raum's extensive spirits list that tops, for example, around 40 rums). Bar Americano does however splash out in other areas to make up. "The only section of our spirit offering we've let ourselves become carried away with is our collection of Amaro's," Rees says, "many of which we've sourced ourselves from Italy." A small selection of wine sings support for the harder tipples, one red, one white and a Prosecco are available, all sourced from Italy. "We also offer the best espresso possible," says Rees. [We use] a robustly rich Italian style blend from Coffee Supreme, and the finest machine money can buy from Slayer in the US."
If you're after a light meal while you sit, relax and take in the surrounds Bar Americano offers paired back and refined, European styled eating with the emphasis on the best possible produce to create the best possible product. Of their inspiration Rees says, "the food selection changes daily, and we've also sought out the advice of some of Melbourne's leading chefs including the fine gents of Burch & Purchese Sweet Studio who have crafted a selection of sweets specifically for our venue." The new bar is staffed by members of Der Raum ensuring that a dedicated eye for detail is carried across both venues. "We've also been fortunate enough to secure an excellent group of baristas that ensure smooth sailing of day trade," Rees says, "and we also take time each day to ensure that staff from each field is trained in the other – there's no reason one shouldn't enjoy a perfectly made Negroni first thing in the morning nor an excellent espresso of an evening."
Bar Americano is appealing to a broad range of customers, a trait that stems from their long trading hours. "We're seeing folks from all walks of life with the main connection being that they are willing to seek out the venue and take a few moments to enjoy the finer things in life," Rees enthuses. With Der Raum as a template, Bar Americano is set to be an icon, and having dedicated professionals plying their trade who have a focus on a selected product is a sure fire recipe. "We're not looking for fleeting success," says Rees, "but to build an institution."