This Bar Profile featured in the December issue of Australian Bartender magazine
Written by Edward Washington
Address: 185 Darlinghurst Road, Darlinghurst, Sydney
Web: hinkydinks.com.au
Phone: 02 8084 6379
Roller skates and pineapple candle holders.
ADVERTISEMENT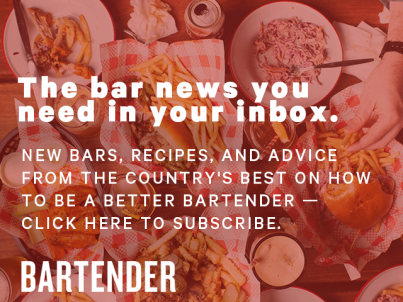 &nbsp
Got a time machine? Me neither, but don't let that stop you heading back to the post-war cocktail period by visiting Hinky Dinks, Sydney's latest take on trendy tippling. Embodying the cocktail culture of the 1950s, when then a well stirred Cobbler was an essential accessory one's image and a cocktail 'hour' wasn't dependant on keeping an eye on the clock, Hinky Dinks is setting a new trend in 'old fashioned'.
Opening in September this year with Dan Knight (ex Sean's Panaroma and Longrain) and Jeremy Shipley (current Bacardi Brand Ambassador and also ex Longrain) as co-owners, Hinky Dinks is singing to its own tune and unique style – indeed the only thing that it lacks are some girls on roller skates. "Hinky Dinks is all about fun," says Knight. "Fun drinks in a fun space served in unusual and fun ways. That doesn't mean we don't take our drinks seriously however and for us it's all about quality spirits, fresh juices and ingredients with house made liqueurs and syrups." What the hell's with the name though?
"Around 1900, a corrupt politian named Michael "Hinky Dink" Kenna opened a bar in Chicago," Shipley informs me. "He would give away free drinks to the 'poor and disenfranchised' and in return they would vote the way he told them." Kenna, it is said, went on to hold power in his seat until 1946, so the name certainly has some value for a burgeoning business looking to succeed and the boys are also tipping their hat to the first bar Trader Vic owner in San Francisco in the 1930s. "It's a sly nod to the grand master of tiki as well," Knight states.
There are certainly no 'poor' or 'disenfranchised' customers here now however, with a great mix of patrons swelling the venue's walls with clockwork regularity. "We're attracting a good local crowd of young professionals – and a lot of girls," Knight says enthusiastically. "Some nights I look around and we are the only guys in the room!  Happy days…!"
While they've certainly landed on their feet when it comes to location, location, location, it wasn't the area they were necessarily setting their sights on.
"We had a few areas in mind when we started looking for a venue," Shipley explains. "Our focus was more on the demographic of the people who lived in and use the area [rather] than the actual area itself. Darlinghurst was definitely one of the areas on the list, but to be honest we looked from Bondi to Balmain and everything in between."
Knight and Shipley spent a long time fantasising about their 'dream bar', so when you ask them about the process of actually opening Hinky Dinks it all seems to be quite seamless. "The initial vision of Hinky Dinks was all about fun [and] everything evolved organically from our initial ideas. We all just fed off each other until we arrived at what we have now." They also highly credit the work by Rachel Luchetti from Luchetti Krele in bringing their venue to reality. "Rachael did the concept design for the venue, and also designed Lo Fi, Bootleg, Sake and The Cut, which is where we met."
So finally after over two years of planning their bar, and searching for a space to built it, Hinky Dinks was only about three months in the making once the lease was signed. For such a small bar, there has been some remarkable attention paid to the finer details, right down to the emblazoned aprons the team wears, and the kitschy, ironic knick-knacks that stand out in an unobtrusive way. "The major outlay on this project was our joinery," Knight explains. "We had the kitchen cabinetry, banquette and tables all made custom and the cost of this ended up coming in at nearly triple what we budgeted for so it ended up being significant."
He's coy about the price tag, but suffice to say you'll notice the difference. Like the way that a good suit doesn't jump out at you, but you know you've just seen something special, Hinky Dinks is a seamless little venue that does a lot of things right both aesthetically and personably.  The interior is modelled on a 1950s kitchen and living room with retro-pop interior contrasting bright high-res colour and a classic styled black and white tiled floor. Raw bricks, colourful flying ducks and bright posters all jazz the place up and it's hart not to reach for one of their equally flamboyant cocktails. "Some of the drinks might look a bit camp," Knight jests, "but trust me, they are all served with a healthy measure of quality booze."
"All the drinks are super fresh with a real emphasis on quality," explains Shipley. "Everything down to the ice and various glassware that we our drinks are served encapsulates those aspects." Hinky Dinks offers something for everyone; cocktails served in ice-cream cups, infused Manhattans, bourbon frozen sundaes, aged cocktails – and even 'blue drinks'. Well known Sydney bartender Kass Hill is a regular feature behind the stick, and will happily serve you up one of Hinky's signature treats. "There are Zombies of course and pitchers of Mai Tais too," Knight beams.
"Hinky Dinks does things a little differently," the boys agree. "We give out free popcorn on arrival, treat our guests with care and respect, and are careful not to over crowd the venue." It all pays off when you're a small bar, and keeping a bit of a balance means more than just the float. "Most importantly we provide consistent good quality cocktails and snacks in a fun light hearted manner," states Knight. "People are sophisticated enough to start having fun with cocktails again, and seriously, how many cocktail bars do you know that have to put a pourer on the blue curacao and serve Pina Colada foam shots?"
Very true. After all, if it's fun that the Hinky Dinks crew want you to have what's more fun than that? "We want people to have a good time," finishes Shipley, "and we do what we can to make that happen."