The January Cocktail Experiment was shot at the Bellevue Hotel, Paddington.
Address: 159 Hargraves Street, Paddington
Phone: 02 9363 2293
Web: bellevuehotel.com.au
The recently revamped Bellevue Hotel was the perfect backdrop for this month's cocktail experiment on 'whiskies'. We had a good line-up that included Jameson Gold Reserve, Dewar's White Label, Bowmore Legend, AnCnoc and the Dalmore. Leading the experiment was Dan Woolley (Group Beverage Manager, Riversdale Group) and he was joined by a few of the Riversdale Group's crew – Paige Aubort (LoFi), Kevin Peters (LoFi & the Standard) and Dean Sykes (bar manager of LoFi).
The consummate whisk(e)y educator, Woolley led the team through a tasting session that uncovered many of the wonderful characteristics, and potential cocktail styles, that each product was showing. The Jameson displayed delicate cereal notes and a light to medium body that was thought a good match to a spiced whisky sour, perhaps some agave or fig and cinnamon jam. The crew noted that the Dewar's had a soft, creamy texture which would benefit from some orange zest or bitters – and ultimately it would end up served as a refreshing punch that incorporated tea and lemon curd.
ADVERTISEMENT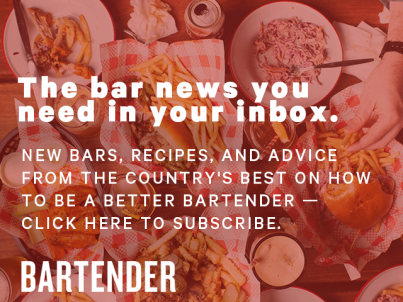 &nbsp
The anCnoc, with its noticeable sweet malt characteristics, was tipped to benefit from some added acidity which could hold up to the sweet notes. A subtle addition of fresh grapefruit was one idea brainstormed and worked a treat. The Dalmore was certainly one of the more robust whiskies of the day, and Woolley – who has an obvious penchant for this dram – thought it would match additions such, marmalade, citrus and spice, vanillas and chocolate. The team agreed that too much port or sherry might overpower the natural notes that the whisky carried – a port rinse was favoured as a subtle way to compliment any drink.
Finally the Bowmore got a run, and it's subtle mix of smoke and sweet lingered on the palate. This Islay malt benefits from younger malt stocks, and so has a lot of life, vitality and sparkle in the bottle. Matching suggestions were white caramel, cacao, even a red wine rinse. Light flavours, and citrus were agreed to be to soft and they would not hold up to the malt's profile.
Dean Sykes
Pot of Gold
60ml Jameson Gold Reserve
30ml fresh lemon
10ml sugar
2 dashes grapefruit bitters
1 barspoon fig & cinnamon jam
1 barspoon spiced apple syrup
Eggwhite
Orange twist and cherry for garnish
*Add ingredients to a Boston, dry shake and then add ice and shake hard. Double strain.
What Dean says: "The grain and spiced notes stand up well with some spiced jam and lemon. Jameson's Gold Reserve has an almost rye whiskey quality to it and works well in a cocktail."
Kevin Peters
Highland Mist
60ml anCnoc
15ml Apricot brandy
15ml Orange marmalade water
5ml Agave syrup
2 dashes Angostura bitters
White grapefruit foam-air for garnish (layer on top)
*Add ingredients to Boston filled with cracked ice, shake hard and double strain. Float foam-mist on top.
What Kevin says: "I wanted to bring a subtle tartness by creating an 'air' to contrast the noticeable sweetness of the AnCnoc. Leaving the drink simple, but with a bit of a 'wow' factor works and showcases the malt as best possible."
Dan Woolley
United Kingdom Cup
100ml Dewar's White Label
30ml Cartron Caramle Liqueur
120ml Irish Breakfast tea
120ml English Breakfast tea
2 barspoons of lemon curd
Lemon and orange zest for garnish.
*Shake whisky with lemon curd, liqueur and ice. Pour into a jug, add teas and stir. Serve in teacups.
What Dan says: "The combination of English and Irish tea, and the blended whisky, represents the United Kingdom in a cup."
Paige Aubort
The Buck Hunter
60ml Dalmore
10ml crème de cacao
1 barspoon of brown sugar
2 dashes orange bitters
Orang wheel for garnish
* Mix sugar, bitters and add spirit and liqueur, stir with ice. Strain into a fresh Old Fashioned glass and garnish with orange wheel.
What Paige says: "I wanted to make a drink that enhanced the beautiful texture of Dalmore and by incorporating crème de cacao and orange bitters as base flavours the spirit is enhanced and the cocktail balanced."
Dan Woolley
Hansell & Gretel's Islay Gingerbread Gettaway
60ml Bowmore Legend
10ml gingerbread syrup
10ml lemon juice
1 barspoon of marmalade
Garnish with Morello cherry and drop a spoonful of cherry juice.
*Add ingredients to a Boston, shake and double strain into a chilled martini glass.
What Dan says: "Complimenting the characteristics of the Islay malt was easy, and the gingerbread, lemon juice and marmalade add sublte, yet complex, notes to this standout whisky."