This profile appeared in the January issue of Australian Bartender magazine
Interview by Simon McGoram
Tim Philips, bar manager at what is one of Australia's most exclusive locations – Ivy's Level 6 – has hit a bit of a green patch when it comes to competition success.
ADVERTISEMENT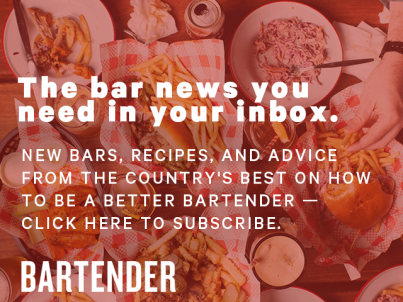 &nbsp
Over the past few years he has claimed the 2009 CLASS UK Bartender of the Year, 2011 Diageo's World Class Australia Bartender of the Year and more recently claimed the crown of Bartender magazine Bartender of the Year at this year's Australian Bar Awards.
We decided it was high time to catch up with the amiable Mr Philips to learn the secrets of his bartending success.
How long have you been bartending for?

Nearly 10 years.

How did you get into the biz and why did you stay?

I finished high school and didn't know what to do. I didn't want to do my degree yet (primary school teacher), so I asked a family friend, whom had just bought a pub, if I could help him out.

If you weren't slinging drinks what would you be doing with yourself?

Chocolatiering has always fascinated me. That, and teaching I guess.

When did you enter your first cocktail/bartending competition and what was it?

First comp was a Wyborowa comp whilst I was a barback at ffour in 2003. The drink had 30ml Lemongrass infused vodka,  15ml Aperol, 5ml Rose Water, Tsp Lime/Ginger Marmalade, and 30ml Grapefruit Juice. How do I remember this? I still have the same book I've kept all my recipes in since I started bartending. True story.

When did you have your first competition win?

*Pages flick forward in cocktail recipe book* It was the 6th of  August 2004. Wild Turkey cocktail comp judged by Jimmy Russell!

What advice do you have for a bartender hoping to land a competition win?

Make a tasty drink. I don't care how you dehydrated that virgin's tears for your tincture. If you can't see yourself drinking the whole cocktail and wanting another one, it's not a worthy winner. Ooh, and if you have ever worked for the Match group you would know a dash of passionfruit syrup never goes a stray.
What's been your proudest bartending moment to date?

Ooh, good question. Black Pearl winning Bar Team of the Year in 2008 is up there. Either that or doing a beer bong with the guys from Mighty Boosh a few years back in London.

What drives you to keep excelling at the bartending craft?

Small man syndrome.

Are you ever worried that you'll become jaded?

Every day. Once a bartender forgets humility, he becomes a terrible bartender. A good bartender has to love his customers. He or she should also never forget they are in a 'service' industry.

What is it that you love the most about this industry?

The hours really suit me. Having the days free make so much sense now that I can record TV on Foxtel. That or watching people get drunk every night means you become a more perceptive person. You see people at their best, and worst. This industry forces you to become more socially aware of your behaviour. You would have thought with all this I'd have learnt to keep my clothes on when I go out.

What could the bar trade do without?

I don't want to be negative so I'm going to tell you what the bar trade could do WITH. More training. Not just training from guys like Alchemy and MIXXIT etc., but in-house stuff. Training on your food, training on your cocktail and wine list. If I'm paying a staff member $22 an hour, and selling a cocktail for $20 the staff needs to know why a Hemmingway Daiquiri is named so. I'm sorry owners, but you HAVE to pay your staff for this training as well.
What bars have you worked at over the years and what's been your favourite?

There's been a few now. Melbourne: Bell Tavern, ffour, Black Pearl, and Press Club. In London: The Player and Milk & Honey. In France: The Clubhouse with a summer stint at White Star and Milk & Honey in New York. Now I'm at Ivy Level 6 in sunny Sydney. And no, I would not care to list 'one' a favourite. They have all been very good to me.

What's next on the cards for Mr Philips? Olympic gold? A range of home remedies and snake oils?

Going to stay as far away as cocktail competitions as I can. I get too stressed out. It's summer so I'm currently concentrating on my gardening, making the world's best sourdough, and my lawn bowls. That and opening my own Sydney small bar within 12 months… (keep that a secret though).
Tim's Top Five Tips for Bartending Success

Be Humble
Let your personality shine
Know the latest sports results
Be a foodie
Respect alcohol. Don't get drunk while you work.