This was the Editor's Page in January's issue of Australian Bartender
Why mix and shake when you can pour your cocktails straight from a cask?
By David Spanton
Vodka Mojito in a bottle? Yep, you heard it right. This is just one of a slew of offerings from drinks companies in a new category called the 'ready to serve' mixed drink! Don't be confused with the RTD 'ready to drink' category that we all know (and many like myself despise) as the RTD focuses on alcoholic mixed drinks in a single serve bottle. RTDs have been around for decades and the stats tell us that Aussies love them.
ADVERTISEMENT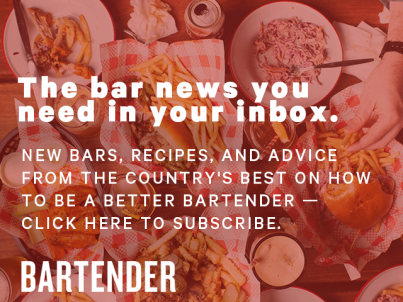 &nbsp
The new 'RTS' drinks are served mostly in casks like cheap wines but are a cocktail mix from anything like a cosmo to a Mojito and are focused on sales for the off premise… for now. Who knows, maybe a dive bar or two would see a benefit in serving these out of pure weirdness? So far the category has had huge success with consumers and lots of suppliers now racing to cash in on this new trend. This is only natural in the business world to chase short term profits. What matters in business is moving product quickly and profitably any legal way possible.
What I want to address is the cause and effect that such products have on our drinking culture and why it wipes away a lot of hard work by many people in the trade (especially bartenders) to educate consumers about quality cocktails and spirits. Not to mention how much more difficult it is for consumers to appreciate the real deal cocktail made at a local bar. You see it's not like just getting a take away bottle of say bourbon to drink at home or even a six pack of beer as both products will taste the same at the bar or at home.
This cocktail in a bottle on the other hand creates two very different drinking experience: one being a well made fresh cocktail and the other a smorgasbord of weird ingredients that I'm sure are also able to withstand a nuclear war!  What it does is a major disservice to the cocktail and what many bartenders do every day in creating quality drinks.
You would be right to think that this stuff gets me all fired up as it truly does! I have dedicated the last 12 years to publishing a magazine about premium drinks and how to use them and one has to wonder what damage they do to the core brands they use. I know for me it effects how I position such brands in the market place.
What about the excited 'young adult' consumer who just loves these things and buys them every weekend? I would bet that such consumers are sure to travel down the same brand loyalty road as our many RTD drinkers in that they become accustomed to such sweet concoctions and stay a loyal drinker for many years. As such time when they feel it's time for a change many years of sweet drinks will invariably turn them off enjoying a well made cocktail or mixed drink with many preferring wine or RTDs.
This at the end of the day the real shame as we lose many potential customers who might have enjoyed real well made cocktail at some stage in their life if it wasn't for such abundance of RTD & RTS product and marketing. And finally let's not forget how many quality products now get pushed out of bottle shop fridges to make way for the RTS…