This bar profile appeared in the January issue of Australian Bartender
Written by Edward Washington
Address:
62-70 Johnston Street, Fitzroy
Melbourne
Web:
theluwow.com
Phone:
03 9417 5447
When Josh and Barbara Collins took the plunge to take on the Melbourne bar scene we knew that something special was coming with them. After all, we did get a sneak peak of the place quite some time before the doors opened and it was apparent that their love for the crazy, their ability to embrace the creative and above all their passion for tiki theming was set to rock.
"The LuWOW finally blossomed the same weekend as BarShow 2011," said Josh Collins when we caught up with him to chat about the venue's launch. "The name – LuWoW – is the name of the great south seas movie made by Erich von Stroheim. It involved all the classic clichés; giant octopus, clam attacks, scantily clad goddesses, rum consumption by the barrel load – and of course, stormin' ukulele fuzz driven gogo soundtrack!"
ADVERTISEMENT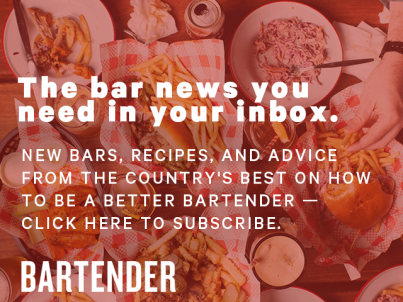 &nbsp
Josh and Barbara are the owners of Wonderbar Designs, and the creators of WA haunts Devilles Pad and Hula Bula Bar. They both have a background in entertainment and film and bring all their experience and creative vision to each project they undertake. "The LuWOW is unique," says Collins, "what other bar offers it's own custom made medallion?" In his eyes the only consistency between this and his earlier theme bars is that they serve alcohol, "Hell," he exclaims, "as soon as you cross the doorstep you are not even in Melbourne any more!"
Collins insists that The LuWOW is filled with wondrous stuff, "great vistas overlooking sparkling beaches," he says, "GoGo goddesses, a cocktail list to rival Trader Vic's and ridiculously theatrical garnishes and groovy vintage tunes." The LuWOW is a collaboration of successful ideas in a sense, a 'practical mixture' of the best attributes of Deveilles and Hula. "The LuWOW is very influenced by classic erotica cinema," Collins tells me, "and some of the best American Tiki bars," he quickly adds.
Once the site was chosen it only took around four months to convert the large space for its new purpose. While this might seem relatively quick, the team is planning to spend the next 12 months finalising designs, perfecting the interior décor, drinks offering and entertainment.
Challenges come a plenty with any venue – let alone one of the scale and intricacy of The LuWOW – but Collins, in his usual upbeat manner, dismisses the notion. "Challenge, schmallenge," he declares. "I can think of a good solution to any problem." One possible issue however, if not at least to get your ying out of whack with your yang, was the local school for alternative medicine.
"We did keep poisoning the air of the alternative medicine school upstairs with resin, and varnish fumes, resulting in waves of fainting masseurs and acupuncturists," he reluctantly admits. Nothing a few rum laden punches can't fix though you'd have to think.
Still talking about the floor Collins says that together, the flooring and the venue's upholstery accounted for about half the budget, but he's not apologetic. "A good bar needs good booths," Collins states. "Our upholstery was done by Hotfurn interiors and floors by NBD Designer Floors. Both companies were excellent at working out of the norm and providing great service."
Once you're inside the LuWoW you'll be drawn into a new world, one far removed from the bustling Johnstone St right outside. The front bar is the scene of an idyllic island village, there are glowing carved canoes, huts and South Sea bric a brac. The backroom is the lost jungle temple and incorporates south-east Asian, south American, African and Indian jungle themes. This back area is littered with vines and fake vegetation, gogo dance podiums (if you're brave, or wearing a mask) and is a proud example of what The LuWOW offers.
"[There are] amazing skull bedecked statues and even a dinosaur," Collins beams. "There is a Captain Nemo submarine and an out door smoking area with a huge flashing Easter Island head."
The rum of it all

If you haven't guessed it, it's all about rum and rhum. The LuWOW serves classic rum based cocktails and a great cross section of the spirit category itself. "We always give a good rum for your money," Collins plugs, "plus we have a decent beer selection and some fun punches to share as well." "The drinks list is very influenced by Beach Bum Berry, Trader Vic's, Don Beech (not the current incarnation of Don the Beachcombers)," says Collins. "I don't believe in mango flavoured Mai Tais." Not content to just make the cocktails, Collins informs us that the venue will soon have its own Tiki mugs and swizzle sticks to serve them in. Making drink and barware is a bit of a penchant for Collins and something that he sees as a great way to make your venue, yours.

So what on earth are you going to be eating at The LuWOW – and is it served out of a skull by a dreamy, island princess? "There is one of the best Vietnamese restaurants in Melbourne two doors away and they have got together a little pupu menu for us," Collins says. "You can have things like sugar cane prawns, and satay sticks. We are working on providing full luau's (Hawaiian feat foods) with whole roast pineapple basted suckling pigs served on banana leaves instead of plates."

With music the next topic of importance for Collins he tells me, "music is about 50% of the ambiance – it's exactly like a movie. If the music is bad or lazily done with random irrelevant hits from the past given a re-airing then it'll suck. We have proper records played by amazing record collectors, providing tropicalia sounds from around the world."

Backing up this sleek selection of music, food, creativity and rum and rum is an experienced team, some of whom have followed Collins from Australia's western shores for a 'change in scenery'. Nick Barnett heads The LuWOW's crew and was previously second in charge at Hula Bula. Nathon Robey is his back-up, Georgie Martin is running the floor and Yu Kawai is the bar manager. Collins values the whole team who he says have done a wonderful job despite the hard work needed to get the place up and running. He also makes a point of praising Katie Drane, whom he describes as a star behind the bar. "She's got a winning smile, a great service ethos and it's her first job ever!"

This creative collaboration is attracting a range of clients. Collins would like to see the atmosphere congenial to all from 21-71, and the dress code is quite strict. "If it looks like you should be in a gym drinking Gatorade, in huge trainers or hoodies, don't expect to get past the door," Collins states. "We have made a huge effort with the venue and expect a bit of an effort dress wise in return." Fair play.

"The LuWOW will astonish anyone and get them talking about it," says a confident Collins. "Based on the continuing success of [the theme] bars in Perth I don't see why it shouldn't be a hit."

"While I don't expect the level of turnover that is possible in WA we'll give it a go and the key will be in keeping the atmosphere fun and convivial and the venue providing quality drinks in a comfortable surrounding."