Written by Amy Cooper
As Parched March kicks into its second half, founder Amy Cooper reports from the front line of good times for a good cause
Each year, like a fine wine, Parched March improves – and in 2012 our annual month-long celebration of Sydney's bars has blossomed into quite a party. Events, people, amazing drinks and an extraordinary marathon.
I'll tell you more. But not until you've visited HERE and sponsored my personal Parched March odyssey.
ADVERTISEMENT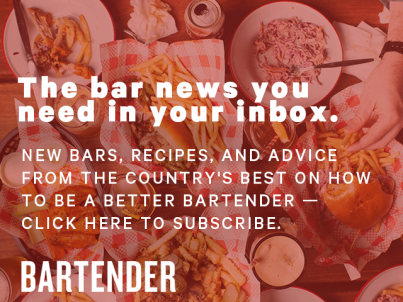 &nbsp
I'm worth it because I visited 30 Bars in One Day. Yes, 30. That's the target total of bar visits for the whole of Parched March, and I did it in 12 hours. And there's still two weeks before the month is out.
Who else can say they've done that? Well, 4Bars and Australian Bartender magazine's boss David Spanton, actually. Dave also conquered 30 bars in a day – I witnessed it – so please sponsor him, too – click HERE to sponsor him.
We're both a few hundred short of our final totals and it's all for Animal Welfare League NSW, so dig deep and show your support for this unique initiative and for your own very big-hearted industry. And for our incredible stamina and fortitude.
The support for Parched March this year has been overwhelming. Our participating bars have thrown themselves behind the cause with a fantastic array of drinks concocted specially for Parched March and some enthusiastic and flamboyant use of our point of sale material to really push sales of the drinks. I'm so grateful and I can't wait to see the totals.
Six of us had the chance to taste a tempting selection of the Parched March drinks on Wednesday 7 March, when we undertook the ambitious – some might say foolhardy – 30 Bars in One day challenge. Dave, Tiffany Farrington from PR network Social Diary, my Sun-Herald colleague Shelly Horton, the AWL's CEO Tim Vasudeva, TV presenter Mike Goldman and me started at Bondi at midday and ended at King Street Wharf at two minutes to midnight.
Mike wore Lederhosen throughout. He can testify that after at least 20 bars, these German pants begin to chafe.
We all advocate an energy drink halfway through and seamless snacking with heftier periodic refuelling. Hugos Manly (bar 10) provided a welcome pizza pit stop during our foray across the harbour, washed down by Hugos' Parched March special, The Clermont Cobbler (fresh apricot and peach muddled with Jim Beam rye, orange liqueur and Montenegro Italian bitters shaken and served over ice with a slice of peach).
New Kings Cross venue The Village (bar 21) broke out the tasting platters to complement their Dirty Diva (Havana Club Anejo Blanco, vanilla-infused Tuana, passionfruit and pineapple shaken and served over ice) and at Gazebo Wine Garden (bar 20) we rested our feet during a sample of the new menu along with Keystone's popular Parched March signature, the Eager Beaver (Tanqueray Gin, violet liqueur, apple, dandelion, burdock and lemon; shaken and served straight up).
It's essential to point out that our journey through the drinks was a straw-tasting one, with a longer sip here and there on our personal favourites. Despite the plethora of drinks we did taste,  Parched March has a strict responsible drinking message and there's no reason you can't uphold that- even on a marathon like ours.
Drinks I lingered over longer were The Bucket List's Tequila Sunrise, (which reminds me of my childhood), and York Lane's Negroni, which reminds me of all the best nights out I've ever had. The Parched March menu embraces old favourites and classics as well as new creations. I also relished Longrain's Monkey Magic (Calvados and Cartron apricot brandy with Tanqueray gin and fresh lemon juice, served straight up with a fine mist of cardamom and star anise), the refreshing Apple Cider Kiss (Orchard Crush Cider poured over cubed ice and topped with an elderflower and lime foam) at Merivale's 30 Knots and the delicious Nanny Goat Pinot Noir at Small Bar, who are donating 50 cents from every drink with an animal name in it.
Crowd pleasers were the French Rickey (Tanqueray gin, Chambord, fresh lime, soda and a cherry) served up at the J & J O'Brien venues The Belvedere and Jacksons on George (another blast from our youth), and The Argyle's Chewbacca (Tuaca Liqueur, Sailor Jerry Spiced Rum, fresh orange juice, lime and sugar). Dave favoured the excellent Barrel Aged Vieux Carre cocktail from Low 302: Jim Beam Rye, Hennessey VS Cognac, Rosso Antico, Dom Benedictine, Peychauds and Angostura Bitters, stirred and served over ice with a lemon twist. Barrel Aged for minimum 3 weeks. Great drop!
We arrived at our last bar, theloft, with aching feet, creaky knees and weary palates. We'd tweeted until our thumbs were bruised and we'd stoped chinking glasses 15 bars previously, as by then it seemed a redundant gesture. But nothing beats the exhilaration of being in 30 of this city's bars, on both sides of the harbour, within 12 hours. Such was the speed of our journey it felt as if we'd been in all the bars simultaneously, like tippling time travellers.
It doesn't stop there. Parched March has a total of 59 participating bars in its family, so we could almost repeat the whole caper. But once is enough.  I'll take it a little slower on the home run.
We're heading towards the Grand Wrap Party at The Bucket List on Tuesday, April 3. There, we'll be handing out prizes for the bars, individuals and cocktails that rocked Parched March this year.
We also have some exciting events still to come:

Sunday 25 March: Sunday Yum Cha Session – BYO dog! At LL Wine & Dine, Llankelly Place, Kings Cross, 11am-4pm. Sunday Yum Cha Session with one special rule: BYO dog! Modern yum cha to the live music stylings of the Myall High Club, while pooches will receive their own 'doggy bag' complete with fortune cookies. The best dressed pup will win its owner dinner for two at LL Wine & Dine's new sister restaurant, PaperPlanes in Bondi. Cost: Free to enter, food and drink additional. Bookings essential (outdoor seating for pets is limited) Email hello@barge8.com

Sunday 25 March: Pets at the Pub at The Alexandria – The Alexandria Hotel, cnr Henderson Road and Garden Street, Eveleigh from 1pm. Bring your pooch and hang in The Alex's big beer garden with Dr Katrina Warren and her famous Wonderdogs, who will perform their mind-boggling tricks. Special surprises on the day for canines with looks, talent… or just a lot of enthusiasm.  Free entry. www.alexandriahotel.com.au

Tuesday 27 March: Merivale Xchange: Cocktail MIXtress – sip, shake, stir to impress. The den at Ivy. Mike Enright and Jamie Tyrrell perform a cocktail class with a difference. They'll be revealing some trade secrets, doing live demonstrations and telling the ladies how to mix it up at home, impress bartenders and make their blokes feel like Don Draper. For cheeky entertainment, with some serious cocktailian insights, this is one not to be missed. www.xchangesydney.com.au

For the full Parched March menu, list of participating bars and events calendar, visit www.parchedmarch.com.