This Cocktail Experiment featured in the recent March issue of Australian Bartender
Address: 281 Bondi Road, Bondi NSW
Phone: 02 8020 6698
Web: thecornerhouse.com.au
Cocktails created and styled by the team from The Corner House, Sydney
ADVERTISEMENT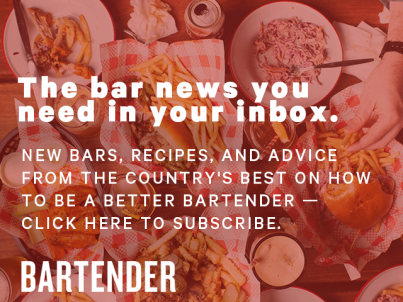 &nbsp
Bringing a touch of sanity to this much maligned spirit
In the midst of an Australian summer we were granted a typical Parisian winter day with a cool chill, light cloud and a constant drizzle of rain hanging over Bondi and The Corner House. Perhaps it was fitting however as the task for this month was to make absinthe cocktails which, at the best of times, can be a challenge to create and also to sell.
Nonetheless, TCH's bar manager Ben Blair gathered together a fine team of 'tenders for the March edition and the line-up included Jimmi 'the Maori' Smith, Alex 'Gromet' Carter and Marcus 'Talco' Taylor.
After a lot of tasting, brainstorming and creative ingenuity they produced some sensational drinks that have breathed some fresh air into this much maligned spirit. Check out their drinks and give them a go yourself.
Ben Blair

Meaningless Violets

20ml Mythe Absinthe Traditional
20ml Violet liqueur
20ml Angostura bitters
10ml fresh pressed lemon juice
Apple cider to top

*Shake ingredients over I've and strain. Top with apple cider.

What Ben says: "Sounds like a train wreck, but the complexity of the Mythe strands up strongly against the bitters and also matches the floral notes from the violet liqueur. The dry apple cider also lengthens the drink and holds the flavours in place."
Ben Blair

The Little Miracle

15ml La Fée NV absinthe
30ml Reposado Tequila
15ml St-Germain elderflower liqueur
5ml sugar syrup
1 whole egg

*Dry shake ingredients and then shake with ice. Strain into mug with ice.

What Ben says: "The Tequila gives some backbone to work against and the St-Germain adds some sweetness and pulls the absinthe in close. The drink's texture is mellowed out by the creamy egg."
Marcus Taylor

The Sweeter Side of Sane

30ml Absente absinthe
¼ sliced pear
1 barspoon cinnamon sugar
60ml Prosecco

*Add pear slices, cinnamon sugar and Absente to a small fry pan and light. Stir until caramelised and add to shaker with ice. Shake and double strain into vintage coup and top with sparkling wine.

What Marcus says: "I thought the Absente would match this drink really well with its delicate citrus notes and dry finish. It still packs enough of a punch to cut through the par and Prosecco."
Alex Carter

A kick in the noodle

30ml Pernod absinthe
20ml Spice Honey Apple syrup
20ml fresh lime
10ml TMD Apricot Eau de Vie
3 drops Bittermans Orange Citrate

*Add ingredients to a cocktail shaker and shake hard. Strain into a glass boot – or tall glass in a pinch – and garnish with a fresh plucked sprig of mint.

What Alex says: "This summery cocktail is a great match that brings together spiced honey apple, the acid of citrus and sweet apricots. They all match and work well with Pernod's tasty liquorice flavours."
Jimmi Smith

A nice alternative

15ml Moulin Rooz absinthe
15ml fresh lemon juice
15ml sugar syrup
100ml Montieth's crushed apple cider

*Using a 1950s style milkshake glass add spirit, citrus, sugar and stir. Fill with large cubes of ice and top with cider to taste. Garnish with a liberally sized lemon zest.

What Jimmi says: "Brought around by the season we're in, the lemon myrtle and subtle sweetness of the Rooz absinthe ties in nicely with the crushed apple and lemon zest."