Interview by Edward Washington
Working his way from Northern Ireland's mean streets to operate one of the most awarded Hotels doing the rounds, Sean Muldoon has never shied away from adversity.
After years of working for the 'man' Sean is set to launch The Dead Rabbit Community Tavern in New York City – the final realisation of his dream to own and operate his own venue. We thought it high time that Australian Bartender had a sit down with one of Ireland's leading lads.
ADVERTISEMENT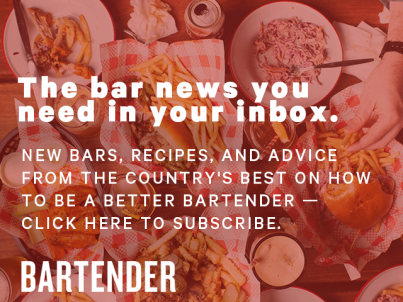 &nbsp
How did you first get into the bar business?
I originally got into the bar business because I wanted to work overseas and save some money so that I could produce a music CD of my own. So I trained to be a bartender for a year in Belfast before heading off to work in a hotel in Kincardineshire, near Aberdeen, Scotland. I worked there for two years and in my spare time wrote a pile of songs and saved the money I needed in order to make my CD. I returned to Belfast and took two years to create my CD – then, out of the blue as I was trying to decide what to do next tragedy struck. On New Years Eve, 1997, a time when the peace process in Northern Ireland was not fully established, two gunmen walked into the bar I was working and started shooting indiscriminately – killing one and badly injuring many others.
This incident had a profound effect on me and I questioned where I was going in life. Fortuitously, I happened to watch a documentary on an Italian furniture maker who went from making furniture for locals in a small Italian village, to being one of the most sought after furniture makers in America. I realised that every vocation has extreme highs and lows, and that the same story of success that applied to this humble furniture maker could apply to any vocation – bartending included. Bartending at that stage was all I really knew, and decided there and then that I was going to take bartending as far as I could possibly go with it.
What's the attraction of the bar business for you?
I love meeting good people and pleasing them. I love knowing that customers leave my bar feeling satisfied and I look forward to seeing them return again. I love meeting other like-minded industry personnel and the sense of belonging to an actual 'community'.
How have you evolved as a business operator over the years?
When I started taking bartending seriously I was obsessed about the taste and presentation of drinks and during the late 1990s to early 2000s I primarily went to London for my inspiration, sitting in the top bars and watching how the bartenders prepared and served drinks. I did anything and everything in order to further enhance my knowledge and skills. Back then I thought the drink was king.
These days I look at the whole operation of a bar, of which the cocktails are only a part. I look at the ambience, décor, music, heating and lighting levels, staff, service, uniforms, hygiene, food, wine, beer, cups, plates, glasses, toilets, bar set-up, inventory, menus and so on and so forth. Although I have never and will never compromise on quality, I look through the eyes of an owner rather than a bartender these days.
What mistakes taught you the biggest lessons?
If I am to be honest with you, the one mistake I made which stands out above all the other mistakes I made was trusting one of my previous bosses who assured me he'd help me to obtain my own bar if I delivered on my promise to make his the greatest bar in the world. When I finally left the Merchant Hotel last November we were indeed the most awarded cocktail bar on the planet, yet my boss in turn was unforthcoming in his promise to me.
What's your proudest achievement in the bar industry thus far?
The one that stands out most to date was the night Merchant Hotel won three awards at the Tales of the Cocktail Spirit Awards Ceremony in New Orleans, in July 2009. We won the awards for 'World's Best Hotel Bar', 'World's Best Cocktail List' and 'World's Best Drink Selection'. The feeling of elation I had that night was unlike anything I've ever felt or experienced in my life.
What are your top 3 international bars, and what cocktail would you order?

Despite travelling widely, Sean's top three international bars are all based in New York.

Mayahuel – A Mezcal bar, and my drink of choice there would have to be a 'Jacko's End' (Mezcal, Applejack, Benedictine and Peychaud's Bitters).

PDT – My drink of choice there would have to be a Negroni.

Employees Only – But I don't really go there for cocktails, grab a beer. The vibe is fantastic and it makes a great going out experience.
How do you continually develop your creative ideas?
I don't set out to be creative, however sometimes find myself in an opportune situation.
For example I once compiled a section on the Merchant Hotel cocktail list called 'The Connoisseurs Club' which was based on something I'd seen on the list of a London bar called The Player some years earlier where they had a section where the drink's price increased dependant on the quality of the spirit used. Recreating the idea, for my 'Platinum level' drinks I hunted down some of the rarest and most spirits available. Acquiring an original bottle of J Wray & Nephew 17yr Old Jamaican Rum for our Platinum level Mai Tai I new it was pretty special and decided to market it as the world's most expensive cocktail. This was confirmed one year later by the Guinness Book of World Records. The idea to have the world's most expensive cocktail just came to me; I didn't set initially set out to have it.
Do you have any exciting plans for the future?
For the last year I've been living in New York developing my own project, which will be called The Dead Rabbit Community Tavern. We are now in the process of acquiring a site and it is estimated that we'll be open in another months if all goes according to plan.
'The Dead Rabbit' is named after an Irish gang in New York City in the 1850s, whose name translated as "men to be greatly feared". Their emblem was a dead rabbit impaled on a spike. The name and the imagery might create a little controversy – which is always a good thing in my opinion.
What have been some initiatives/ inventions that have revolutionised the cocktail world?
Crystal clear block ice-cubes that bartenders now use in drinks have been the biggest revolution in the cocktail world in recent years. Even though this is how things were being done way back before the invention of commercial ice machines. It's great that owners and bartenders are fanatical about this detail.
What cocktail trends are popular at the moment?
Old world style drinks using a lot of homemade ingredients such as bitters, syrups, cordials and tinctures. Drinks these days have much less fruit and much less sugar than they did when I was starting out.
Are there any local or international bar operators that you admire?
Jonathon Downey of Rushmore Group in London. He is dedicated to total excellence and gets the absolute best out of every single individual that works for him. His attention to detail and the rigorous training programmes he puts his staff through are unparalleled. He also knows how to make money.
What advice would you give young bartenders who want to open their own bar one day?
Learn from the best and keep learning until you know you are ready to open a bar. Be sure it is what you want; opening and owning a bar is much different to working in a bar and it demands 100% commitment.
What are your Top 5 tips for running a successful bar business?

1.     Ensure your concept is perfectly thought out and one you fully believe

2.     Always stick to your original idea

3.     Be consistent in everything you do

4.     Look after your staff and they will look after you

5.     Never ever allow yourself to become complacent