This Bar Profile feature appeared in the recent April issue of Australian Bartender
By Edward Washington

Address: 1 Malthouse Lane, Melbourne
Web: eaudevie.com.au
Phone: 0412 825 441
"We believe that cocktails can be better matched for food than both beer and wine, albeit being far more complicated to orchestrate." Greg Sanderson, co-owner EDV Melbourne
EDV's flow on effect
There's safety in numbers right? Well for multi-venue operator Sven Almenning that's a phrase he's certainly tempting having recently opened two new venues, EDV in Melbourne and The Roosevelt in Sydney. Off the back of Eau de Vie's (Sydney) successes the same formula has shifted south to what has long been pegged as Australia's cocktail state; and by all accounts the new venue is doing well.
ADVERTISEMENT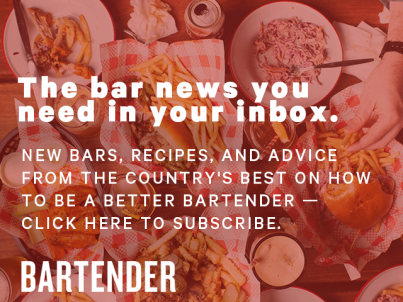 &nbsp
Sven Almenning is the founder and director of Behind Bars and was the driving force behind the first Eau de Vie concept: which won Best Cocktail Bar in 2011 at the Australian Bar Awards and Best Cocktail Bar in the World at Tales of the Cocktail in the same year. For the second round of his 'water of life' styled bar Almenning has partnered with well known Melbourne identity Greg Sanderson, a stalwart industry figure who's been on the scene for over a decade as both bartender extraordinaire and bar trainer.
Spruiking a new bar in Melbourne's red hot bar scene is sure to be an ever present challenge, even for the like of these guys so what are they bringing to the table apart from cracking cocktails and a veritable wealth of product knowledge?
"Our aim is to offer fantastic service in a comfortable environment," says Sanderson. "World class drinks, amazing food and dinning experiences with a booze selection that hurts your neck to look at."
Ok. Sounds like the same recipe for success that's got Sydney's venue into the headlines, but is there anything new to the mix? "We are doing everything that the Sydney venue is doing with the added bonus of an excellent kitchen," Sanderson adds. So that's it then, food glorious food! So what's on the menu?
"We're offering a full tapas menu and we serve food all the way up to closing time at 1am," Sanderson explains. "Of course we also offer our degustation dinner on the degustation table – the table seats up to 18 guests in one sitting and everyone eats the same food and drinks the same drinks."
For the team behind EDV there's more to the name than a trendy catch phrase, these guys really believe in the words (or the letters in this case). Eau de vie is a French term, as any bartender worth their mixing spoon should know, for 'water of life' – the moniker for distilled spirits – and it is something that Sanderson takes very seriously.
"As we're a spirits and cocktail bar we believe not only in the healing benefits of good booze, but also that this name represents our craft and our purpose," says Sanderson. This strongly held belief also translates into the style and quality of the drinks service. Cocktails are lovingly concocted with an air of respect, and drinks are poured and stirred as though their very molecular structure may disintegrate if heavy hands are carelessly used.
In a city that backs itself on its cocktails, what have these guys got that gives them some weight? What's the difference between their place and the next best venue down the road? Sanderson explains: "EDV's main point of difference is, we believe, its vision and the commitment we have to providing great service and offering exceptional drinking experiences to our customers."
"The [EDV concept] is not about being cool, it's not about interior design, it's all about the drinks we serve and the experiences our guests have when enjoying them." How do they go about giving this 'experience'? "Amongst other things we use vintage cocktail shakers and serving vessels. We've had custom made liquid nitrogen taps installed at the bar and use only the best quality ice and ingredients."
On those custom made nitro taps Sanderson admits that they did cost a small fortune and might have been a touch extravagant, "no bar really needs liquid nitrogen on tap," he says with his tongue in his cheek. However, get him started and he can't talk them up enough. "God damn [it's] cool – you can't argue with the theatre it creates and a the taste of a super chilled nitro punch is rocking!"
Still on the differences that'll give EDV an edge in such a competitive market, Sanderson talks more about the food they're offering. "Our five course Cocktail Degustation is another unique offering which sets us apart from other bars and restaurants in the area. We believe that cocktails can be better matched for food than both beer and wine, albeit also far more complicated to orchestrate.
From the outset the Almenning's vision for the Eau de Vie brand was to be more about making a statement and less about 'being a business', according to Sanderson. "Eau-de-Vie was all about creating a venue where people walk away talking about the amazing drinking experiences they had rather than about the music, the crowd or the design."
The time between finding a site in Melbourne and pouring the first well-crafted Martini took about five months, testament perhaps to the emphasis on drinks and food quality and not spending excessive time on complicated aesthetics, "bars unfortunately tend to focus on most things but the drinks," laments Sanderson.
It is a truth that often enough a new bar's impressive design belies its ability to offer tasty and 'on-trend' treats. Justin Hemmes (winner of the 2011 Bartender Magazine Most Influential List) once said, "you could open a room with black walls and no windows – but put a fantastic bartender in there and it'll be a happening place."
Not that EDV is drab – far from it with fine touches of artwork and well thought out decorative pieces – but the focus for the team is the food and drinks they serve and the way they serve them.
"Cocktails are king at EDV," Sanderson proudly states. "We have an extensive cocktail list of signature drinks and a huge range of spirits with a whisky focus." Mixing up the drinks is a pretty solid line-up too, including: Jamie Chesher (ex- Seamstress and The New Market), Josh Crawford (ex-Golden Monkey, and Cookie), Kash Wall (ex-Golden Monkey) and Claire Wong (ex-Spice market).
So with all this talent behind the bar and an open determination to serve the best cocktail experience money can buy who's breaking down the doors for a night on the inside? "The clientele demographic is very broad ranging" Sanderson states. "It ranges from the cocktail enthusiast to someone wanting to try our cocktails even if they don't know much about them, but just want a great experience."
All in all EDV's offering is going to suit you whether you're a veteran cocktail know-it-all, or a novice. What's even more assured is that the team, headed by Sanderson, will strive to give you an unforgettable experience – and that's what a good night out is all about.