By Simon McGoram
Photography by Steve Brown
Presented by Lewis Jaffrey, Baxter Inn – Sydney. Basement/152-156 Clarence Street, Sydney
This feature was in the April issue of Australian Bartender
Malt whisky – nectar of the gods. There are few tipples its equal in terms of the devotion and fanaticism it incites in its followers. Many of malt whisky's most ardent supporters scorn even the mere thought of adding ice to a wee dram let alone mixing a beverage with it. Perhaps that's why historically there are relatively few malt whisky cocktails – that and the fact that single malts are a relatively recent addition (mid-20th century) to the bartender's arsenal.
ADVERTISEMENT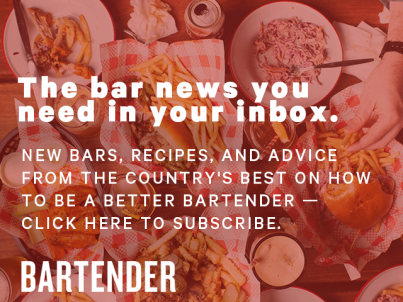 &nbsp
Malt whisky – full of character – is, however, an excellent cocktail ingredient. Admittedly it can provide plenty of challenges for the mixer as it is a dominating, rich and unctuous spirit. But have patience when experimenting – apply yourself properly and you might have a real rip-snorter on your hands. It provides plenty of back bone to any cocktail it's mixed in and is full flavoured enough to be the hero of the drink rather than just the intoxicant. The cocktails shown here are what the team here at Bartender magazine deem to be the very best classic malt whisky cocktails for man or beast. Of course, most were originally made with blended Scotch, but I'm sure you'll forgive us once you give these a whirl with your favourite malt.
The hero of this feature is the Penicillin – a delightful potion invented by ex-pat Australian bartender Sam Ross at Milk & Honey in New York. Ross credits the invention to some experimentation he did on a Gold Rush cocktail (bourbon, lemon and honey) back in 2005. Ross used a Scotch as the hero of the drink and the initial results though good were vastly improved once once he'd drizzled a splash of a peaty Islay single malt whisky over the top. It's now famous enough to be considered a modern classic.
"People were very tentative in using single malt Scotches in cocktails previous to this," Ross told Bartender a while back, "I think this fact did help the Penicillin gain some modest recognition."
Well done Sam. It's one of our favourites and it's our pleasure to share this drink with you all again.
Ingredients for Penicillin Cocktail:

60ml Spey River 8 year old single malt whisky
20ml lemon juice
20ml honey & ginger syrup
10ml Lagavulin 16 year old single malt whisky

Notes on Ingredients

Spey River is a zippy, floral Speyside whisky with hints of vanilla fruitiness released by the Spey River Whisky company. It's contrasted perfectly in this drink by the more mature and heavily peated Lagavulin 16 year old from Islay.
To make honey and ginger syrup: Simply juice some ginger using a centrifugal juicer or a fine grater. Be sure to squeeze the pulp to maximise the ginger juice you get from your ginger. Mix with equal parts honey and add a pinch of salt to help enhance the flavours.
Fruity, chocolaty and spicy with just a lick of peat, try using the Glen Moray 16 year old single malt Speyside whisky in a Blood and Sand (see over leaf).
With dried fruits and floral honey notes the Yamazaki 12 year old Japanese single malt whiskey is perfect for breakfast tipples like the Morning Glory Fizz (see over leaf). Avoid something peaty in this drink you won't necessarily want the smoke fighting with the absinthe.
A delightful twist on the Bobby burns can be made with the addition of Lagavulin or a similar Islay whisky. The honey and spice of the Benedictine tames the peat fires of the malt and marries pleasantly with that medicinal iodine character.
Step One: Add your fresh squeezed lemon juice and your honey and ginger syrup
Step Three: Add your Spey River 8 year old single malt whisky
Step Four: Add ice and shake briskly
Step Five: Strain over a large block of ice into a rocks glass with a smouldering stare
Step Six: Float your Lagavulin 16 year old whisky on top
Useful Malt whisky Cocktails:
Bobby Burns




60ml Lagavulin 16 single malt whisky
30ml Dolin Rouge vermouth
7.5ml DOM Benedictine
Dash of Angostura bitters

*Stir down and serve up. Garnish with a lemon twist.
Morning Glory Fizz




45ml Yamazaki 12 year old single malt whisky
15ml French or Swiss absinthe
15ml Lime juice
10ml Lemon juice
2tsp Castor sugar
1 Egg white
Syphon seltzers or vichy water to top

*Add all ingredients except syphon seltzers to your mixing glass. Dry shake (without ice) to emulsify egg white. Add cracked ice and shake briskly. Strain into a highball glass and top with sparkling water. Consume immediately.
Blood & Sand




20ml Glen Moray 16 year old single malt
20ml Martini Rosso
20ml Orange juice
20ml Cherry Herring

*Add all ingredients to a shaker. Ice shake briskly and double strain into a chilled glass. Garnish with flamed orange zest if you fancy a bit of showmanship.