Address: 1 Temperance Lane, Sydney NSW
Web: thegrasshopper.com.au
Phone: 02 9947 9025
This Cocktail Experiment featured in the April issue of Australian Bartender
It was a seriously miserable and cold, rainy day (what's new right) when the crew at Grasshopper got together to sample some fine rums and mix up some great cocktails for this month's Cocktail Experiment.
The overcast skies didn't dampen their enthusiasm however and under the able guidance of their bar manager Glen Wheeler the 'hopper team put their heads together for a two hour session which resulted in some fine drinks.
ADVERTISEMENT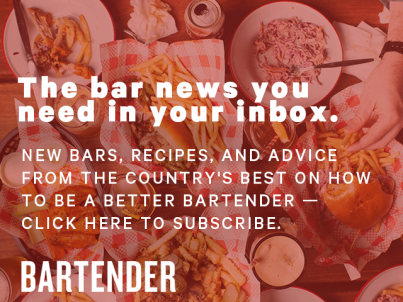 &nbsp
A big thanks to Glen Wheeler, John Toubia, Vanessa Hall, Bella Hallinan and Rhyley Wheeler showing up well before they should have been at work and taking part – and to owner Marty O'Sullivan for bending my ear and getting the team involved.
Bella Hallinan

Scuba

80ml Santiago de Cuba Rum
20ml Midori
100ml fresh pineapple juice
40ml young coconut syrup

*Build all ingredients into a large glass serving beaker and stir with ice. Top with more ice and fruit garnish. Serve with a pair of ice filled cups.

What Bella says: "The rum flavours are lighter in style – perfect for a summer tiki style drink. My idea was to create a Punch style of drink that you can share; it's something which could be enjoyed in the sun."
Vanessa Hall

Cuban Passion

30ml Santiago de Cuba Blanco
15ml orange curacao
30ml passionfruit puree
15ml pomegranate syrup
Good splash of sparkling wine

*Add ingredients to a cocktail shaker with ice and shake hard. Strain into a glass drinking jar and top with sparkling and garnish.

What Vanessa says: "I chose the light, fruity flavours to compliment the delicate sweetness of the rum. I wanted this to be an easy drink to enjoy, one that could be drunk any time of the day, and one that wouldn't compromise the flavour integrity of the spirit."
Glen Wheeler

Polynesian Punch-Up

40ml Appleton Estate VX Rum
20ml Massenez Apricot brandy
Dash Fee Brothers Rhubarb Bitters
40ml pineapple juice
20ml orange juice
30ml fresh lime juice
10ml orgeat syrup

*Add ingredients to a cocktail shaker with ice, and shake hard. Strain into your custom made Tiki mug and garnish with orange slice, lime shell and black cherry. Fill lime wheel with high quality Cognac- and set on fire!

What Glen says: "Working with this rich and complex base spirit I wanted to lengthen out the characteristics and freshen it up with some juices. The final addition of Cognac gives a welcome kick to this Polynesian cocktail, so watch out."
Rhyley Wellsmore

Volkan




40ml Bacardi 8 Rum
20ml dark rum
15ml orange curacao
35ml orange juice
35ml pineapple juice
10ml orgeat
5ml maraschino cherry juice
2 wedges of lime (squeezed)

*Combine ingredients, shake and strain over crushed ice. Garnish with a range of orange slices, lime slices, pineapple etc and serve.

What Rhyley says: "Bacardi 8 is a powerful rum and fruit flavours play really well off it (like orange). Anyway, it's only a 'real' tiki drink if it's got an ingredients list as long as your arm! Enjoy."
John Toubia

Bundaberg Cooler

40ml Bundaberg Five
25ml Cabernet Sauvignon (Tannat in a pinch)
20ml fresh orange juice
60ml Solo
Dash of egg white

*Shake ingredients in a cocktail shaker and strain into a highball glass. Top with solo and serve asap!

What John says: "The red wine adds a great dryness to this drink and the Solo opens it up a little, as well as lending a subtle sweetness. It's a cool, refreshing, rum-based beverage."