This How To was done in association with Bulleit Rye American Whisky – It featured in the May issue.
Words by Simon McGoram
Photography by Steve Brown
Presented by Daniel Mussen
Shady Pines Saloon
Shop 4, 256 Crown Street, Darlinghurst, Sydney
shadypinessaloon.com
Rye whiskey is here and boy howdy does it mean to stay! A flavoursome grain spirit that expresses more of a citric and pepper spice flavour profile than its sweeter cousin bourbon, rye has a touch more cowgirl in it than southern belle. We bartenders love it all the same, and so did American mixaturges from the early days of the cocktail.
ADVERTISEMENT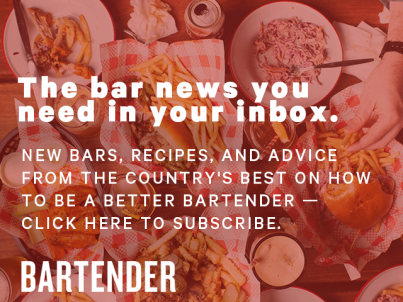 &nbsp
In the scheme of things rye whiskey has only been re-introduced into the bartender's lexicon over the past decade. Whilst it never truly vanished it has been relatively obscure since Prohibition. Now however, more and more brands are finding their way to Australian shores so it's high time you brushed up on some classy rye tipples.
One worthy rye concoction of note is The Brooklyn named after one of the five boroughs of New York City. Staten Island unfortunately missed the boat when it came to having a cocktail named after (though there is the Staten Island Ferry – Malibu and pineapple) and of the other three – Queens, The Bronx and Manhattan – only the later has really achieved popular acclaim.
The Brooklyn first makes an appearance in Jack's Manual, by J. A. Grohusko, in 1908, but it doesn't really get a good run in many cocktail books after Prohibition. The blame can perhaps be put on one of the cocktail's more obscure ingredients – Amer Picon – a bittersweet French disgestif flavoured with orange, quinine, gentian and cinchona. At the time that Mr Grohusko included the Brooklyn in Jack's Manual bitters like Amer Picon were at the height of their popularity. Following the wars Amer Picon lost some traction in markets like the US and by the 1970s they even changed the formula – reducing the proof and bastardising the flavour. For a long while Amer Picon was only ever seen in France – so the country that gave birth to the Brooklyn lacked even the ingredients to make it.
David Embury – author of The Fine Art of Mixing Drinks offers another reason for the drink failing to leave a lasting impression on the cocktailian world. "Even in Brooklyn there are at least five to ten times as many Manhattans consumed as there are Brooklyns," explains Embury in 1949. "Try them both and you'll understand why." It would seem that this rather curmudgeonly drinks writer for one believes the drink lacks merit in the flavour department. I implore you to give the drink whirl. Make up your own mind on whether this is a worth tipple or no. It wouldn't be the first time a critic's opinions have been wrong.
Ingredients:
Brooklyn

60ml Bulleit Rye American Whiskey
20ml dry vermouth
7.5ml maraschino liqueur
7.5ml Amer Picon

Stir down & serve up. Garnish with an orange twist.

First published in Jack's Manual, by J. A. Grohusko, 1908

Notes on Ingredients:

Bulleit Rye American Whiskey is a relatively new product to Australian shores. It's a straight rye whiskey with a mash bill that it includes a whopping 95 per cent rye and is bottled at a healthy 90° proof (45 per cent abv).
On the nose Bulleit Rye displays fresh mint and citrus peel with sweet notes of mulled apple cider, ripe nectarine and maple syrup. The palate is initially sweet and round, with rich grain and cocoa flavours developing through the mid-palate before finishing with dry oak. A warming spiced apple pie flavour lingers long after you put down the glass. Delicate enough for sipping, but bold enough for cocktails.
Your best bet on getting a bottle of Amer Picon is to order it via the Whisky Exchange online.
If you're passing through the States some specialty stores may be able to sell you a bottle of Amer Picon otherwise a worth substitute is Torani Amer
Step One: Add your dry vermouth and Amer Picon
Step Two: Add your maraschino liqueur
Step Three: Add your Bulleit Rye American Whiskey
Step Four: Add ice and stir until thoroughly chilled
Step Five: Strain into a chilled coupe or champagne saucer glass
Step Six: Garnish with an orange zest
Useful Rye Whiskey Cocktails

Blinker

60ml Bulleit Rye American Whiskey
30ml white grapefruit juice
7.5ml sugar syrup
1 barspoon Bonne Maman raspberry preserve

Shake and double strain into a coup. No Garnish.

The Official Mixer's Manual, by Patrick Gavin Duffy, 1934. This variation comes from the PDT Cocktail Book by Jim Meehan, 2011

The Final Ward

20ml Bulleit Rye American Whiskey
20ml Green Chartreuse
20ml maraschino
20ml lemon juice

Shake, double strain and serve up. No garnish.

Drink created in 2007 by Phil Ward at Death & Co., New York

Vieux Carré

30ml Bulleit Rye American Whiskey
30ml Cognac
30ml sweet vermouth
7.5 ml Benedictine
1 dash Angostura
1 dash Peychauds

Stir down. Strain onto rocks. Lemon twist.

Famous New Orleans Drinks, by Stanley Clisby Arthur, 1937. Credited to Walter Bergeron, head bartender of the Hotel Monteleone, New Orleans