These awesome Tequila cocktails featured in the May issue of Australian Bartender magazine
Photography by Steve Brown
There are few spirits that attain such a revered and celestial prominence in popular culture as Tequila. It is, according to Aztex tradition, sent from a higher power. The outstretched leaves of the blue agave reach longingly toward the stars from where they are said to have fallen. The heart of the plant itself was said to have been struck by lightning thousands of years ago, setting it on fire and leaving a delicious – and intoxicating – milky pulque for the ancient Aztec peoples.
Since those early days the journey of Tequila has been one of fortune, of struggle and of enterprise. Today however we see today an industry which produces a national spirit that is known and celebrated well beyond the reaches of its homeland. This spread of fame is none more obvious than in Australia, where the popularity, appreciation and love for good Tequila is booming. Brands are quickly adding new Tequilas to their portfolios and ensuring that they are being placed into the right hands by careful venue selection and promotion.
ADVERTISEMENT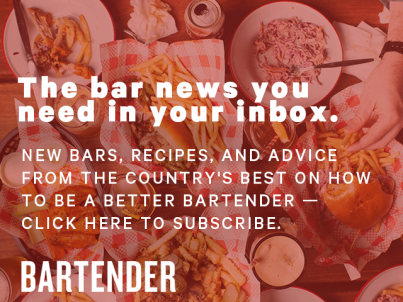 &nbsp
Countless travelling bartenders are heading to Mexico to experience the Tequila culture and to walk between the valuable rows of blue agave. The men who work these Tequila fields – the jimador's – do so in quite fascination. They have an historic job and know that their skills are appreciated worldwide. In under a minute they can shed the agave of its leaves, tear it from the ground and have it ready for processing. They are, in some respects, the keepers of Tequila's quality as they know just the right time at which to harvest and when to leave one be.
Check out May's sensational cocktail shoot – Tequila. And a big thanks to everyone who sent in a recipe.
Charlie Sheen




30ml Ocho Blanco
30ml Sloe gin
30ml Pink Grapefruit Juice
4 dashes grapefruit bitters
15ml fresh lime
15ml agave syrup
egg white

Combine all ingredients in shaker and dry shake to emulsify egg white. Add ice, shake hard, double strain into a coupe glass.  Garnish with a grapefruit zest.

Dean Sykes, Lofi, Sydney

The Era Cocktail




45ml Habenero infused Jose Cuervo Reserva de La Familia Platino
20ml Lime Juice
20ml Kola Tonic
15ml Antica Formula vermouth

Build, shake & strain over ice into a highball or sling glass. Top with a splash of soda, garnished with a citron-salt rim and a lime twist.

Ryan Lane, Misty, Melbourne

The Chiswick Margarita




50ml Cazadores Blanco
15ml Cointreau
15ml Agave Nectar
5 corriander leaves
30ml Fresh Cucumber Juice
Juice of whole lime

Add all ingredients into a shaker glass. Add ice and shake briskly. Fine strain over fresh ice in a rocks glass. Rim glass with Himalayan pink rock salt. Garnish with a slice of cucumber and sprig of coriander.

Thales Papadopoulos, Chiswick Restaurant, Sydney

The Toretto




40ml Sierra Reposado Tequila
20ml Disarranno Liqueur
10ml Sugar Syrup
1-2 chili slices
3 muddled Limes
3 muddled cherry tomatoes
1 pinch of salt

Add chili, limes, cherry tomatoes and muddle in the base of your shaker. Add spirits and a pinch of salt. Shake and double strain into martini glass. Garnish with three skewered cherry tomatoes.

David Green, Lord Ashley Lounge at  Crowne Plaza, Terrigal

El Borracho (the drunk)




45ml Sauza Hornitos Reposado Tequila
15ml Aperol
20ml Lemon juice
30ml Grapefruit
10ml Gomme
Dash egg white

Add all ingredients into shaker. Shake briskly and strain into a chilled cocktail glass. Garnish with a flamed orange zest.

Submitted by Camilo Villamil, Cuvee Lounge, Sofitel, Brisbane