In a great sign that the Australian bar industry is thriving, the vote count for the 2012 Australian Bar Awards has registered a whopping 10 per cent rise from last year's number -and that was a record too!

This year we have seen a staggering 35,000 individual nominations cast across all the categories – so if that's not proof that the bar scene is in good shape then what is?! A massive thank you to everyone that took the time out to vote, without your participation we would not be able to continually recognise all the wonderful boys and girls who make the Aussie industry what it is.

Stay abreast of 4bars in the coming weeks as we make more announcements regarding Sydney Bar Week – and make sure you check out the July issue of Australian Bartender magazine which will have all the finalists listed for 2012.
2012 Australian Bar Awards
ADVERTISEMENT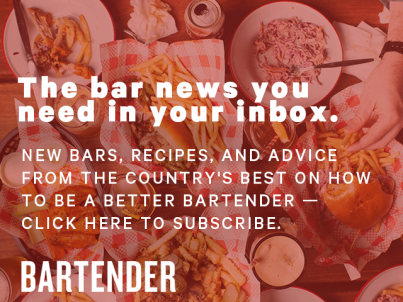 &nbsp
It's hard to believe that we're back here already, but voting for the Australian Bar Awards has now kicked off! Have you checked out barweek.com.au yet to cast your vote?
There are loads of new venues around the nation vying for a spot in the finalists' list and 2012 has also seen the 'Hotel' category changed to 'Pub' so as to accommodate the numerous boutique venues popping up on the scene that are bringing back the old style 'public house' offering.
As usual the biggest prize up for grabs is the Bartender of the Year Competition, which is sponsored by Ketel One vodka in 2012, and it's set to be the talk of the town in September. These sorts of national competitions are not possible without the support, and brand presence, of leading products like Ketel One so it is fantastic to have them on board for this year's comp.
Planning on taking the exam?
Last year we saw a record number of 'tenders turn out for the tough written component of the competition and after an arduous number of rounds Tim Philips (ivy, Level 6) stood tall in the final. Are you planning to take part? This year there's no voting format to enter, just simply email your name, mobile number, bar and address to our Drinks Editor, Simon McGoram: simon@fullproofmedia.com.au
If you're stuck on what to study then make sure you read Australian Bartender magazine as we draw material from that to make it easier. On top of this, it'd be best to brush up on your general bar/ drinks/ category knowledge – plus get ready for some lateral thinking. What are five uses for the ubiquitous beverage napkin?
Bar Awards Voting: March 1 – May 27 (midnight), 2012

Sydney Bar Week (various locations, Sydney): September 22 – 25, 2012

Australian Bar Awards at Doltone House: September, 25, 2012
The finalé of Sydney Bar Week (which is at the Overseas Passenger Terminal this year) will be the awards night and Doltone House will again play host to the hundreds of industry personalities who turn out for the glitzy night. After the success of last year's Mad Men theme, 2012 should be a stellar evening, so if you're interstate make sure you book your time off now!