The Laneway,  181 Mary st Brisbane
(07) 3229 3686
urbanerestaurant.com/the-laneway
Featuring in last year's Top 11, Perryn Collier is certainly one of the nation's leading lads when it comes to 'tending the stick. He's been mixing drinks for around four years, loves Pans Labyrinth and doesn't recommend splitting your pants mid-shift! Great to have a chat quick Perryn, cheers.
ADVERTISEMENT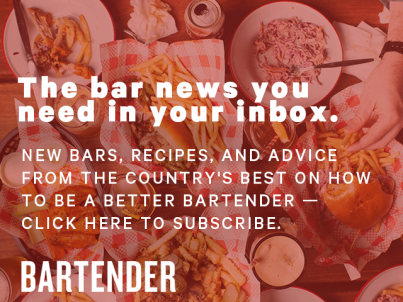 &nbsp
Q+A: What cocktail trends are popular at the moment? 


Drinks containing tea or coffee in some form continue to be popular, as well as carbonating, smoking or barrel aging cocktails or ingredients. Pre-bottled cocktails are becoming popular as well as bespoke ingredients such as bitters, sodas, cordials etc are also popular.
Career:

How long have you been bartending?

Around 4 years now.

Where have you worked previously?

The Met & Cloudland

Before you were bartending what were you doing with yourself?

I actually worked at an aquarium shop before I started in hospitality.

What is your proudest moment behind the bar?

Ensuring patrons have a great experience in my venue always makes me proud.

And the most embarrassing?
Splitting pants mid shift is never ideal.

How do you prepare yourself for a cocktail competition?

Familiarise myself with the competition requirements, make sure drinks are ready to go and all equipment is prepped. Do a brief run over my 'chat', remembering what has to be said but keeping it unscripted and dynamic. Chill out and relax.

How do you keep the 'chat' up while you're presenting on stage?
When I was first starting out, my bar manager drew a dot on my hand, he said " every time you look that dot, look up and talk to a customer " that got me into the practice of constantly chatting, so I take that technique into competitions as well.

What advice would you give a rookie bartender just starting out?
Have fun and make sure your customers are having fun. Our industry is based around people coming to enjoy an experience in our venues, and we, as bartenders, play a huge role in that experience. Develop your palate as much as possible, learning the most you can about cocktails, beer, wine, spirits, coffee and food.
Favourites:

What's been your favourite bar to work in?

The Laneway, or doing the artists' cocktail bar at Splendour in the Grass, a few awesome days sent with awesome people, always fun.

What's your favourite city to visit? Berlin or Barcelona

What's your favourite movie? Pans Labyrinth

What's your favourite song? Archangel by Burial

What's your favourite sport? Bocce
Drink:

What spirit should people be drinking more of?

Mistelle & Pommeau de Normandie etc., interesting, unique tipples.

If a customer asked for a 'stiff' drink with a twist of lemon and served over rocks – what would you serve them?

A Vieux Carrè (Walter Bergeron, Montelone Hotel, New Orleans. 1938 made with thyme smoked rye whiskey.

Can you tell us some of your favourite bars to drink at?

69 colebrooke row (London), Albannach (London) Experimental Cocktail Club (Paris), Black Pearl (Melbourne), Eau de Vie (Sydney), The Lark (Brisbane).

What is your favourite product to work with at the moment and why? I've had a lot of fun using different forms of acids in my drinks for example acetic acid (vinegars) citric, malic and verjuice. Also – Boozewise Cadenhead sloe gin, Chinati vergano vermouths and Prosecco.

What do you drink to…

Unwind afters a long shift?
Cold beer, or calimocho.

Impress a woman?

Nice bottle of wine, sparkling, red or white depending on occasion.

If you could have a drink with one person (alive or dead) who would it be and why?

Charlie Sheen, it would just be an interesting night I think.

Whisk(e)y or Rum? Whisk(e)y
Other Stuff:




What was the last book you bought?
Wall and Piece by Banksy

If you were to be something other than a bartender, what would it be and why? Hard to say, something in creative industries as that was what I was studying.

Who's your hero?
Anyone who is hardworking and passionate about what they do. Anyone who enjoys and takes pride in everything they do, professionally and personally.

What products do you think will be popular over the coming months?
I think a lot more vermouths and aperitifs style alcohols will become available and the craft beer scene will continue to build momentum.

Last drink ever – what would it be?

A bottle of Unibroue La Fin du Monde (the end of the world) would be fitting!