This article featured in the June issue of Australian Bartender magazine
Words by Gary Regan
Drinks shot wickedly styled by Simon McGoram
Almost everyone, I think, would agree that French cuisine is superlative. So it might come as a surprise to learn that the French have been a tad slow to get into the swing of the modern cocktail culture.
Colin Peter Fields, the English-born head barman at the Ritz in Paris, has been hailed as a cocktail master for many years, but until fairly recently his bar, along with Harry's New York Bar, were just about the only two joints in France where you could count on getting a decent Sidecar. Thankfully, that's all changed and the French cocktail scene is coming into its own.
ADVERTISEMENT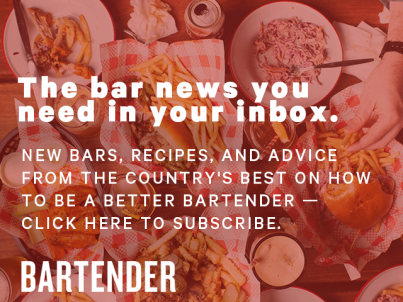 &nbsp
The Experimental Cocktail Club, I believe, was the first new Parisian bar to offer great cocktails, and although I've visited the place only once, I felt immediately at home there. The atmosphere is similar to that of an American speakeasy, but it feels distinctly French at the same time.
A while ago I was in the City of Light for just one night, and I was told to try the drinks at Candelaria. The place is nestled at the back of a taco shop, it packs an earthy vibe, and the drinks there are top-notch. I gave the bartenders at Candelaria a little test, and they passed with flying colors.
"I usually drink Manhattans," I told them. "Could you possibly make something different for me that you think might suit my palate?"
I've tried this test on a few bartenders over the years. Some of them get it, and some don't. The ones who don't get it are too eager to make their favorite new creation for me, and they don't take my palate into consideration at all. I end up with some fruity concoction that might be well thought out and decently balanced, but it's doubtful I'll order a second one.
Carina Soto Velasquez and Joshua Fontaine, the bartenders on duty at Candelaria when I visited, took the minimalist route when they collaborated on a drink for me. They removed the usual sweet vermouth from the Manhattan formula, and they replaced it with two different ingredients; Cocchi Americano, a fragrant Italian aperitif wine, and Bonal, a French product that fits into the same category. Both of these bottlings offer a nice, bitter kick that comes from a healthy dose of quinine in their formulas.
The bartenders used a stouthearted Kentucky bourbon for a base and added a couple of dashes of orange bitters for good measure. The resulting cocktail was one of the best-balanced drinks I've ever encountered.
Why they called it Mountain Man I'll never know. Must be a French thing, I guess.
Mountain Man
50 ml Bulleit bourbon
15ml Cocchi Americano
15ml Bonal
2 dashes orange bitters
Maraschino cherries, homemade if desired, as garnish
*Place all ingredients except the garnish in a mixing glass. Add ice, stir and strain into an ice-filled old-fashioned glass. Add garnish.
Adapted from a recipe by Carina Soto Velasquez and Joshua Fontaine from Candelaria in Paris.