This Classic cocktail featured in the June issue of Australian Bartender
Drinks wickedly styled by Simon McGoram
Photography by Rob Palmer
In this issue of Bartender we have the two great Gaelic spirits going head to head. A line will be drawn in the sand – on one side the 'Mcs' and on the other the 'Macs'. Long has there been divisive debate on whether whisk(e)y should be served with or without an 'e' and to whom the invention uisge beatha rightly belongs.
ADVERTISEMENT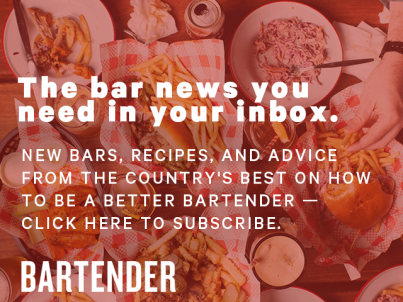 &nbsp
In steps the Cameron's Kick. It's a mixological paradox, a curio and an oddity. By rights the drink's proportions simply should not work – they defy what we think we know about mixing cocktails. It goes to show that Harry Craddock and the barkeeps who preceded him at London's Savoy Hotel could still teach us a thing or two about slinging drinks. You see The Cameron's Kick implausibly combines both Irish and Scotch whisk(e)y, and not only does the drink succeed, but does so admirably. Combined with lemon and orgeat the Scotch provides dryness and plenty of back bone with a lightness and sweetness being provided by the Irish.
The drink first appears in Craddock's The Savoy Cocktail Book, but whilst we've been left with an undeniably tasty tipple, Harry didn't oblige us in providing the origin of the drink's provocative name. After a little research I'm left with even less to inform you on, except a tenuous link to the well know Scots clan the Camerons whose chief – Donald Dubh, XI Captain and Chief of Clan Cameron – was forced to take exile in Ireland after the battle of Inverlochy in 1431. I mean what else but exile could force a Scot to sully his uisge beatha with Irish uisce beatha?
If there is any country where the Cameron's Kick might find an understanding audience it is Australia. In the Antipodes many of us are of mixed stock (my own surname is Irish but the McGoram's came from Scotland). So perhaps the Cameron's Kick is just the kicker to end the Scotch versus Irish whiskey debate on these shores. Sláinte!
Cameron's Kick Cocktail

30ml Chivas Regal 12 year old Scotch whisky
30ml Jameson Irish whiskey
20ml lemon juice
15ml Orgeat

*Shake briskly and double strain into a chilled coupe glass. Garnish with an orange twist.