Written and seriously well styled by Simon McGoram
Cocktail photography by Rob Palmer
Presented by Keegan Hartslief (Button, Sydney)
65 Foveaux Street, Surry Hills Sydney
button-bar.com.au
Curdled milk. It ain't a pretty sight especially in something you were hoping to be potable. Yet for over 100 years curdled milk was a key ingredient and technique used in producing the most popular of punches.
ADVERTISEMENT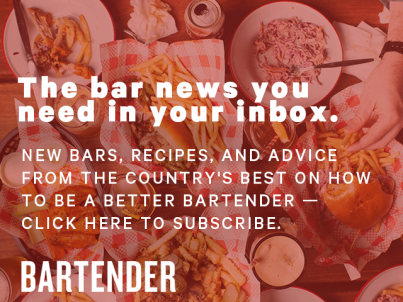 &nbsp
David Wondrich – the world's foremost authority on the flowing bowl – informs us that when punch was king there was, but one complaint elicited from its habitual consumers being that is was rather acid on the stomach.
"The obvious way to counter acidity was to reduce the amount of lemon juice, but this led to insipid Punch," explains Wondrich is his work Punch: The Delights and Dangers of the Flowing Bowl, "while simply adding more sugar made it sticky and cloying."
This impasse led the more scientifically minded mixers to seek out one magic ingredient that when added to a bowl of punch would transform the potion from earthly indulgence to heavenly sup. The solution was simple – milk.
At first attempts to add fresh milk to punch must have been viewed as a catastrophe – as we well know citrus juice will cause milk to curdle almost instantly resulting in a most unappetising mix. Yet some unknown pioneer decided to persevere with this endeavour and by straining out the curdled milk solids. We were left with a clear, smooth and exceptionally creamy tasting beverage without the mix actually being creamy at all. The technique is not unlike the trend of fat-washing seen in many bars today.
From the mid-18th to the mid-19th century Milk Punch was all the rage – especially in bottled form. You see, as Milk Punch is hardly the simplest of recipes to compound it was often made in large quantities and then bottled. As the milks solids have been removed the mix doesn't go rancid and if properly made it will last on the shelf almost indefinitely.
Queen Victoria was an advocate for Milk Punch. In 1838 she so liked a version bottled by Nathaniel Whisson & Co that she awarded them the title of 'Purveyors of Milk Punch to Her Majesty.'
"Its agreeableness, however, didn't stop Milk Punch from fading out in the middle of the 19th century with the rest of its tribe," informs Wondrich. "Its name alone lived on, attached to a single-serving drink made on the spot with fresh milk."
The recipe re-produced here is adapted from Jerry Thomas' English Milk Punch printed in his How to Mix Drinks or The Bon Vivant's Companion in 1862.
Ingredients:




½ pineapple peeled, sliced & pounded
100g ginger, peel & sliced
4 cloves
1 Tsp coriander seeds
1 cinnamon quill
275g castor sugar
Rind of one lemon
Juice of three lemons
700ml Sierra Milenario Reposado Tequila
650ml boiling water
¾ cup strong green tea
650ml hot milk
juice of 2 more lemons
Step One: Slice, peel and core the pineapple. Pound it in bowl with a heavy muddler
Step Two: Add ginger, sugar and spices
Step Three: Add your Tequila, water and green tea. Cover and let steep for at least six hours – overnight is even better
Step Four: Heat milk till almost boiling. Add the juice of two lemons to your bowl then your milk. Mix
Step Five: Filter your curdled mix through a jelly bag or several layers of muslin.
Step Six: Pour into sterilised bottles and cap. Ice bottles before serving with a little grated nutmeg.
A Brace of Single-Serve Milk Punches

Hot Milk Punch




40ml Cognac or brandy
20ml Jamaican rum
20ml vanilla sugar syrup
120ml fresh milk
Nutmeg

*Heat gently on a steam wand without 'stretching' the milk. Pour into a warmed tankard and garnish with some fresh nutmeg.

Adapted from Jerry Thomas' How to Mix Drinks or The Bon Vivant's Companion, 1862.

Milk Punch (aka New Orleans Milk Punch)




30ml Cognac or brandy
30ml Jamaican rum
10ml pimento dram
10ml vanilla sugar syrup
120ml fresh milk
Nutmeg

*Combine all ingredients in an ice shaker and shake briskly for 15 seconds to achieve a creamy head of foam. Pour over crushed ice into a large goblet. Garnish with a little fresh grated nutmeg.