*This Classic was done in association with Havana Club and was featured in the July issue of Bartender magazine
By Edward Washington
This treat is Cocktail 172 in Jerry Thomas' The Bartender's Guide etc. But, if you read the fine print, you'll notice it's attributed to Alexis Soyer – a 19th century French gastronomic and celebrity chef. Soyer served with the British Army during the Crimean conflict (1853-65), raising the quality of the troops' rations. The Crimean Cup, it is said, was dedicated to Alfonso La Mamora, an Italian army general who served during the conflict.  Now that's all good and fine, but what's a good story if it doesn't ruffle some feathers? So while traditionalists might want my neck, I'm re-dedicating this high-proof mix to Sir Harry Flashman, one of Victorian England's most colourful – albeit fictitious – personalities and a Crimean vet to boot.
The Victorian period is full of colourful chaps and Flash was an absolute devil at shimmying into a lady's bed; indeed he was once described as 'the all time ace of boudoir Olympics'. Painted as a venerable war hero (holder of the VC) and a bastion of English courage (he did actually start the Charge of the Light Brigade in '54. By mistake), the real score with Flash was that his skills in skullduggery were second to none. Never has a man so fastidiously shirked his responsibilities on the battlefield, only to be honoured as the sole brave survivor of an obliterated army. You'd never meet a man whose ability to bludge and funk his way through life was better personified and set against the brilliant backdrop of Victorian era conflicts the Flashman books are a rollicking good laugh.
ADVERTISEMENT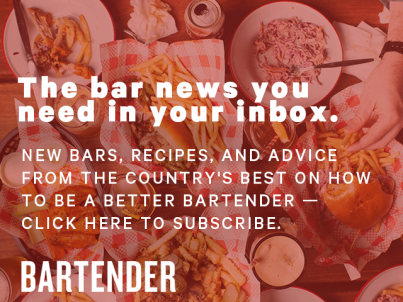 &nbsp
Alas Flash is fictional. But there were some terrifically flashy characters that were not. Capt. Frederick Burnaby, for example, an officer in the Royal Horse Guards took 'holidays' into enemy-Russia during the Great Game* and sold his exploits in titillating novels like The Ride to Khiva. Burnaby did die a glorious death for old Vic', killed by a spear to the neck while fighting in Sudan. Tragic yes, but you can be sure his exotic tales would have certainly unfurled a set of pantaloons or two in true Flashman style. It's also damn certain that had Soyer or Thomas known of men like these there would have been a concoction left in their honour. Thomas was all flash and fancy moves behind the bar, just the sort of style old Flashman would have appreciated. And there's no doubt Flash would have enjoyed Thomas' cocktails, albeit while getting someone else to foot the bill.
*Popular phrase for the maneuvers between Russia and England, 1813-1907. Also known as the Tournament of Shadows.
Crimean Cup á la Flashman
30ml Havana Club Anejo rum
30ml Martell Cordon Bleu Cognac
90ml Perrier Jouët Champagne (sabre the bottle in true Flashman style)
15ml Maraschino liqueur
60ml orgeat
15ml lemon juice
2 slices lemon peel
1 teasp. white sugar
Soda water to top
*Muddle lemon peel with sugar and rum in a shaker. Add remaining ingredients (excluding Champage and sparkling). Ice and stir well. Pour into cocktail glass, add Champagne and top with soda. Garnish with available fruits.

Adapted from Jerry Thomas' Bartender's Guide etc., (1886)
Havana Club Barrel Proof 45% abv
Dark amber with rich brick red hues. Spice on the nose, with balanced alcohol and a noticeable viscosity. Rich, fruity and with balanced oak and heat.