This story appeared in the August 2012 issue of Australian Bartender.
By David and Amy Spanton
Where to Rest Your Head…
Every fancy five star hotel chain has a massive representation here, from the huge JW Marriot to the Mandarin Oriental. If you're after something a bit more boutique then you might like place we stayed, check them out.
ADVERTISEMENT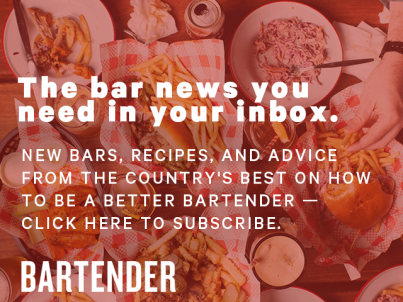 &nbsp
MERCER HOTEL
29 Jervois Street, Sheung Wan, Hong Kong
In the midst of the winding laneways dotted with noodle bars, street vendors, upmarket bars and dim sum restaurants is this boutique hotel. With a brand new fit-out it's super comfortable and has all the things the modern traveller needs – free wi-fi, comfy bed, and a bevy of bars and restaurants and a metro station within a stone's throw. There's a sister hotel just a few minutes away called Lan Kwai Fong Hotel too. Good value and gets you in the heart of things.
Lin Heung Teahouse
160 Wellington St, Central
This place is hectic! Don't come if your after a relaxing meal, my suggestion is to get some rugby scrumming tips before you enter because you'll need them if you want to eat anything other than chicken feet soup.
Once you enter this mad house you'll be sneaking around the restaurant waiting for someone to get up so you can claim his or her seat (along with dozens of other more experienced local Yum Cha dinners). If you get this far, congratulations, but let me tell you that is the easy part as next up it's a case of grabbing what you can from the trolleys of food baskets that come flying out of the kitchen. I thought six years at boarding school and playing rugby would have prepared me for the pushing and shoving, but I had no chance against these seasoned professionals.
Old lady after old lady sidelined me at every trolley, then, as if taking pity on me, a young girl jumped in wrestled with the dangerous old Chinese ladies and retrieved us some tasty fried rice, shrimp dumplings and pork buns.  Now if you get some help and make it this far if you should sit back and soak up the electric atmosphere with chefs and waiters screaming, customers wrestling for food and an occasional white tourists wandering around looking dazed and confused. Would I come back? Hell yes! Meal: $10 approx.
Wah Fung Roast Meat
112-114 Wellington Street, Central
Chinese food is famous for many dishes, none more so than roasted Peking Duck.  Few dishes look this good and taste even better, and in my opinion if there was one dish that after eating it could turn even the most passionate vegetarians back from the dark side then this is it.  Roast meat (roasted goose is a Hong Kong specialty) is available at every second restaurant so its extremely competitive and nowhere near as expensive as back in Oz. With that in mind we also ordered the roasted suckling pig and a few icy cold Tsingtaos. Heaven. Around $15.
Graham Street Wet Market
Graham St, Central
Graham Street has almost a 200 year history of being a local market and from what they say, not much has changed. I couldn't tell you the names of these restaurants but find Graham Street and you're guaranteed a good feed. These local eateries are probably the highlight of Hong Kong for me – the crazier the better. It's the kind of place where I always get a look of amazement from the chef when I order chicken livers or pork intestines as not too many foreigners go for the offal. It feels good to get underneath the touristy crap and experience what the locals really eat. It's also great as you meet locals who always open right up and want to talk when you make the effort to eat with them; it also doesn't bust your budget as this street food is the cheapest meal going without question (soup approx $3). The stalls along Graham Street will most likely be packed with construction workers and local office workers after a quick tasty meal and a cold Blue Girl Lager (which seems to be a construction workers favourite). Good enough for me!
Quinary
56-58 Hollywood Rd, Central
A recent addition to the cocktail scene, Quinary is beautifully designed with a long bar that showcases what might just be the best selection of premium spirits on the island. The showpiece and major theme for this dimly lit cosy den is their rotary evaporator and centrifuge that head bartender Antonio Lai uses to prepare their cocktail ingredients. Antonio has just released a book titled Addicted to multisensory mixology and his infectious passion on the topic seems to be gaining him a loyal local following. While not at the level of our world leading molecular driven team at Der Raum for example, Antonio and his team are well on their way. Pioneering bars like Quinary are extremely important in expanding local boundaries and bartender knowledge. Quinary's bar snacks are top noche and you can't go past their pork belly dish called the Tony Jar which won the honour of being our front cover this month. Well done team Quinary!
Angel's Share
23 Hollywood Rd, Central
From the same owners as Quinary but without a test tube in sight, Angel's Share is devoted to barrel aged spirits and also shows obvious favouritism toward whisk(e)y with over 150 available to try. The venue is up on the third floor and is a welcome retreat from the noisy touristy bars that fill the popular Hollywood Road. On my visit there was a half-filled barrel of Highland Park Scottish single malt that I just had to try as I can't recall ever being lucky enough to taste a Scottish single malt straight from the barrel. Irish and American yes, but not Scottish. It was truly memorable with its strong dark chocolate notes, spice and a hint of heather. Perfect! Why can't we see this in some Australian bars? Even if it's with the small barrels like the good folk at Diageo and Zacapa rum have been doing? Come on suppliers and bars, it's not like you can't charge a premium for it!
Lily & Bloom
33 Wyndham St, Central
I was very much looking forward to checking this new place out as what's not to love when you read they have an oyster bar, cocktail lounge, cigar den and the best steak in town. First up is Lily, their top level cocktail bar that mixes up a selection of old school classics along with modern offerings like the Penicillin and Tommy's Margarita. The bar staff did a great job and again were extremely enthusiastic about their craft, which can be a refreshing change. Like many of the watering holes in Honkers the fit out is fantastic and no expense has been spared. Its brickwork and fittings create a splendid throw back the New York prohibition era, or even London and Paris in the early 1900s. Bloom is their downstairs restaurant that showcases a selection of popular western style dishes and includes their oyster bar. It looks like this place has really hit the mark offering something fresh and different to the local market. Similar to what Gazebo or The Winery did for Sydney when they first opened. Well done.
The Blind Pig
33 Wyndham St, Central
You'd never know this place existed unless you were looking very hard for it or found someone kind enough to lead the way. This 12 seat, sealed cigar room still allows the lucky few who find it the opportunity to puff away indoors, even though indoor smoking was banned in 2007. The way to find this hidden gem is to head to Lily & Bloom and start pushing on all the walls so you look like a pissed Stevie Wonder and when you find one with a small pigs head handle you should be in luck. The hard part is next: to choose what to smoke from their huge selection of Cuban cigars. Enjoy.
Café Gray Bar
The Upper House Hotel, Pacific Place, 88 Queensway
This bar is found at the swanky Upper House Hotel that forms part of the Pacific Place precinct: shopping, dining and high-rise apartments. This is luxury label central from Louis Vuitton to Marc Jacobs so it's only fitting that this sky-high bar suits that luxury clientele. Located on the 49th floor, Café Gray and its neighbouring Café Grey Deluxe restaurant have sweeping views of Hong Kong harbour, looking out over to Kowloon and the New Territories. The cocktail list is well conceived with lots of fresh fruit mixes for the ladies and some more hard hitting dark drinks as well. When we visited on a Sunday afternoon the place was packed with people (mostly expats and tourists) enjoying High Tea – very British!
Butao Ramen
11 Wo On Lane, Central
Is it possible that the best Ramen in the world is found in this 20-seater back ally restaurant, not Japan? I'm no expert but since my trip to Tokyo I consider myself an addict with a twice a week habit. This was Ramen nirvana. Be prepared to wait on the other side of the street with the other eager addicts who can even wait up to two hours to get their fix. Luckily we only waited 20 minutes to get a prime seat to watch this small team do their work. The chefs doing regular screaming and chanting but all three seem to truly love their job. Each meal is made to order with customers picking the ingredience and level of spiciness, thickness and oiliness. In a matter of minutes your piping hot gift from the gods is presented and off you go slurping away with a handful of other lucky punters. Only $6 a pop – what a treat!
What could the future hold for the Honkers cocktail scene?
What local bartenders lack in experience they make up for with an enthusiasm for knowledge and faultless customer service. In a decade or so, as more quality suppliers, international ambassadors, brands and education hits this emerging market, Hong Kong could quickly become a major player on the world cocktail scene. I hope they follow in the steps of their neighbour Tokyo where most of the best bars have strong mentoring systems in place, and where you would struggle to find a head bartender under the age of 35 in a decent cocktail bar.
Becoming a bartender is a life vocation for many in Japan and your first 10 years behind the bar is just assisting, watching and learning from the more experienced head bartenders. In Hong Kong I didn't see a cocktail bartender over the age of 35 so one can only guess that there is lack of support and mentoring for the young guys. Hopefully today's passionate bartenders stay in the industry and pass their knowledge to tomorrow's recruits. Otherwise the cocktail bar scene is unlikely to fulfil its full potential.
My guess is that as China continues on its path to overtake the USA and become the top economic powerhouse in the world, Chinese cities, especially Hong Kong, will soon rival Asia's top cocktail cities like Tokyo and Melbourne. As long as the depth of experience grows in their industry and suppliers find their way in to help educate these passionate and eager folk things will prosper. I can't wait to come back again in a few years! Thank you Hong Kong.
Editor's Travelling Tips

Currency: Hong Kong Dollar (about $1 Aussie equals $8 Hong Kong)

Star Ferry: The famous ferry that will take you from Hong Kong Island to Kowloon. Great for a view of the famed Hong Kong island skyline.

The Metro: Really easy to use and pretty cheap. A two-stop ticket costs $4HK and you will get to your destination in air-conditioned comfort).

Going up? On the escalators people stand on the right (not the left) to let people past.

To tip? Tipping is not expected. Actually it's often refused by street food vendors but always try as it is of course appreciated.

Stay cashed up: Many place don't take cards; that includes taxis.