This bar profile first appeared in the August 2012 issue of Australian Bartender.
By Edward Washington
The Collection Bar
ADVERTISEMENT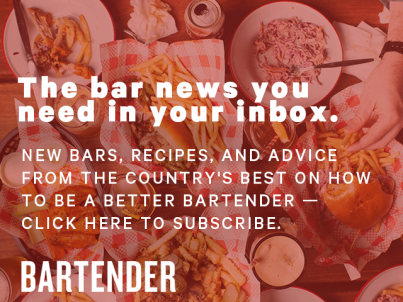 &nbsp
Address: 328 Bridge Road, Richmond
Web: thecollection.com.au
Owen Westman and Paul Fitzsimmons relaunched the Collection Bar in March this year. Since then they have been working hard, not only behind the bar, but also on another side project – their Collection Bar cocktail syrups – which they will be showcasing at the Sydney Bar Week Drinks Fest in September.
This operator duo have quite a bit of hospitality experience between them, with Westmand beginning his bar career at Room Nightcub (Melbourne) in 2001, and Fitzsimmons beginning at age 18 at a 'local pub in Berwick'. From their casually humble beginnings – or 'uni breaks' as best described – they've landed gigs at some top notch bars including, Bourbon & Branch and Rickhouse (San Francisco), PDT (New York) and as well as a host of local venues.
With all this experience, coupled with an obvious passion for bartending perfection, the boys are determined to make sure their bar offers unbridled quality and attention to detail. "We are the only cocktail bar in our area focusing on local, homemade and artisanal products," says Fitzsimmons. This includes their recently launched range of syrups – so you can bet the cocktails are up to a high standard.
How the renovations played out

The venue shut for three weeks, but all the furniture had been pre-built in advance. Paul and Owen deliberately chose movable furniture for two specific reasons.

It now makes the venue more elastic and able to be changed for different functions.
They could have everything put together and stored until the building was ready for delivery. The only things that needed to be done during the time they closed was pull down the plaster, sandblast the bricks, redo the floors and paint the ceiling. The rest was lying in wait and was all put in place over the last couple of days.

As usual, there were some challenges. "Working with the council to find a design that was allowed that didn't affect any heritage restrictions was a challenge; the ceiling fell in and almost all of the furniture suppliers delivered the wrong products," Fitzsimmons recounts with a grimace. "We also found out on the first day of renovation that the one foot square patch of plaster I cut out to see what the brick looked like, was the only square foot in the entire building that wasn't rendered." The result? "Four labourers then spent the next four days hacking render off with jack hammers pushing the sandblaster back considerably – it was a pretty stressful 3 weeks!"
The venue's philosophy is showcased in its name, Collection, which has not changed since the boys took over the business. "The name was from the original owner and we took it to mean quite literally a collection of different flavours and offerings. This is how we spun the tapas menu."
"We wanted to make the venue our own. We loved the Collection and the people who frequented it but it was just missing our own touch, our sense of home," Fitzsimmons explains. "We started investigating the best ways to tackle the task and a little investigation in the Richmond and Burnley historical society revealed a little history to the building. A few old photos gave us an image in our heads of what the building could look like behind the grey plasterboard and aging laminate, and so it became obvious to us then that we needed to take the place back to basics."
"A lot of the décor was chosen to compliment the classic architecture of Melbourne and especially the Richmond, Fitzroy style, but was also heavily influenced by the New Orleans French Colonial style that touched my heart in my travels," adds Westman. "It was also going to be very important to maximize the potential of the building – hence the car park out the back being converted into a courtyard."
High-proof potables are definitely on the menu

The Collection Bar has always had a strong cocktail following and Fitzsimmons and Westmand had no intention of moving away from its cocktailing roots. "There's not a style of cocktail we won't offer. I have seen too many and also been a part of, in the past, new cocktail bars that refuse to make or offer drinks that they themselves don't like to drink – I'm of the opinion that if there's a demand for a drink we will make it and do it to the best of our ability," states Westman.

"Punches are a big thing for us too. They fit in well with the culture we have here at the Collection, being perfect for big groups to enjoy." As a tongue-in-cheek jest they're serving up a 'Punch for two' in miniature clawfoot bathtubs from the USA. "They're served with a bubble bath style foam on top," says Westman, "and the cucumber gin punch with orange blossom foam is my personal favourite." Beers and wines are covered too, with a focus on Australian beer and a short 'but well selected cellar door style list' for wines.

On show for nibbles are a range of Italian, Spanish and South American tapas items, with a Creole theme running through. "It's heavily inspired by my time spent in New Orleans which is a style of food people will rarely have experienced in Australia," says Westman. Pressed for a signature dish they go for the Pulled Pork Sliders – with homemade BBQ sauce – and the Chilaquiles (Chill-ah-kill-es): a Mexican style breakfast dish of fried tortilla with milda salsa, coriander and a fried egg sunny side up.

All their efforts and the fresh new look is doing wonders for the business, and no doubt. People love a good old 'spruce up'. "We attract a fairly mature crowd," says Fitzsimmons, "sort of over 25s – a lot of couples actually tell us they had their first date at Collection which is nice to know!"

Fistsimmons and Westman are really showcasing more than just a nice interior design and they are great examples of what it means to be in the trade as an operator. Sure they produce great cocktails, good food and have a sharp little cocktail joint. But they're offering up a genuine, service orientated bar for all and sundry. "We consider ourselves very adaptable to peoples requests," says Fizsimmons. "I'm of the mindset that if there is something we can do for a customer then we should do it. We are a tapas venue but a few weeks ago we designed a 3 course sit down dinner for 40 people for a birthday. There's no reason to be strict about your function."