This story appeared in the August 2012 issue of Australian Bartender.
By Edward Washington
If you look at the results from the Whisky Magazine 2012 World Whisky Awards you'll see that Japanese whisky took out two the three most prominent categories – that of World's Best Single-Malt Whisky and World's Best Blended Malt; in another all-important category, Best Blended Whisky, a five year old blend from South Africa won. Now this is not another 'pro-Japanese' whisky feature, far from it, but the fact they're dominating so strongly shows that the World of Whisky has far extended beyond it's more traditional boundaries and is about as predictable as a second fill ex-bourbon barrel (did you know South Africa made whisky?).
ADVERTISEMENT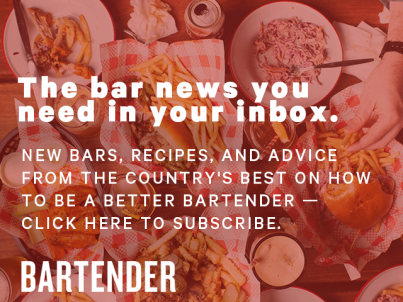 &nbsp
What's my point? That the world of whisk(e)y is seriously diverse and can't be pigeonholed purely by nationalistic preferences; right now I'm trying pretty hard to get my hands on some single-malt from a distiller in Brittany, France. After distillation, whisk(e)y sits in a barrel to age and sort itself out. Anything can happen in that time, and anything often does. The big distilleries have the luxury of blending from a large range of stocks and creating a consistent style. Smaller producers — especially the 'highly innovative' ones — can end up releasing extraordinary expressions which make a huge statement, but are more limited in their capacity to re-produce it, so they make an effort to promote the idea of product variation through their marketing (like Buffalo Trace, a small batch bourbon which openly discusses batch variation: check out buffalotrace.com).
If you're in the game of barkeeping you can appreciate a good release when it's showing something unique, and importantly, not write off a boutique brand when one release doesn't quite make the grade. It's your job to present as wide a range of expressions to the consumer as possible and let them make up their own minds. Go forth and spread the word.
Australia

Tasmania is the veritable 'home' of Australian malt, although there are notable brands being produced in Victoria and Western Australia as well. We've been supplying the world's whisky industry with great barley for years, so it's no surprise we make a good malt!
United States of America 

The range of whiskey from the USA is staggering. There are numerous products, producers, mash-bill formulas, techniques and bottlings to consider. Buffalo Trace Kentucky Straight Bourbon Whiskey uses a combination of yellow no.2 dent corn, distillers grade rye and malted barley to create its nice, sweet, smooth bourbon with a slight spice. Contact Southtrade International.
England & Wales

Small on the world scene and dwarfed a long time ago by the Scottish industry, you can expect the recent rise of boutique distilling to bring with it a few more brands. Penderyn is a Welsh whisky that is only produced in minute batches so it's an unlikely find down-under.
Canada

Canada. Land of the friendliest people in the world perhaps and they also make whiskey. While their whiskey is often thought of as 'rye', today you'll be more likely to find a high proportion of corn in the mix. So when a travelling Canuck wanders up to your bar and orders a rye, it's most likely nostalgia talking.
Scotland
Scotland is the home of whisky (both single-malt & blended). The Glenlivet single-malt is one of the industry's most notable producers, having been established in 1824 by George Smith. The whisky produced here is a product of a unique and pristine environment coupled with generations of distilling knowledge. Contact Pernod-Ricard.
Dewar's was established in 1846 by John Dewar, but it was really his sons – John Alexander & Tommy – who did wonders for promoting the brand and making it a global icon. In 1898 John Alexander built Aberfeldy distillery to insure the quality and taste that went into Dewar's whiskies. Aberfeldy single-malt is still the heart of Dewar's today. Contact Bacardi Lion.
Ireland

The Irish it might be said are to blame for the world's current obsession with whisky, having produced it since well before the Scots. The poor Irish industry however has been out in the cold so to speak for many years, but thankfully there is a recent boom of interest in its national spirit and some fresh new bottlings are becoming available like Writer's Tears Pure Irish Pot Still. Contact island2island.
India

A whisky drinking stronghold thanks to the British Raj period, locally produced Indian whisky is growing in volume and global acceptance with a few strong brands emerging.
Japan

Fastidious, clinical, innovative, learned and technically creative. These are all words you could use to describe the Japanese whisky industry. Want to know more? Check out the July issue of Australian Bartender magazine. Contact Suntory.
South Africa

Proof that whisky distilling is a practice that can achieve great results anywhere, a South African whisky recently picked up a big international award through Whisky Magazine.
France

The home of Cognac, it's really no surprise that there's a Frenchman distilling single-malt whisky. Armorick whisky is from Brittany, but safe to say you literally might have to knock on their door if you want some.
Think you're man enough?

Stepping up the abv will give the product a real nudge in the flavour compartment. More of its complexities will be showcased and believe it or not the delicate characteristics will be more noticeable – albeit layered with an obvious rise in heat. 'Cask Strength' denotes a product that has been bottled straight from the barrel, or only slightly rendered by water.

Tips on handling the heat of 'Cask Strength'.

Numb the tongue – This is a tip I got from an Aussie distiller, dip your finger in the malt and just touch it to the mid-part of your tongue. Essentially it'll help anesthetise the tongue and make the impact of the high-proof spirit less drastic.
Add water – It's not a sign of weakness! What you'll find is that the rich characteristics show through immensely: in fact the addition of water releases a lot of new flavours that we're tightly packed into the liquid. The Scot's call it 'the magic' when you watch the water swirling in the glass mixing with the spirit. They take it very seriously. Take the Glenlivet Nadurra 16 for example. On the nose without water it is all rich sweet malt, noticeable alcohol and intense candied orange. At 53% the palate is intense, but add just a touch of cool H20 and the palate becomes creamier, layered with burnt toffee, caramel and crystalised ginger. The spirit's power is still unmistakable, but it is like liquid silk. Rittenhouse 100 proof also fits this category well – a superbly rich nose of dried fruits, dark chocolate and black pepper this is a bold rye whisky that has delicate spice and a long, warmly balanced finish despite its high abv.
To swirl or not-to-swirl – You swirl wine to agitate it with oxygen and release flavour. Spirits can't really benefit that much from the practice, although it is fun I'll admit. Rather, try cupping the base of the glass with your palm, cover the glass opening with your other and let the flavours and alcohol fumes build up inside. Release your hand and breath in gently. If the abv is too much, just blow lightly into the glass to knock the fumes away and breath in gently again. Flavour central!