It was another beautiful day down in The Rocks, Sydney, that greeted bartenders and bar owners from around the country as they made their way in to Overseas Passenger Terminal for the Bar Week Drinks Fest trade day. Over 1,800 people came through the show to sample what Australia's best suppliers had on taste. It was standing room only on the Schweppes Mixology Theatre and in the Tastings theatre where people saw the best and brightest of the industry share their insights and their liquor!
After a great day by the harbour, the party moved up into Surry Hills and Potts Point. The Bartender Magazine Movers & Shakers drinks were held at the Winery where industry heavyweights rubbed shoulders and clinked glasses to celebrate the past year of successes. Up at Gazebo in Potts Point, punters were treated to a fun, sit down dinner and an all out war between cocktails (like Tommy's Margarita, The Last Word and Blue Lagoons!) and wine (represented by fino sherry, lambrusco and chardonnay). Down in Surry Hills at the beautiful old Paramount Pictures building the Jameson's Bartenders Ball was in full swing with a NYC hot dog stand in the Jamesons Diner, a free-shoe shine in the gentlemans club, and plenty of Jameson flowing throughout. The night was capped off at the Standard, where the unsung heroes of the industry, our barbacks, competed against one another in the Fernet Branca Barback Games as Edoardo Branca cheered them on.
The fun continues today for the last day of Bar Week. First up is the SOLD OUT How To Open Your Own Bar Workshop at the Loft. Sailing with Single Malts kicks off at 3pm and then the big event everyone has been waiting for: the 2012 Bartender Magazine Bar Awards at Doltone House. See you there!
ADVERTISEMENT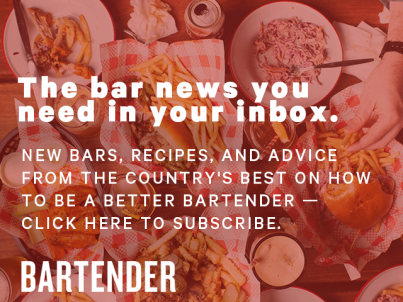 &nbsp