This story appeared in the September issue of Australian Bartender.
By Edward Washington
Competitions roll around 365 days a year sometimes, however none are quite as striking as the Appleton Estate Bartender Challenge which sees bartenders challenge their creative thinking skills, as well as their cocktailing skills for a chance to compete on a global scale. Bartenders create a tiki-themed cocktail, compete with the national finalists and then have their inspired story created into a actual tiki mug crafted by legendary tiki-themer Holden Westland from Tiki Farm.
"The competition is a great way to engage with bartenders across Australia and a perfect way to showcase the versatility of the Appleton Estate range", said Danielle Barrett, Brown Forman's Appleton Estate Rum brand manager. "The objective was to find the best of the best of Australian bartenders who would have a red hot chance of winning the world finals in Jamaica." That 'red hot Aussie' who is now heading to Jamaica is Jamie Chesher, from EDV in Melbourne – and his somewhat deadly cocktail The Neck Breaker took out top spot at the competition final in July.
ADVERTISEMENT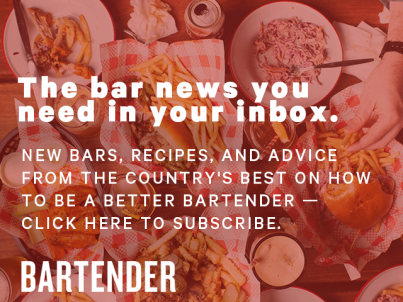 &nbsp
"Anyone that says that comps aren't tough is blatantly lying," Chesher said after the win. "The final for the Appleton Estate Bartender Challenge was very tough but it was also lots of fun – I had the opportunity to taste all the drinks from the other competitors and honestly I didn't know who was going. All the drinks were different so it was hard to tell how the judges were going to vote."
Now there are cocktail spirits and then there are cocktailing spirits, and rum is a certain qualifier for the latter category with Aussie barkeeps well-known for the enthusiasm in crafting rum cocktails. "The Appleton range is sensational for cocktails," said an excited Barrett following the competition's success. "Behind each bottle of Appleton's, across the four distinct varieties from V/X all the way to 21 year old, there is a unique depth of flavour and character."
This year's competition saw an overwhelming response from Aussie barkeeps, and not just in the sheer number of entrants. "The quality from Australian bartenders was outstanding," Barrett explained, "and the amount of effort that each and everyone went to was well beyond our expectations."
The Neck-Breaker, Jamie Chesher's inspired creation
A rum lovers drink so delicious it can be consumed at neck-braking speed it also delivers a neck-braking punch. You have been warned! "For my Neck-Breaker punch I used a special blend of Appleton Estate Extra 12 and Reserve 8 year old as the base," explained Chesher following the win. "Then I added walnut liqueur and some Pedro Ximinez to richen up the alcoholic component, grapefruit and lime as my citrus elements, caramel and demerara syrups as my sweeteners and finally finished off with a couple of dashes of Angostura and chocolate bitters. It was served up in the latest Appleton Estate tiki mug with a tiki inspired garnish."
For Chesher there were a few reasons to enter the competition, however the chance to have his own tiki-themed creation turned into a real mug was a massive pull. "I am an avid tiki mug collector and really enjoy drinking all the Appleton Estate rums, so with a prize that includes a trip to Jamaica to visit the distillery, topped off by the fact that I get to help design my own tiki mug, I couldn't not enter!"
Chesher was massively excited following the competition and could barely contain his enthusiasm. "It's such a great honour to know that I will be heading to Jamaica to represent Australia in the world finals. If I can control the nerves, put on a good show and make some amazing drinks then I will have a shot at taking out the title."
And some advice on entering Appleton Estate's tiki-themed competition in the future? "Prepare early," says Barrett. "Have fun, respect the product and you can't go wrong – a good tiki cocktail is where you can taste all the quality ingredients, and it's all done with a sense a showmanship and fun that turns it into a unique drinking experience."
"There are absolutely no rules when it comes to making tiki drinks," says Chesher, "but tiki is all about being bright, fun and loud. So be creative and have as much fun as you can."