This story appeared in the September issue of Australian Bartender.
By Edward Washington
Congrats on the Outstanding Contribution Award! How does it feel to be recognised by your industry peers?
It makes me feel very important and old. It can be carved in granite on my gravestone alongside: "He put amyl in the smoke machine".
You've been involved in some pretty amazing ventures and events over the years – are there some that stick in your mind?
All the venues I have been involved with provide lots of crazy and great memories, not so much a specific but an enjoyable blur. What sticks in my mind is the excitement when a venue is finally open and is open to the public and all the great plans are up for judgment by the market.

ADVERTISEMENT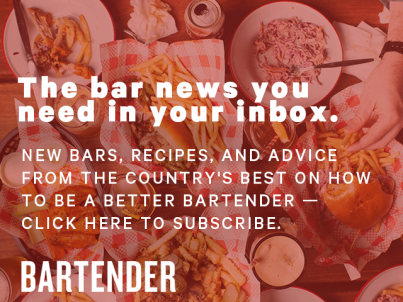 &nbsp
The Bottom End – how has Melbourne responded to it?
It has been interesting. The venue has had a chequered history and if anyone knew anything about its prior life it was probably something to do with an exaggerated story about Asian club violence.
Our first goal was to rebrand the venue in the public's, the police's and liquor licensing's eyes. We opened the diner/pub/disco which was a food focused city pub based on some of the experiences I had with The Drink and Dine guys in Sydney. To everyone's surprise it was a slow burn, although we knew we had the product right and felt confident it would be OK in the end.
Then we opened POOF DOOF on Level 2, which was really busy from the start which was great, but all the chatter about the club made everybody think that The Bottom End was now become an exclusively gay venue, which drastically affected trade in the pub.
Finally we opened Survivor! on Level 1 and that has been the final piece of the puzzle that has made the whole venue complete and The Bottom End is now what it was always planned to be and people are loving it. It is the grouping of the three unique elements that is the key. I am super proud of what we are doing at the moment and think that The Bottom End is a game changer.

Do you have any ideas ticking away in the back of your head that you'd love to fulfill one day; however crazy they may be?
I would like to build some seasonal venues in under serviced idyllic tourist areas and be that place in the area that provides a sophisticated but super simple, considered and cool offering that incorporates local fresh produce. This would incorporate an al fresco dance floor and would be a great way to rotate and refresh staff.

Are there any local or international operators you'd love to work with?
I haven't worked overseas but I think that would be in my five year plan (if such a thing existed)… I think Moscow – it's like the gold rush there at the moment. People say if you can make it in New York you can make it anywhere but I think if you made it in Moscow you could buy New York after a busy weekend. Eta Pravda!

How do you stay creative?
You stay creative by being creative. When I was at art school we had to do an hour's drawing every morning, like a training exercise… when you maintain that practice you get pretty skilled at drawing and find it easy to go from your brain to paper clearly. Creativity is a discipline.

What are some things you absolutely avoid when taking a new venue?
I think we would all know examples of that venue in our city that seems cursed. It has probably changed hands many times, been renovated at great cost several times, and next time you walk past it, it is closed. I would stay well away from this venue because not matter what you do it will be a disaster.
Apart from a curse, nothing is insurmountable I don't think – except possibly a bad location and if your budget doesn't match what you are going to need to spend to pull off what you want to.

How does Australia rank for creativity in its venues?
I don't think it makes any sense to compare anything from one city to another and I am one of those people who think it's sad for us to continually look abroad for acceptance. Of course our product could stand up on the world stage – who cares? We are just different, we are a newer culture, highly multicultural we have exceptional produce and, importantly, fundamentally don't have any great depth of old, cheap sites we can operate out of. You go to some tiny bar in Barcelona and wonder why we can't get this right in Australia… it's because the floor your standing on is 500 years old, the drinking culture is completely different and the cheese you are eating, if in Australia, would be carted off by the health department. A great venue in any city responds to the context, history, regulatory environment and culture of that city so the creativity is totally relative. That said I think Australians are really resourceful, have a healthy disregard for rules and traditions and operate their hospitality businesses in a super-anal regulatory environment that is the most restrictive in the world, so you have to be creative.

What's a venue that you've visited recently that really grabbed your attention?
Not any particular venue but I just spent some time in the states and I really like the breaking down of civilised and traditional standards in restaurants and bars. By this I mean great food served on a tray with potato salad in a cardboard box, first class Margaritas served in a plastic cup… the product is still excellent but the way you enjoy it is very egalitarian and casual. It encourages enjoyment.

What would be a good starting point for a young industry person who wants to do what you do?
Go to Art School. Nothing beats studying visually, and the contexts of cultural history and abstract ideas. In retrospect it was a great plan to study thinking and seeing first and then find out about how to start a business later. It helps if you can make colours and ideas sing together in a venue rather than sit next to each other uneasily.

What does the future hold for the Australian bar industry?
I would like to think a change in the attitudes of the regulatory bodies but I am not optimistic. The hospitality industry is a major point of access for entrepreneurialism, is a major employer of young people and it defines the fabric of our cities, thus being a key part of any tourism story told about Australia.
The industry needs support and it's the public that needs to sort itself out… just because it's Saturday night does not give you the right to transform into a complete pig. Patrons need to have a bit more class and self control. At the end of the day a dickhead is a dickhead, alcohol or shutting bars down will not change this fact.
Top five tips for staying creative while working in the bar industry

1. Back yourself. It's your idea so follow it through.
2. Cultivate a life outside the industry so you can look at what you are doing objectively away from the backslappers
3. Enlarge you scope and experience through travel, education – whatever works.
4. Make clear to your work partners that consensus is the enemy of creativity, and be clear that they agree to follow the creative vision.
5. Support your 'creativity' with concrete, real world documents.