This classic appeared in the September issue of Australian Bartender.
By Simon McGoram
We're probably a month or two early.I mean it's only just broken spring and dishing you out perhaps one of the best summer, heat- crushing, beverages for man or beast might seem a little premature. The thing is I've been enjoying the Michelada and its sibling the Chelada all winter and I want to make sure that when the mercury rises you're well equipped to bust these out too.
The Michelada is a Mexican cerveza preparada – or beer cocktail. It combines beer, with lime juice, salt, hot sauce, spices and often tomato or even clamato juice. There is some debate about where the term Michelada came from but the word 'chela' is a popular way to call a beer in Mexico and 'helada' means frost or cold. So 'mi chela helada' which translates as 'my cold beer' could have been shortened to 'Michelada'. Whatever the case it's the Mexican's answer to the Red Eye or Bloody Mary. And a fine answer it is at that too.
ADVERTISEMENT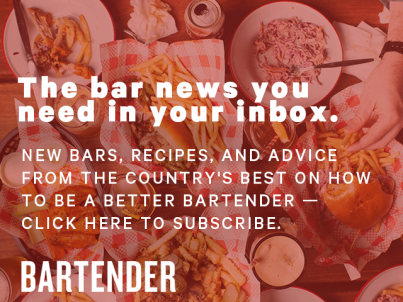 &nbsp
Recipes for Micheladas vary from town to town, but as a rough guide a Michelada without tomato juice is called simply a Chelada. Maggi seasoning, Worcestershire sauce, dried chillies and chamoy powder are just a few of the other ingredients that might find their way into this mix, but if you're really wanting to make things interesting the best seasoning is a shot of agave liquor.
Spiking your Michelada with a shot of Tequila or mezcal isn't simply away of making your drink a little stiffer – these spirits also add a wonderful savoury complexity and add a little more body to your beverage. For Tequila I recommend that you lean towards an earthy drop from the Valle de Tequila (or 'lowlands') and for mezcal – the smokier the better! Serve with plenty of ice and experiment with your hot sauce too – my current favourite is Blair's Salsa De La Muerte Chipotle hot sauce.
Michelada Fortificada

30ml Herradura Reposado Tequila 15ml lime juice 7.5ml Blair's Salsa De La Muerte Chipolte hot sauce 2 dashes Worcestershire sauce Mexican lager to top Flaky sea salt

Method: Build in a salt rimmed beer glass. Fill with ice, top with beer and stir briefly. Imbibe when it's hot outside.