The Twenties' titillating tipple
This classic appeared in the October issue of Australian Bartender.
By Simon McGoram
Photography by Rob Palmer
ADVERTISEMENT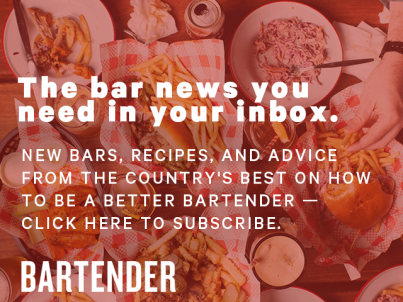 &nbsp
"Stronger than its kissing cousin the Sidecar and almost as smooth, though without the Sidecar's peculiar magic" – David Wondrich
In the gratuitousness of the internet age a drink called Between the Sheets is about as salacious as the puzzle pages in That's Life magazine. In the 1920s, however, this would have been a titillating title for a drink indeed.  In many ways the Between the Sheets cocktail is the grand-pappy of the Screaming Orgasm, Slippery Nipple, Dirty Girl Scout and a host of even more vulgarly named beverages. The difference is though that this drink is mighty tasty.
It is believed that the Between the Sheets cocktail was invented at Harry MacElhone's Harry's New York Bar in the 1920s. It's certainly not a farfetched theory as the drink is not dissimilar to another Harry's favourite The Sidecar. It must have been a reasonably popular beverage too as it finds its way to London to be included in Harry Craddock's The Savoy Cocktail Book in 1930.
The cocktail itself has a rather intriguing formula – it takes the racy ménage a trois of triple sec, cognac and lemon and throws another party player into the mix – rum. The result is certainly debauched – I mean the drink has two base spirits fighting for the attention of the supporting ingredients. Ultimately cognac comes out on top but the drink certainly offers an entertaining ride.
The combination of two base spirits was a rarity for the mixology of the time and was certainly frowned upon by the likes of Patrick Gavin Duffy. Duffy printed an asterisk next to his recipe for this cocktail in his 1934 book The Official Mixer's Guide to signify this as a drink that he "personally [did] not recommend."
Cocktail historian extraordinaire, David Wondrich, isn't so harsh deeming the B.T.S a "charming potion – stronger than its kissing cousin the Sidecar and almost as smooth, though without the Sidecar's peculiar magic."Between the Sheets
Between the Sheets

30ml VSOP Cognac
30ml TMD Gold Rum
30ml Cointreau
7.5ml lemon juice

Method: Shake and double strain into a coupette.