From taxidermy to tweed whisky jackets
This profile appeared in the October issue of Australian Bartender.
Interviewed by Edward Washington
These two operators need very little introduction. Over the last few years their vision, savvy, daring and pure creative genius has landed the Sydney market with two of the hottest venues going around; Shady Pines Saloon and The Baxter Inn. Throwing caution to the wind, we interviewed this dynamic pair to find out just what's cooking behind those creative eyes.
What's the attraction of the bar business for you?
ADVERTISEMENT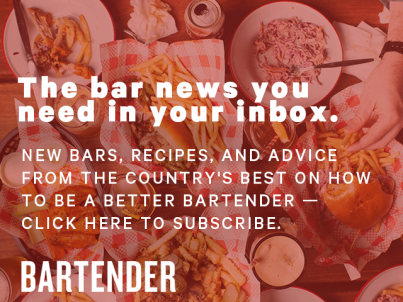 &nbsp
Jason: There's not another job I've heard of that's as entertaining and satisfying as working hard in this industry. Every day is a new adventure.
Anton: I like serving all sorts of weird people – It's a hoot!
How did you first get involved in the bar industry?
Jason: Travelling job. It seemed like a good way to meet new people.
Anton: When I was in high school my ol' man got me a part time job working for a company called Melbourne River Cruises.  I worked for this big Greek lady called Mumma.
Tell me a little about your businesses?
Jason: We own two little bars here in Sydney, Shady Pines Saloon and The Baxter Inn. Both vintage styled and loosely American.
Anton: We have two bars that serve booze, play loud, silly music and have lots of crumb on the walls.
How have you evolved as business operators over the years?
Jason: Realising that we can't both run the businesses effectively and both be washing down the bar by ourselves at 2am. I still remember deciding to get a glassie to help us out on Mondays.
Anton: I'm really not sure… What Jason says!
What mistakes taught you the biggest lessons?
Jason: Leaving the front door open during lock ins.
Anton: Farting next to my favourite customer.
How do you continually develop your creative ideas?
Jason: I'm not sure exactly where these ideas come from, but we both drink a lot together. Travelling to the US together last year for almost a month was exciting and gratifying.
Anton: Drinking with each other.
Where do you draw your inspiration from for food, drink and venue style?
Jason: Classic images and menus of old bars, mostly US or Aussie. I like what's going on in Brooklyn, Portland and other regenerated urban area's in the US at the moment too. The attention to detail in some of the new venues is incredible.
Anton: Everyday drinking culture, with a particular focus on Americana.
What excites you about the Australian bar industry?
Jason: I think Melbourne definitely sets the pace for bars. And because Sydney is in such a transition stage, its pretty exciting to be in as well.
Anton: Seeing quality venues that are still around 10 years on – It's inspiring that good product can outlive trend and hype.  I sure wish the same for our joints.
Do you have any concerns about the future of the Australian bar industry?
Jason: The demolition/"gyprock and downlight renovation" of classic Aussie pubs/clubs. We won't get them back again. It hurts every time we see another one with the soul ripped out of it.
Anton: Not at all.
Where do you both see yourself in 5 years?
Jason: Just back in the black again after losing all our money on a stupid restaurant idea we try in two years time.
Anton: Yelling at a customer in one of our bars.
What's the best thing about owning your own bar?
Jason: Being able to enact great ideas immediately after they occur.
Anton: Making decisions.
And the worst?
Jason: Being able to enact stupid ideas immediately after they occur.
Anton: Making bad decisions
Are there any local or international bar operators that you admire?
Jason: I have an operator crush on Keith McNally (Balthazar, Minetta Tavern et al), Ken Friedman (Spotted Pig, Breslin etc) and Alex Calderwood (Ace Hotel Group). Much respect locally to Doris from the Hotel Hollywood and whoever's decision it was to leave the ceiling intact at the Marrickville Bowls Club.
Anton: So many people that I can't list – I appreciate and respect anyone who gives a shit, cares about what they do, and puts their balls on the line.
How important are staff in operating a successful business?
Jason: It would be impossible to overstate how important each of the guys as individuals and collectively as a team our staff are to the success of our venues. Fullstop. Nothing else matters. Its called Hospitality for a reason.
Anton: Number 1 – Important
How much input do your staff have when it comes to your businesses direction?
Jason: Lots. Its important for us to set the tone and have final say, but their energy and ideas drive the business forward.
Anton: Tons and heaps.
What advice would you give young bartenders who want to open their own bar one day?
Jason: Work as many opens of other peoples bars as you can. Don't over think the market. The punters are way more open minded than they get credit for. Open what you would like to drink in. It will ring true then. Unless you have a 800 pax nightclub, ignore social media and all marketing efforts people suggest, it makes you look desperate.
Anton: Have a good time, work for lots of good people, drink lots of booze.
Learn from the best: Anton & Jason's tips for success

Jason

1. Music. Lighting. Check. Repeat. Repeat. Keep doing it.

2. Employ friendly staff.

3. Never close early because it's quiet.

4.Take all the energy and money people tell you to invest into PR/ Marketing and use it to make your bar better.

5. Be generous to your staff and customers.




Anton

1. Sobriety is bad for business.

2. Respect the mint.

3. No crumb in the no-crumb zone.

4. When the bar feels boring, give people shots.

5. Don't fart on your customers.