2012 looks like it has Great Britain written all over it. Not only has Team GB cleaned up at the Olympics, but their best and brightest bartenders made a fine showing at this year's Tales of the Cocktail, held in New Orleans.
The UK's Connaught Bar took out the World's Best Cocktail Bar award over a field that included Melbourne's the Black Pearl. The Pearl was also nominated for for best cocktail list but was nudged out by London bar Callooh Callay. Renowned bartender Salvatore Calabrese's bar at the London Playboy Club, Salvatore, edged out Sydney's Eau-de-Vie for best drink selection.
But Australia might claim a win yet, with the World's Best New Cocktail Bar award (won in 2011 by Eau-de-Vie) awarded to The Zetter Townhouse, London (pictured above). Owned by ex-pat Michael Benyan and run by bar manager (and fellow Aussie) Ben Clark, the bar is a collaboration between Benyan and UK drinks maestro Tony Conigliaro.
Both Aussies were in NOLA for the awards and couldn't quite believe their luck. "After being served a celebratory glass of champagne by Gary Regan," said Ben, "I think it started to sink in we had actually won when we sat back at our table and received congratulations from all around."
We asked Ben what he thought was the key to the success the Zetter Townhouse is enjoying. "Always use a measure!" said Ben. "I think consistency and fun are the keys to our success," he said. "We enjoy what we do and we have a great product."
Wise words for other Australians wanting to take out an award at Tales next year!
ADVERTISEMENT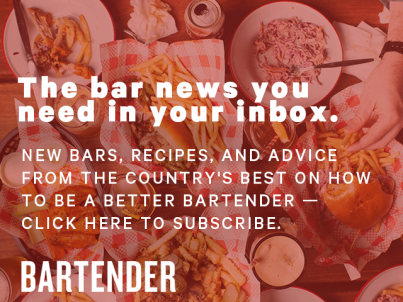 &nbsp
World's Best New Cocktail Bar
Zetter Townhouse bar
World's Best Hotel Bar
Artesian at The Langham hotel
Best New Cocktail/Bartending Book
PDT Cocktail Book
Best Cocktail Writing – Non Book
Liquor.com
World's Best Cocktail Menu
Callooh Callay
Best New Product
Cognac Pierre Ferrand 1840 Formula
Best American Brand Ambassador
Jim Ryan
Best Restaurant Bar
Slanted Door – San Francisco, California
Best Cocktail Writing – Author
Gary Regan
Best Drinks Selection
Salvatore at Playboy Club London
Best International Brand Ambassador
Angus Winchester
Best Bar Mentor
Steve Olson
Best High Volume Cocktail Bar
Eastern Standard – Boston, Massachusetts, USA
International Bartender of the Year
Alex Kratena
Best American Cocktail Bar
The Varnish – Los Angeles, California
American Bartender of the Year
Joaquin Simo
World's Best Cocktail Bar
The Connaught Bar
Helen David Memorial Lifetime Achievement Award
Gary "gaz" Regan