Flavoured vodkas open up fields of flavours…
This story appeared in the October issue of Australian Bartender.
Compiled by Sam Bygrave
The Mayor Bar & Dining?
400 Military Road, Cremorne, Sydney
02 8969 6060?
themayorbar.com.au
With two competitors in Bartender Magazine's Bartender of the Year and a Rookie of the Year finalist, we were expecting some cracking drinks from The Mayor Bar & Dining in Cremorne. The team didn't disappoint in showcasing the virtues of each bottling.
ADVERTISEMENT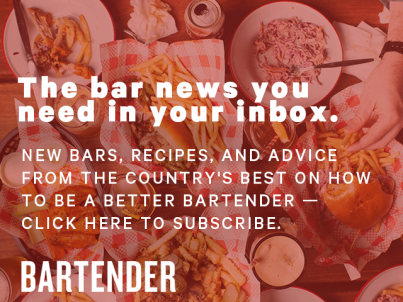 &nbsp
The Stoli Ohranj kicked off the tasting. "It's sweet on the nose I reckon," said Lachy Sturrock. Sipping it, bar manager Tim Harvey said "the citrus is more on the nose than the palate." Sam thought the vodka was weighted towards the front palate. "But you get a little bit of that, "Hey, I'm Russian vodka" on the end," he said. "I think with the sweetness, it's quite light," said Natasha Cervier. "You could do an orange Vesper with Larios in it," suggested Lachy."I want to see how badly I can murder an espresso martini with this!" said Tim. "Are you going to call it an Orange Mocha Frappacino?" asked Lachy. "Hell yes I am," said Tim. "And it's now going to be served over crushed ice, it has to be."
Next up was the iconic Absolut Citron. "I think this one isn't as citrusy as the last one," said Natasha. "It's not as dominant," said Tim, "you can do pretty much anything with that." The team found the complexity apparent on the palate appealing. "You do get more of that tang in your mouth," said Sam. "But it's more like a zest," said Tim, "it's more of that zesty, citrusy flavour." Sam agreed. "You get the bitter lemon but also the sweet, that's why there's a bit of that sherbert taste," he said. Natasha was keen to get to work on a drink. "I wouldn't mind playing on a sweet and sour kind of drink," she said, "with cassis, sweet fruit." "Yeah, that bramble kind of style, lots of blackberries," said Sam.
TMD's Eucalytpus Gum Leaf vodka caused a stir as soon as it hit the tasting glasses. "Boom!" said Lachy. The aroma was just like that of eucalyptus drops. "When you've got a blocked nose and a sore throat, just buy a bottle of that," said Sam. The palate was appealing to the team. "It's a bit bitey too, the more you drink," said Natasha. "I really like that. I think it's a bit heavier on the palate," she said. "It's Australia in a mouthful!" said Sam. The drink ideas began with that eucalytpus. "You don't want to hide that flavour," said Sam. "I think you'd find it pretty hard to hide that flavour!" said Lachy. It also triggered flavour memories for everyone. "It's so good," said Lachy, "it reminds me of when I was like, year five or six at school and you were buying them for like, thirty cents," he said. "Now they're $2.50!"
Lachy got the Belvedere Bloody Mary underway. "I'm excited about this one" he said. But the mixological challenge was on everyone's mind. "That's the biggest thing, what do you do with it that's not a Bloody Mary?" asked Tim. "Bang. Tomatoes." said Tim.?"I can smell Worcestershire here," said Natasha, "That's your hair-of-the-dog!" she said. "It's got a salty, peppery finish," said Lachy.?"There's a sweetness, that overripe tomato kind" said Sam.?"There's a lot going on" said Tim, "the tomato sticks around for a little bit then goes into all the other flavours."?"I get that horseradish, mustard kind of thing, bang in the middle," said Sam. Sam was thinking eastern flavours. "You know how with pickling you get that spice but the pickle is quite sweet? I eat it by the bucketful… Those kind of asian flavours, five spice, and then top it with ginger beer and pickled ginger."
Everyone was intrigued by the 666 Autumn Butter vodka in the line-up. Aromas of butterscotch leapt from the glass. "That's sensational," said Natasha. The guys were thinking flavour pairings from the outset. "Straight up, I'm hitting this up with some heat, some hot water, maybe raspberries, make it like a strawberry cheesecake," said Lachy. "Or maybe some cinnamon, some cloves." "It's got that little bit of butterscotch to it as well," said Tim. The team agreed that there was an oiliness to the spirit. "It's liquid silk," said Natasha. "You get that melted butter texture," said Lachy. Tim was thinking of a milk punch. "That's what comes into my head, when I first taste that," he said.



Flippin' Off The Devil
45ml 666 Autumn Butter Vodka
10ml vanilla syrup?
15ml P/X Barbadillo Sherry?
2 dash walnut bitters
1 whole egg
Method: Dry shake all ingredients. Shake again with ice and strain over ice. Garnish with grated nutmeg, cinnamon and chocolate.

"Flip! I'd put egg in it, and cinnamon and nutmeg and bitters, port, so it is smoky but Christmas-y. And I'd walk around a party wearing a santa hat!"

Sam Baylis



Burke's Backyard
45ml TMD Eucalyptus Gum Leaf Vodka
10ml Stone's ginger wine?
30ml lemon juice?
25ml honey syrup
ginger beer to top
Method: Shake and strain into a tin can over crushed ice. Garnish with a touch of the Australian bush.

"If you put any lemon or honey with this, you've just got yourself a winner."

Lachy Sturrock
Breakfast Collins
45ml Belvedere Bloody Mary vodka
Half a muddled lime?
15ml lemon thyme syrup?
Half a teaspoon of wasabi
6 dash Hellfire Habenero Shrub
Method: Muddle together lime and wasabi, add remaining ingredients. Shake and dump into a collins glass. Top with ginger beer and garnish with pickled ginger and cherry tomatoes.

"People will be surprised by the flavour given the colour, it'll be like, Bam!"

The Mayor Team



Ohranj Mocha Frappacino
45ml Stoli Ohranj vodka?
15ml creme de cacao?
10ml burnt orange and vanilla syrup
30ml of fresh espresso?2 – 3 dashes chocolate bitters
Method: Shake and strain all ingredients into a highball over crushed ice. Garnish with an orange wedge.

"Orange mocha frappacino!"

Tim Harvey
Lady Marmalade
45ml Absolut Citron?
5ml Galliano Vanilla?
5ml cassis liqueur?
15ml fresh lime juice?
30ml raspberry and orange marmalade syrup
10ml egg white
Raspberry jelly cube for garnish
Method: Add ingredients (except jelly cube) to a cocktail shaker and dry shake. Add ice and shake again. Double strain into a vintage cocktail glass. Garnish with raspberry jelly cube and lipstick.

"With all the boys here, I wanted to do something for the girls!"

Natasha Ceviker