This wrap-up appeared in the November issue of Australian Bartender.
Fermented cabbage cocktails, blazed gunmetal and the return of the Pousse Café – Australia's most coveted bartending comp keeps the surprises coming
By Simon McGoram
Photography by Sam Bygrave
ADVERTISEMENT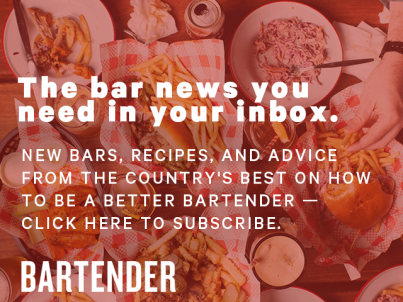 &nbsp
The Australian Bartender magazine Bartender of the Year Competition, sponsored by Ketel One, is a bartending challenge that always throws up a few surprises. 2012 proved to be no exception with the calibre of bartenders involved proving to be outstandingly high.
The competition is one that the team here at Bartender magazine are incredibly proud of so each year we look to make improvements in how it is run. This year we decided to do away entirely with the trade vote for entry into the comp. Whilst being a great bartender does involve a certain degree of social acumen and charm we didn't want a popularity contest to play any part in who can be involved. And we're going to keep in that way. If you want to make your way to Sydney Bar Week to compete next year we'll have a spot open for you. That simple.
Of course in bartending competitors there are no guarantees that you'll make it through every time. Even seasoned campaigners don't make it through to the Top 10 or 20 bartenders every year. The written exam, which is the first challenge bartenders face in Sydney is gruelling. Bartending lore covers vast amounts of information that can take years and no small amount of application to study to absorb. We'll let you know that the majority (75-80%) of the exam is based on what you'll read in this very magazine with a few tricky questions in there to sort the bartending maestros from the charlatans.
This year our top exam scorer was Katherine Wasiel from The Bowery in Brisbane. You'll get a chance to take a look at the exam – and perhaps even give it a crack yourself – just keep a close eye for 4bars.com.au for the exam to be posted. It'll give you some idea of what you might be in for next year.
The Top 20 exam scorers were sent through to another preliminary round of competition. The 'mystery round' – as this part of the competition is dubbed, generally involves two challenges which change from year to year.
This year the first part of the mystery round challenge asked bartenders to mix a cocktail in three minutes using Ketel One or Ketel One Citroen with a mystery box of ingredients. The box included ginger, fresh raspberries, pineapple, rockmelon and an assortment of fresh herbs as well as a couple of red herrings in the form of kimchi, prawn chilli and curry powder.  Ben Blair, from the Corner House in Sydney, made a surprisingly tasty mix using passionfruit, ginger, pineapple and kimichi to win the round.
After the mystery box round the Top 20 bartenders were moved into a blind tasting. The competitors were asked to identify the style of spirit and name the brand for white spirits as well as identity the ingredients and name of a sample cocktail. It was The Black Pearl's Evan Stanley who aced this round.
The Top 10 (In no particular order)

Kal Moore, The Laneway, Brisbane

Perryn Collier, The Laneway, Brisbane

Charles Ainsbury, Eau De Vie, Sydney

Ben Blair, The Corner House, Sydney

Tom Bartram, Palmer & Co, Sydney

Evan Stanley, The Black Pearl, Melbourne

Dan Gregory, The Black Pearl, Melbourne

The Top Three

1st Place: Greg Sanderson, E.D.V. Melbourne

2nd Place: Chris Hysted, The Black Pearl, Melbourne

3rd Place: Katherine Wasiel, The Bowery, Brisbane
After day one of the competition we had our Top 10 bartenders with a massive showing of three bartenders from Melbourne's Black Pearl and two previous title holders. At this stage it was still anybody's game though Chris Hysted – ever a consistent performer – had a nose out in front. The scores for day one of the competition were kept a secret from the competitors as they counted towards their final score.
The Mixology Round final this year was held at the trade day of Drinks Fest on Monday September 24 at the Overseas Passenger Terminal in the Rocks. As the crowd started filing into the Schweppes Mixology Theatre tension was building in the bartenders as they readied their presentations. The judges for the day included David Spanton, editor and founder of Bartender magazine, Amy Cooper from Fairfax, David Beatty, Ketel One's national brand ambassador and Simon McGoram, competition organiser and drinks editor for Bartender magazine. Compering this year was last year's winner Tim Philips who also was keeping an eye on the competitors' movement behind the bar and judging their all important 'chat'.
Philips had need not worry himself though, as this year their competitors' performances were sterling and the chat platinum. Chris Hysted pulled out a tin of 'unicorn meat', Charles Ainsbury made us feel like Danny Trejo, and The Bowery's Katherine Waisiel gave us a blast from the past by whipping up a Pousse Café (see this month's Classic). It was Greg Sanderson who really blew the judges away with his 'Lucky Strike' cocktail which saw him pour a blazer down the barrel of a double barrelled shotgun into the serving vessel.
Sanderson's outstanding performance and perfectly balanced drinks ultimately saw him announced the winner by Ketel One's Bob Nolet at the Australian Bar Awards at Doltone House.
"Winning Bartender of the Year still seems quite surreal to be honest," says Sanderson. "I have many achievements in this industry but Bartender of the Year was the one competition I have wanted to win since I came back to Australia eight years ago. This award means a great deal to me and one of the main reasons is the quality of the competition, looking around me at the written test on the Sunday I really did feel like I was surrounded by the best bartenders in Australia, anyone of them would deserve the title."
This was Sanderson's third crack at the competition and second time through to the Top 10 so he knew exactly how much effort is required to take on a competition like this.
"I would be lying if I said I did not put effort into this win. I think I put more effort in this year than the other two years combined," Sanderson explains. "I never really stop learning or experimenting with drinks and booze, but I began studying for the exam about six months prior to Sydney Bar Week with the hours increasing as we got closer to the show."
In addition to Sanderson's shiny trophy, Ketel One will be sending Sanderson to Schiedam in Holland – the home of the Ketel One distillery. Congratulations Greg on a fantastic win from the Bartender team!
Aw… Thanks!
A massive thank you needs to go out to our sponsors Ketel One, without whom this competition could not go ahead. We were also very honoured to have the Ketel One brand team out here over Sydney Bar Week to wish all the competitors luck. Many thanks also must go to Kit & Kaboodle and the Sugarmill for hosting day one of the comp. Thank you to the judges and markers David Spanton, Amy Spanton, Amy Cooper, Sam Bygrave and David Beatty. And finally a special thanks must go to our amazing MC who had us all in stitches at the Mixology Final – Mr Tim Philips. Tim  was also one of our head judges being involved in each step of this year's comp so thanks again buddy.