This story appeared in the November issue of Australian Bartender.
Samuel Ng
The Black Pearl
304 Brunswick St, Fitzroy
This guy was nominated for Rookie of the Year at the Bar Awards this year and has a damn impressive resume for someone with less than two years 'tending stick. Introducing, Samuel Ng.
ADVERTISEMENT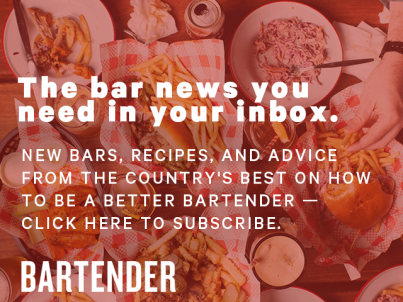 &nbsp
How long have you been bartending?
A little under two years currently.
Where have you worked previously?
I cut my teeth as a barback at Botanical in South Yarra, and due to a quick learning curve and a fast change in staff, ended up as the assistant manager there after a mere 4 months! From there, I did a short stint at Golden Monkey, managed the Burlesque Bar on Johnston Street and spent a bit of time in New York where I was working at a bar called Employees Only.
Before you were bartending what were you doing with yourself?
Started my hospo life as a barista and waiter, but got serious about it when I became a chef.
What is your proudest moment behind the bar?
Probably being nominated for Rookie of the Year at this years' Bar Awards and also being chosen to represent the Pearl, along with Hysted, at Tales of the Cocktail in New Orleans 2012.
And the most embarrassing?
The usual espresso martini exploding over a fresh white shirt at the start of a shift; losing my grip on a shaker during a double shake and sending it into the back bar behind me.
What advice would you give a rookie bartender?
Still being a rookie myself, I guess make sure you're in a place you can keep learning, you're around good people, and where you can look up to others to mentor you. Absorb knowledge, read books, and get more experienced bartenders to taste your drinks and give you feedback. Be humble.
What's been your favourite bar to work in?
The Black Pearl, of course! After that, probably Employees Only in New York. Both bars have a very similar feel. Very hospitable and a great friendly vibe, where it gets fun real quick.
What's your favourite city to visit?
New York or Hong Kong.
What's your favourite movie?
Fight Club.
What's your favourite song?
Don't stop me now – Queen. It always makes me smile.
What's your favourite cocktail?
The 1887 Jerry Thomas spec Manhattan.
50ml sweet vermouth (dial it back if you're using Antica Formula)
45ml Rye whiskey
7ml Grand Marnier
3 dashes of Angostura Bitters
Stir down, serve up. Orange twist. Smiles all round.
What spirit should people be drinking more of?
Calvados
Can you tell us some of your favourite bars to drink at?
In Melbourne I love the Everleigh. Madge and the crew are fantastic. Eau de Vie Melbourne is great, and our new best-kept secret is Hell Towers Saloon. Internationally? LKF tower rooftop bar in Hong Kong has an epic view. In New York I definitely recommend Employees Only, Macao Trading Co., Milk and Honey, PDT, Cienfuegos and probably one of the sexiest bars I've ever been to is Raines Law Room.
What do you drink to…
Unwind after a long shift?
A bottle of water.
Impress a woman?
A bottle of water? Probably a Vieux Carre.
If you could have a drink with one person (alive or dead) who would it be and why?
Jesus. It would certainly sort out a lot of questions in this world. And plus, you could keep getting rounds of water…
What was the last book you bought?
20 ways to pick up women. When that didn't work, I got the Fat Duck cookbook by Heston Blumenthal.
What cocktail trends are popular at the moment?
In Fitzroy, I guess the negroni is ever popular but we see more and more people being adventurous and going tequila in cocktails. More bartenders are finding cool uses for soda siphons and molecular gastronomy is creeping in again too, but in subtle and refined ways.
If you were to be something other than a bartender, what would it be and why?
Probably a doctor, coz that's pretty Asian. Or a guitar-wielding rockstar, coz it's not.
Who's your hero?
My mum.
Last drink ever – what would it be?
1887 Jerry Thomas Manhattan, or a navy strength