Salt is the savior for this savory Negroni
I recently asked my friends in the bartending community if they'd care to share their Negroni variation recipes for a project I've been working on.
Be careful what you wish for.
ADVERTISEMENT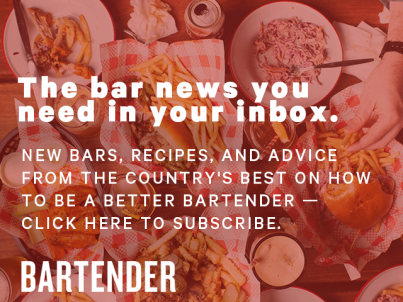 &nbsp
The Negroni, a simple mix of equal parts gin, Campari and sweet vermouth, has been around since before Prohibition, but it's only in the past decade or so that the drink has gained celebrity status. In the eyes of many bartenders, the Negroni now sits at the dais at any cocktail banquet, right next to the Manhattan and the martini.
Bartenders sent me recipes from China, Britain, Germany, Italy, Australia and, of course, from many cities in the United States. Some recipes twisted the drink very slightly, calling for specific vermouths in some cases, and different base spirits – Tequila was a favorite.
And some of the formulas I saw were wildly creative, veering so far off course from the traditional drink that they were hardly recognizable as variations on the original. But with soft eyes it was possible to see that these drinks were inspired by the Negroni, and lots of thoughtful bartenders took the time to explain how they came up with their alternative recipe.
Kevin Burke, head barman at the Colt & Gray restaurant in Denver, went so far as to tell me about his first encounter with the Negroni. It's a typical tale of how many folk become fans of the drink.
Burke says he was making a recipe from The Joy of Cooking and spotted a Negroni recipe in one of the chapters. He made himself one to sip while he prepared dinner. While it wasn't love at first sip, he found that the medicinal qualities mellowed as the ice melted.
"I wasn't hooked, but I found myself craving the bittersweet taste of the cocktail from time to time," he says.
Burke's variation is called Bottecchia, named after the first Italian to win the tour de France bicycle race, in 1924.
It's a strange brew, indeed. The gin has been replaced by Fernet Branca; Cynar, an artichoke aperitive wine, replaces the sweet vermouth. The Campari remains intact, and the coup de grace is a pinch of salt.
It "tempers the bitterness of the amaro and adds a distinct savory element," Burke says.
He's right. Don't miss this one.
Bottecchia

Makes 1 drink

Adapted from a recipe from Kevin Burke of Colt & Gray in Denver, CO.

1 ounce Campari

1 ounce Cynar

1 ounce Fernet Branca

— Small pinch kosher salt

1 grapefruit twist

Instructions: Pour the Campari, Cynar and Fernet Branca into a mixing glass. Add a pinch of salt, and stir to dissolve the salt. Add ice, stir again, and strain into a chilled coupe. Twist the grapefruit twist over the cocktail to express the oils, then discard the twist.