Katherine Wasiel
The Bowery
676 Ann St, Fortitude Valley, Brisbane
07 3252 0202
thebowery.com.au
With just two years bartending under her belt, Katherine placed an amazing  third in the Bartender of the Year competition this year. Find out more about her meteoric rise and her other interests, or catch her at the Bowery.
Career:
How long have you been bartending?
2 years.
ADVERTISEMENT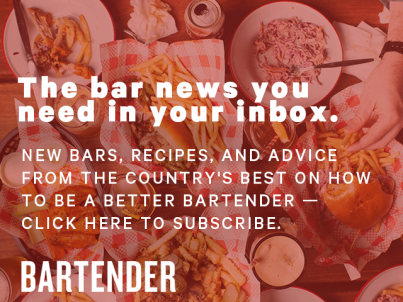 &nbsp
Where have you worked previously?
I have worked quite a few bars and restaurants all over New York including Frankie's 457 Spuntino and Villa Pacri, but I learnt the true art of hospitality at the Clover Club, New York.
Before you were bartending what were you doing with yourself?
I was a geologist. I graduated from the University of Queensland in 2010.
What is your proudest moment behind the bar?
Bartending in front of my parents for the first time at this year's top 10 presentation for Bartender magazine's Bartender of the Year. They finally saw me in my element and truly enjoying myself doing what I love.
And the most embarrassing?
Serving Katie Stipe and Phil Ward on one of my first shifts at the Clover Club and asking if they had been to the bar before (I had never met them but had read so much about their accomplishments within the industry). When Katie asked for a beer, I could not find a bar blade anywhere and Phil took a cocktail shaker and kindly offered to open it for me, and said to me, "Don't worry, you will get there one day."
At the time, they had no idea how embarrassing it was for me but that small word of advice helped me come so far in a short amount of time.
How do you keep the 'chat' up while you're at work?
I am quite a bubbly person so I find it very easy to connect with people, but the odd shot of Fernet keeps things kicking!
How do you prepare for competitions?
Understand what the sponsor is looking for: learn the criteria of the competition and make sure you have everything prepared, even if it is the night before which is the usual case for me!
What advice would you give a rookie bartender?
Well technically I am still a baby in the industry, but the best advice I can give is to always work in an environment that will keep you on your toes and push yourself; read every day and keep your knowledge up as well as learning new skills behind the bar. Always be well groomed and never be late for work, this is your profession so be professional!
Favourites:
What's been your favourite bar to work in?
I love where I am at the Bowery, I have such a great bar team with Stephanie Canfell as my boss. Steve McDermott is my manager and hero. He was the first Australian to ever win UK Bartender of the year so I have learnt so much from him. The Clover Club is where I first learnt all my skills and have made friends for life with them, so they deserve the highest of mentions.
What's your favourite bar gadget?
The humble barspoon and a sharp bar knife. I can't make a great drink without these tools.
What's your favourite city to visit?
I love the bar scene in Sydney, so incredibly impressed when I was down for Bar Week. New York is obviously my number one but I also love San Diego, I could see myself retiring there one day.
What's your favourite movie?
Alfred Hitchcock's classic, North by Northwest. Cary Grant will always be the leading man of all leading men.
What's your favourite song?
Golden Brown by the Stranglers. The daily grind simply melts away when I put it on and I'm transported to another world for a few minutes.
What's your favourite sport?
I'm not one for sports but I love watching basketball. Next year I want to go and see a Brooklyn Nets home game as I missed out this year.
What's your favourite cocktail?
Rum and Rye Old Fashioned
– 30ml El Dorado 12 year Rum
– 30ml Bulleit Rye
– barspoon of 2:1 demerara sugar syrup
– 2 dashes of angostura bitters
– Stir and strain into tumbler with large chunk of ice
– garnish with orange and lemon twist
(One of closest friend's made one for me one time and I have never looked back).
Drink:

What spirit should people be drinking more of?
Rye whiskey and applejack, both are so close to my heart.
Can you tell us some of your favourite bars to drink at?
Clover Club – the warmest most inviting bar. Death and Company, impeccable drinks and flawless service. My most recent favourite is Hinky Dinks, Darlinghurst. I left feeling incredibly in love with it.
What is your favourite product to work with at the moment and why?
Batavia Arrack and Amer Picon, I love to revive old classics and create new tipples using long lost ingredients.
What is the weirdest or strangest drink you've ever had?
It was actually at home when I was younger. One of my brothers accidentally mixed Cottee's orange cordial with vinegar and put it in the fridge in a water jug adorned with fruits. I thought it was punch and took a huge gulp and boy was it a shock!
What's the most enjoyable occasion to have a drink?
I can always find an occasion, but definitely Christmas time. Egg nog, lots of brandy and hearty Christmas food.
What do you drink to…
Unwind after a long shift?
Brooklyn East India Pale Ale. If I'm driving, San Pellegrino with Peychaud's Bitters and a slice of lemon.
Impress a date?
Nothing harder than what he is ordering, I'd hate to squash his virility!
If you could have a drink with one person (alive or dead) who would it be and why?
My Grandfather, no one can drink like the Polish!
Rye whiskey or Tequila?
Tough, but Rye whiskey.
Other Stuff:
What was the last book you bought?
The Seven Stages of Grieving by Wesley Enoch and Deborah Mailman.
What drink trends are popular at the moment?
Coming into summer, house made sodas and different citrus fruits (tangerine, yuzu) with whiskey and tequila.
If you could have a superhuman power what would it be – why?
The power of persuasion because you could have anything you wanted at your  disposal with a simple look.
If you were to be something other than a bartender, what would it be and why?
An actor, I currently study acting with NIDA's open program up in Brisbane and when my body can no longer physically bartend, I would eventually love to be a screenwriter.
Who's your hero?
Batman is a safe choice.
What products do you think will be popular over the coming months?
Eau de Vies and sherry.
Where do you see yourself in 20 years time?
If not an actor or screenwriter, I would love to go back to my science roots and become a master distiller for American whiskey or Tequila.
Last drink ever – what would it be?
Something very bold – a shot of equal parts Applejack and angostura bitters. It will cleanse me of my sins and send me straight to heaven!