Cynar can add nuance to drinks
By Gary Regan
"What do you like to mix with Cynar?" fellow cocktail scribe Warren Bobrow, who writes for the likes of Foodista.com and the Williams-Sonoma blog, asked me recently. And I had to admit that I'd never really fooled around with this Italian aperitif/digestif. It wasn't entirely off my radar, though.
I well remember the Cynar bottle behind the bar at Drake's Drum, the New York joint where I once worked. I dusted that bottle on a regular basis. Never actually sold any, but I did keep it very clean.
Warren's question prompted me to look in my files for recipes that call for Cynar, and I found a fabulous formula for a drink called the Ellipsis that came to me straight from New Delhi. Yep, India. The cocktail movement has now reached every corner of the planet, and there are some startlingly well-thought-out recipes emanating from Asia.
ADVERTISEMENT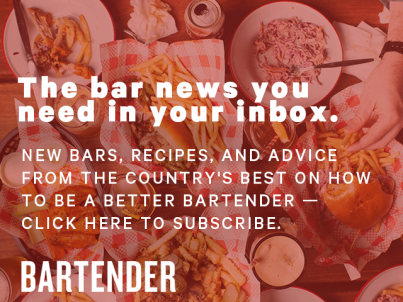 &nbsp
Cynar is linked to artichokes; indeed, a picture of what the Encyclopedia Britannica describes as a "large, coarse, herbaceous, thistle-like perennial plant" appears on the label. But although it's true that artichokes are used as a botanical in this pretty bitter amaro, they are joined by a dozen more botanicals that help make Cynar a complex treat.
Unlike many Italian amari, some born in the 19th century, Cynar is relatively new. It was released about 60 years ago, and has only recently caught the attention of today's young bartenders. They use it very judiciously, though.
Bartender Chad Solomon's rye-whiskey-based Bensonhurst cocktail, for instance, calls for just one bar spoon of Cynar to enhance a combined 3 1/3 ounces of rye, dry vermouth and maraschino liqueur. And Cynartown, a drink created by New York's Philip Ward, contains 2 ounces of gin, 3/4 ounce of Carpano Antica Formula, and a scant 1/2 ounce of Cynar.
Devender Sehgal, the Indian bartender who sent me the recipe for the Ellipsis – it also features rum, Port, Cointreau and bitters – described how he came up with the drink.
"I wanted to enhance the flavor of orange in the rum by using both bitter and sweet," he said. "Beyond this, I used Port to complement the viscosity of the rum. In order to balance these sweet elements, I added just a dash of Cynar, creating a well-balanced cocktail."
Sehgal is correct. His Ellipsis is well balanced, indeed, and the Cynar adds a nuance to the drink that makes it stand tall. I urge you to take this recipe to your local bar and ask the bartender to fix an Ellipsis for you. Lots of bars stock the necessary ingredients. Even Cynar.
Ellipsis
Makes 1 drink
Adapted from a recipe by Devender Sehgal, New Delhi, India.
1 1/2 ounces Zacapa 23 rum
1/2 ounce Tawny port
1/3 ounce Cynar
1 teaspoon Cointreau
2 dashes Angostura bitters
Instructions: Pour all ingredients in a cocktail shaker; stir over ice. Strain into a chilled cocktail glass.