More Than This?
31 Flinders Lane, Melbourne
virginiaplain.com.au
(03) 9290 0400
By Sam Bygrave
There are two big wine trends that have taken shape over the last few years: one of them is a trend toward natural wines; the other, an increasing interest in orange wines. And there is quite a lot of overlap between the two. Natural wine, loosely defined, is wine that is made with the least intervention possible. That means the winemaker will rely on wild yeasts rather than lab-cultured varieties, and might refrain from spraying the harvested grapes with sulphur dioxide. Orange wine is a little more out there – think of it as being to wine geeks what amari are to bartenders: obscure and challenging drinks that require an open mind.
These wines come from where wine all began. To be clear, orange wine is not wine made from oranges. Instead they white wines made with extra skin contact. White wine producers generally only leave the wine in contact with the skins for a few hours – with orange wines that period extends from a day or three to weeks. The result is a wine that has more tannin and texture and a hue that ranges from yellow to orange. A lot of these wines are matured in an oxidative way and stored in large oak vats or underground clay amphorae. It is in these amphorae, around 4000 years or so ago, that it is believed that winemaking began. And it wasn't in France or even Italy or Greece: it was all happening in Georgia, Slovenia and Croatia.
ADVERTISEMENT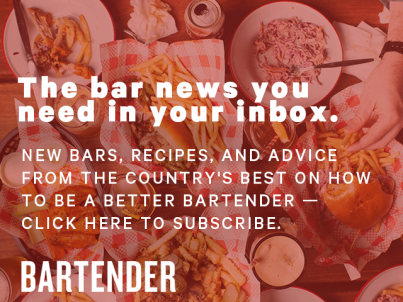 &nbsp
And it was to Slovenia and Croatia that new Melbourne bar and restaurant, Virginia Plain, sent their sommelier Raul Moreno Yague. "I first went to Istria in Croatia," said Yague, "then to Friuli in Italy, then to Slovenia, then to Bosnia," he said of the trip.  Yague, who was a sommelier at Vue du Monde has put together one of the most interesting drinks lists we've seen lately. He said that he and sommelier Stacey Lee Edwards (ex-River Café, London and Rockpool Bar & Grill, Melbourne) wanted to put together a list that is based on "the quality of the fruit used to make the wines", "true examples of their classic regions" and wines "that re so exclusive and rare that they haven't been seen in Oz before."
But why these wines? "Orange wines offer a whole different compliment of flavours and textures," said Edwards, "which are incredibly versatile with food.  We have plenty of experience working with these wines so we thought why not highlight them and promote this genre that's still somewhat unknown on these shores."
The pair of somms are keenly aware of their role in easing some punters into this brave new world. "We might not greet you with a glass of 6 months aged on skins and 18 months matured in Amphorae Raksiteli from Katheti in Georgia," said Yague, "although we might do it with a glass of a natural Prosecco by Costadila in Veneto, which is served cloudy on its own lees in a glass tumbler."
This adventurous approach to drink doesn't stop with the wine list.
Take this Japanese beer for example: Hitachino Nest Real Ginger Ale. Brewed from ginger it is just one example of the different beverages Virginia Plain are bringing to Melbourne. There's also hipster staple, Brooklyn Lager, among a selection of choice brews, and serious ciders to be had.
Testament to the importance placed upon drinks is the 18.5 metre long bar that runs the length of the room. Former 1806 bar manager, Sam Cameron is at the helm. "Our aim is to complement our food offering with drinks using seasonal products and flavours," he said. "The food at Virginia Plain is a modern interpretation of classic European cooking. To compliment that,
the bar are serving you classic cocktails with a modern twist, using ingredients relevant to the seasons."
There are big plans for a gin trolley underway at the time of writing – Cameron and Yague are in the process of developing it. "I was born in Spain where many people don't realise gin is very popular and treated with great respect." said Yague. "The idea of the gin trolley is to enhance the integrity, purity and playfulness of gin by serving in on different environments, dressing it upon to individual requirements of flavour, textures or liveliness… you will see soon."
Cocktails are competing well against the work of the sommeliers, says Cameron. "One that has been incredibly popular with punters and staff is our Secret Rosemary-smoked Negroni, the balance of sweet, savoury and bitters backed up with the meaty smoke of rosemary. I find it lives in perfect harmony when paired with a nice plate of cured meats or our house made rabbit terrine."
Opened and designed by Marco Santucci, (previously owner of Carlisle Wine Room) the idea behind Virginia Plain, "was to create a classic contemporary timeless space to offer the public a place to eat good food and drink well," said Santucci. Food and drink clearly go hand in hand here, with one of the benefits of natural and orange wines being the way they pair with food.
"A lot of Orange wines have a terrific balance of subtle savoury notes, tannin and acidity," said Edwards, "along with some beautiful aromatic characters that invite food.  In fact these wines really sing with food, they sometimes make more sense as part of a unit than on their own.  You can often match an orange wine with dishes that are traditionally matched with reds and achieve stunning results, [for example] Manjimup truffle risotto with Matosevic Alba Antiqua Malvasjia."
Named after the 1972 single by Roxy Music and music clearly being important, Santucci believes that Virginia Plain is more than just the sum of its parts. "Virginia Plain is about the whole package from the design and art by Dobell and Strong on the walls, to the vinyl music (no iPods) to the local mineral water from Daylesford on tap, through to the craft beers, cider, spirits list, wine and food."
"We might not greet you with a glass of a 6 months aged on skins and 18 months matured in Amphorae Raksiteli from Katheti in Georgia although we might do it with a glass of a natural Prosecco by Costadila in Veneto which is served cloudy on its own lees on a glass tumbler."