We tip our hats to the longevity of Gin Palace and Black Pearl.
By David Spanton
Over the past few months two prominent Melbourne bars have reached noteworthy milestones and I wanted to take a few minutes to congratulate them on their achievements. First up ,we see one of Australia's founding modern-day cocktail bars, The Gin Palace, celebrate an amazing 15 years of operation. Most people should be well aware of this Melbourne institution and the man behind it Mr. Vernon Chalker.
ADVERTISEMENT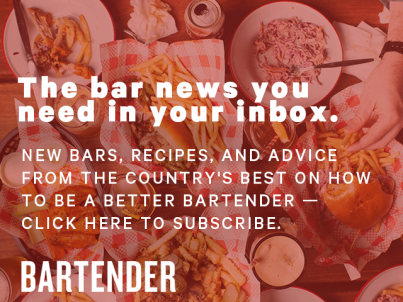 &nbsp
Fifteen years ago might not sound like a long time ago but when you consider that GP opened at a time when 'yuppies' was a word bandied about like 'hipsters' is today. It was a time when Brit pop ruled the musical charts with Blur and the oh so talented Spice Girls in their heyday, Titanic broke all box office records, the Brits had to give Hong Kong back and the lovable Hanson released the annoyingly catchy MmmBop. I'm sure many of you reading this have absolutely no recollection of any of this so you were likely chomping disco biccies and raving your way through it or you were just too busy playing with Pokémon! Either way 15 years ago is a world away when you consider what was happening culturally and this is also true when it comes to the poor state of our bar culture. Now yes its true there were other bars doing some good things before the Gin Palace but I don't recall any other bar making such an impact like the Gin Palace and for all the right reasons with their cool name, cocktail focus and dedication to something other than vodka. Today we are lucky to have a bigger selection of quality joints celebrating the virtues of their own spirit of choice like whisky bars, rum clubs & tequila bars to name a few. So hats off to Vernon and his talented team for 15 years of great service and helping kick start Australia's modern cocktail culture.
Next up is the bar of choice for many a bartender finishing a shift as well as interstate visitors hankering for that authentic Melbourne vibe: Black Pearl. They too recently celebrated a major birthday milestone of 10 years and truth be told they have never looked better. There is a reason these guys year after year continue to win awards and the admiration of their peers and that is the bar team is like a family and their service and passion makes them frankly unbeatable. Congratulations to all the team and especially owner Tash Conte for giving us all such a great bar and let's hope you continue on for another decade or two.
As you read this we should know what new rules and regulations the government have introduced to deal with what they see as an out of control Kings Cross. Like most industry people I have a few strong options on all this and unfortunately it doesn't seem that common sense will play much of a role in shaping the legislation which will focus on punishing venues instead of making individuals more responsible and accountable for the own behavior and actions.  To be continued.
Finally as  2012 draws to a close I wanted to thank everyone who has supported us this year by reading the mag or by visiting Sydney Bar Week recently. We work hard to make the best possible products available to you and we appreciate the strong support we get back from bother readers and suppliers. We plan to make 2013 even bigger and better so keep reading. Have a safe and happy Xmas and NYE folks.
Cheers,
David.
Editors Pick

Prohibition

I'm not sure if I have ever said something is a 'must buy' but this 5 part series is it! If you're a regular SBS watcher then maybe you have seen this already but if not then its well worth buying from the SBS shop online. I think the series director sums it up best.

"When the country goes dry in 1920, after a century of debate, millions of law-abiding Americans become lawbreakers overnight. Here are the stories of the petty whiskey-jobbers, big-time bootleggers, and brutal gangsters; the flappers who danced the Charleston in New York speakeasies; and the families who stomped grapes in basements and made moonshine in backyards. But beyond the cocktails, this is a darker story about what happens when lobbyists divide the country with wedge issue. By the 1930s, the "Noble Experiment" has bitterly divided the nation into wets, drys, and hypocrites. In 1933, with the country in the throes of the Great Depression, Americans have finally had enough-and rally to repeal 18th Amendment and put an end to Prohibition".

http://www.sbs.com.au/shop/product/category/DVDs/9115/Prohibition