The how-to from those with the know-how
Compiled by Sam Bygrave
Every bartender worth his tips has at some point thought about opening their own bar – be it a cocktail bar, dive bar or gin joint, the urge to open something you can call your own is often what keeps us going through all the late nights, double shifts and vomiting drunks (the tequila helps, too).
But it's not as easy as finding a site and flinging open the doors and counting wads of cash, so we assembled some of the best bar minds in the country during Sydney Bar Week to find out more.
On hand were liquor luminaries like Anton Forte (Shady Pines Saloon and the Baxter Inn), Sven Almenning (Eau-de-Vie and the Roosevelt), James Miller (Foresters, the Abercrombie, the Carrington, the Flinders Hotel), Bonnie Shearston (Canvas and Public), Vernon Chalker (Gin Palace, Madame Brussels, Bar Ampere) and last night's Outstanding Contribution winner Michael Delany-Korabelnikova (the Bottom End).
ADVERTISEMENT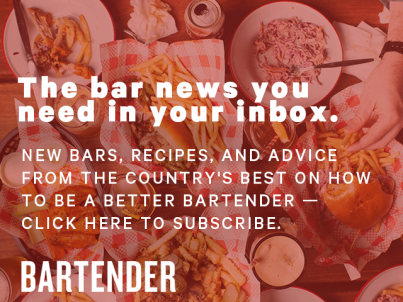 &nbsp
On partnerships
Anton Forte: Doing a bar is a huge undertaking… I think if you both have the same vision, and you both have the same goal and morals, I think it can be fantastic.
Vernon Chalker: There are two kinds of partners. There are partners who are colleagues who work with you, and there are partners who are investing partners and you have to work out the balance.
Sven Almenning: The reason I partner with them is they add something to the venue that I can't. Partner with someone who is going to work there, help you run it, and going to add something – a skillset you don't have.
Location, location – what?
Michael Delany-Korabelnikova: You've got to go into it with clear eyes and not just go "I'm going to open a bar, its down a street in an industrial estate, there's no one there on the weekends so it's really cheap and its massive – you've got to be thoughtful and look to see its viable.
James Miller: If you're going to drag people to a place where there's no traffic you have to be a very strong operator with a massive following.
SA:If you create a great bar and you have a great product… you'll get a very strong, loyal following. They don't come because you're conveniently located, they come because they love what you do.
Bonnie Shearston: Do your market research, because what these guys are saying doesn't apply in Brisbane at all. You can't put down an alleyway and expect people to go, it just doesn't happen – we're a bit behind the times up there.
Dealing with real estate agents
JM: Don't believe a thing they say, first and foremost. They'll tell you the biggest blue-sky story and you can either believe it and get sucked in and be out of business in three months or work them down.
SA: I think the key thing is to do your forecasting, and then you've got a key percentage that you're willing to pay in rent, and that's what you offer them. I don't care what they say they want, I simply say this is what I am willing to pay you.
AF: I think you really have to get the landlord on your side and get your landlord to love you and believe in your concept because you're usually asking for a lot. You're asking for some rent-free for the fit-out, rent-free for the DA or for the licence to go through and that could be eight months where they're not going to see any money.
Licensing – do you wait before building your bar?
JM: The more that's taken care of when you get in there, definitely an easier situation and you do actually save yourself a lot of money as well.
SA: Do not build it until you get the licence. If you're super confident, by all means but its very scary to think you've spent all that money and you still don't have the legal paperwork to actually be able to open the venue.
MD: You might have to end up watering down your concept because you wanted it to be a 3am bar and now its an 11pm thing where you've got to serve food and you end up make no money and that's bad.
SA: When you do make that deal with the landlord, have a heads of agreement there that states the desired outcome that you need before you take this venue. So if all you say is, "I'm going to get a DA and a licence and I'm going to take this space," you're in trouble. If it says that I'm going to get a 1am licence and a DA and then I'll take the space, it allows you to have the option of looking at your business model when you're getting that 11pm kick in the nuts and you go, "you know what? I'm going to walk away from this because I'm not going to make money if I'm closing before midnight."
Build your bar
AF: [At Shady Pines] we basically got in there and we had a really bad building plan, it took forever, but we managed to pull it off. Nowadays we've got the full day-to-day building plan, spend time doing the building plan, see what you want to do every single day make it work make the numbers work in the day, make sure every second your tradies are working hard and working for you.
JM: Builders make their money off variations. It's the one thing that always stings you lots: the 50 per cent more that you didn't expect to pay.
BS: It's really, really important to have a clause in your contract with your builders that says if they haven't completed what they said they were going to by the deadline that they start compensating you for your loss of trading.
Can you do the build yourself?
AF: No. Unless you've had lots and lots of experience I don't think you should be managing a build, because you know nothing about it. Especially when you've got all the other pressures going on of opening a bar.
SA: There are ways you can get your friends involved and you can be part of the build, painting there's a lot of things you can do, hang wall papers – that will save you a fortune. But definitely get the builders in to run it – you don't want anything to be non-compliant.
Staff
How do you find and keep them?
VC: Inspiration is the key determinant. Always cultivating younger people and nurturing – that's the key to holding on to staff and building up a team.
BS: I'm always a hands-on operator. I do everything I possibly can until I can work out who are those people that are willing to dedicate themselves to you and who fit the roles perfectly.
MD: I think its really important that all staff – no matter if they're a bussy, a manager or whatever it is, need to have gone through a formal process of being employed by you so they know what your vision is and how they can fit into it – or not.
SA: We try to make sure that all our bartenders have a hand in the business. We pay well above the award wage cause you have to pay well above award wage if you want to get these guys on board. We have bonuses in place for the guys running the venue, so if I make money, they make money.
How do you keep them motivated?
AF: Spending lots of time with them. Hanging out with them, getting drunk with them, all that stuff makes a big difference for them if you're an employer. We demand a lot from our staff – they do 70 hours a week our full time staff and we've got lots of full-time staff. But they're paid really well and there's lots of good incentives to work for us.
What about training?
SA: I think its important that you do in-house training because there's ways that you want to do things, and then you use the external trainers and liquor companies to come in to take some of that burden off you.
JM: We have induction manual. Before someone starts, before they get behind the bar, they have to read and acknowledge the culture, the vision, what you're trying to do.
MD: It's a thing of scale, if you're a small bar and you're the owner you can pass on some things directly but if you've got 20, 30, or 40 staff it needs to be a different kind of induction process.
On managers
SA: I want someone who has worked for a big group. I want someone who Justin Hemmes has trained up or who Keystone has trained up because you now these guys have systems in place.
Supplier negotiations
Getting beer
JM: So you pitch your idea to CUB or Lion the person to raise the bar and say we're going to back you and give you some money as an investment, which you always need when you're opening a new bar.
You have to sell them. You have to really convince them that it's worth investing and the locations right and you're the right operator and you've got the right team.
The contract term, they'll always try and sting you for three years, you always should try and do it just for twelve months if you can.
MD: The other thing about that is that there is no such thing as a free lunch. You might be really cash poor at the start and think Jesus, getting this twenty grand that's amazing. Then you realise you're into a three year contract and the litreage rate you're paying is actually higher because of the cash they gave you on opening day. Your profitability is worse over time.
But what about independence?
AF: We've only ever put on the products that we love. We would never consider selling off to a company and we didn't believe in the product they sell. When you're starting out with a small bar these guys aren't going to give you anything. They might give you something but they're really going to stitch you up.
VC: I don't give a shit if someone gives me $10,000 a year, that is nothing compared to what we turn over.
MD: You've got to remember that all of these reps want you to sell their product. You could be talked into this situation where it seems like they're doing you a favour, but at the end of the day you're the customer.
BS: We don't put all our eggs in one basket, our speed rail is made up of three different companies. At the end of the day they're salesman and they're going to go in hard and you need to go in hard as well. Be unrealistic because they're being unrealistic and eventually you'll get to a happy medium.
Food, or "compliance pizzas"
BS: We were finding that if there wasn't food on offer people would come in for a drink, get hungry and then go elsewhere.
[With food costs] you have to make sure that your chefs are giving you a complete breakdown of every single dish because there are so many components.
SA: We've built a tiny little prep kitchen next to the bar and drink takings have gone up significantly as soon as we put in that food, as people are staying around.
AF: Food sucks. My background was working in hatted restaurants… but I would stay the hell away from food in a venue you're doing yourself. I think it's a big pain in the arse.
Marketing
AF: We've always focused on making our venue the best thing it could possibly be and putting all our energy into that. If it's good, people will review and you'll get heaps of proper marketing from that.
JM: The best marketing you can do is be good to your customers. It's word of mouth.
BS: We do it all ourselves. Word of mouth, that's exactly what Twitter is. I do all the marketing myself, we don't use a PR company – they're ridiculously expensive – and no one is going to know what direction to take your bar in will.
SA: One of the easiest ways to get great coverage in media is to have a great product that somebody wants to talk about, but make sure when a journalist calls you get back to them and get them the stuff that they want [or] you're missing out of thousands of dollars of free exposure.
Anton's 3 tips for success
1.    Work really hard.
2.    Be honest and friendly.
3.    Make sure your product is not shit. And no crumb in the no crumb zone!
Sven's 3 tips for success
1. Great staff – they're going to be there when you're not.
2. Have a great product.
3. Location does matter.

James' 3 tips for success
1.    Good product
2.    Good customer service
3.    Consistency
Michael's 3 tips for success
1.    Dedication
2.    Staff
3.    Matching what you hope to achieve with what you're delivering – don't jam something in that doesn't fit just because you want to.
Vernon's 3 tips for success
1. Honesty – employ honest people.
2. Integrity is absolutely crucial.
3. Administration is absolutely crucial.
Bonnie's 3 tips for success
1. Definitely nurture staff – its important to help them grow
2. Be hands on – no one is going to run your venue like you are
3. Be hospitable – if you can't be hospitable you work in the wrong industry.